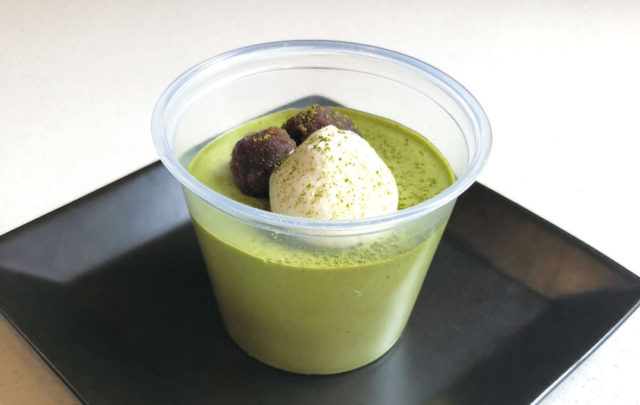 Green Tea Mousse
An easy-to-follow recipe that results in a delicious matcha taste.
Recipe by Setsuko Tanaka, Illustration by Hatsumi Kato
Ingredients
120ml milk
80ml fresh cream
50 grams sugar
A pinch of sugar
1 egg yolk
1 tbsp. matcha powder
2 tbsp. boiling water
4 grams powdered gelatin
1 tbsp. water
Instructions
Mix matcha powder and a pinch of sugar. Add boiling water in a small cup and mix well.2. Mix the powdered gelatin and water in a small heat-resistant bowl and let the gelatin soak. Once it softens, put the gelatin in the microwave for 20 seconds and melt it.
3. In a separate bowl, mix the egg yolk with a whisk. Then put in the rest of the sugar and mix vigorously. Add the matcha, which has been steeping in the hot water. Add milk.
4. Add the melted gelatin.
5. Put the fresh cream in a separate bowl and whisk for 6 minutes, then add to the bowl.
6. Pour everything into serving cups and let it cool in the refrigerator. Add fresh cream, azuki beans, etc. to taste.
Matcha Powder used for this recipe
Sugimoto Tea Company – Organic Daily Matcha
sugimotousa.com | (425) 558-5552 | 4070 148th Ave. NE., Redmond

Sugimoto (Tea Company) has been producing Japanese green tea since 1946 in Shizuoka, Japan.  Made with organic green tea grown in the highlands of Southwest Shizuoka, Sugimoto's Organic Daily Matcha is the perfect choice for the health-conscious consumer or lover of Japanese tradition. Organic Daily Matcha is also great for green tea lattes, pastries, or even savory dishes.  This product is available at Uwajimaya, Maruta Shoten, Central Market, H-mart and other local Asian grocery stores.
---
Setsuko Pastry
setsukopastry.com | (206)816-0348 | setsuko.pastry@gmail.com
Setsuko Pastry provides healthy alternative pastries with a Japanese spin. Its creations are all original recipes, made from scratch with a low sugar content, no artificial flavors, and no preservatives. It specializes in custom orders and caters to vegan, low sugar, flourless, and special diets. Orders need to be made three days before expected pick-up day by phone or email. Pick up at Modern Japanese Cuisine.
---
Modern Japanese Cuisine
modern-seattle.com | 6108 Phinney Ave. N., Seattle | (206) 420-4088
Opened in 2015, Modern Japanese Cuisine offers traditional and contemporary Japanese cuisine in comfortable settings. Setsuko Pastry's dessert selections are served at the restaurant.