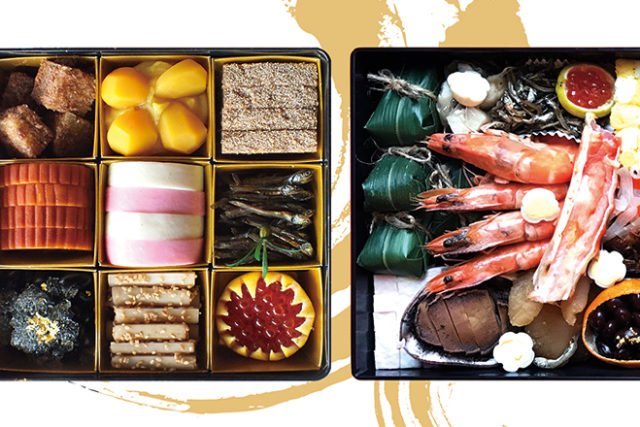 Japanese Traditional New Year's Food is prepared by Seattle Chefs!
Osechi is rich in color, taste, presentation and symbolism. This traditional New Year's food is eaten over several days, giving food preparers a chance to rest. Osechi dates back to the Heian Era (794-1185), and many of the dishes have taken on deep symbolic meaning. Take the candied chestnuts and sweet potatoes, or kuri-kinton in Japanese. That name means "chestnut golden mash" and is associated with a wish for prosperity. Black beans, or kuro-mame, are eaten for good health. Those black beans also look sharp in those red lacquer boxes. And kazunoko (herring roe) represents a wish for prosperity for your descendants. Osechi is not only symbolic; it's delicious. Often served in bento-like boxes called jubako, it makes an aesthetically pleasing meal.
Article By Noriko Huntsinger, Harmony Kelly, Maiko Kobayashi, Ai Isono and Bruce Rutledge
Flo Japanese Restaurant & Sake Bar
1150 106th Ave. NE., Bellevue | (425) 453-4005 | www.florestaurant.com
Junichiro Ise, a former open chef for Iron Chef Masaharu Morimoto at his Napa restaurant, is now at Flo as the executive chef. His omakase dinner course is the hot item on the menu. Ise has learned from local chefs and made osechi privately for years, pleasing his guests to no end. This year, he's offering that same osechi for sale, unveiling the secret gem he'd kept to his inner circle for years. "There is nothing ready-made at all," Chef Ise says. "The kamaboko is made from local cod; the black beans are cooked for three days to get that plumpness; the abalone is prepared over 10 hours."
Ise says he thinks about his grandmother's osechi. The most important thing is to prepare it from the heart. The homemade dashi is from either bonito or kombu seaweed. Traditional dishes such as candied chestnuts and sweet potatoes, and kombu-maki are alongside special seafood dishes like sablefish cooked in miso, grilled red king crab, making a three-tier, 35-dish jewel of a meal. The flavors on the tongue will bring back memories for Japanese people brought up on osechi, but there are new discoveries too. This is authentic osechi done with exacting care. Satisfaction awaits.
I Love Sushi on Lake Bellevue
23 Lake Bellevue Dr., Bellevue | (425) 455-9090 | ilovesushiseattle.com | ilovesouzai.com
From I Love Sushi comes the food that best symbolizes the new year in Japan and the Pacific Northwest: Osechi, also a feast for the eyes. Jyuro Oki, who started offering the I Love Souzai offerings of side dishes this summer, prepares the heartfelt osechi cuisine for the New Year. Chefs Fumio Shimojima and Kaneda Masayuki oversee the quality and contribute their own specialty dishes.
One dish that will catch your eye is the roast beef. The special sweetness of the black wagyu with a soy-based oroshi apple sauce creates Japanese-style roast beef. One of the staples of osechi, komochi konbu, or herring eggs on kelp, soaks in dashi for three days. The plump herring roe sticks nicely to the seaweed. There aren't many chefs that can combine the wisdom and care to create these three-tier osechi packages, so early reservations are advised. The more accessible Souzai Osechi goes for $80.
SUSHI & SASHIMI
Sashimi and sushi platters for New Year's Eve and New Year's are also available by advance order. We also offer a sushi and Japanese appetizer plate!
Nakagawa
1427 228th St. SE., #D6, Bothell | (425) 483-2221 |
nakagawa-japanese-restaurant.com
Nakagawa is offering its hors d'oeuvres set this season for the seventh time. The menu features dishes popular from the owners' days running the Cafe Soleil yoshoku restaurant. Out of the 20 dishes, the favorites of Nakagawa's regulars are the steamy, moist soy-based duck roast, the olives and peppers, the deer and the sirloin steak marinated in a homemade tapenade paste abundant with herbs.
A favorite with customers of all ages is the cheese miso pickles. Red and white Shinshu-style and Kyoto-style misos are mixed up and pickled. The dessert menu features mizu-yokan, and candied chestnuts and sweet potato (kuri kinton), all made by the chef. "There is nothing on this menu that is just put in there," Owner/chef Shinichi Nakagawa says with pride.
Osechi dishes deeply familiar to the Japanese such as kazunoko or ikura in soy sauce come alongside Western-style Japanese dishes such as lobster gratin and hamburger steak to create a memorable hors d'oeuvres set.
Oritz Gift Service
Tel 1-800-692-0008 | Fax 1-650-692-4109 | www.ortitzgift.com
Oritz Gift Service, which specializes in food delivery, is offering refrigerated osechi packages. It offers osechi with white kamaboko fish paste and other staples from Kibun. Typical orders of just one item like seasoned kazunoko or nishime or marinated mackerel could go for $100 or so, but with the $329 set, you get a taste of all these items and more. And that includes delivery. The Norwegian mackerel is a rich and fatty fish. They use large Tanba daizu for the black beans and seaweed from Hokkaido for the kombu-maki. Many of the dishes are sourced from their homeland. And the main course? Homaru lobster! Sourced from the East Coast of the US, these New England lobsters have a nice volume of around 400 grams.
WAGYU
Oritz Gift delivers a rich array of goods to bring the taste of Japan to your American home. One popular item is the marbled wagyu.
When you're looking for just a little osechi, check out your local Nikkei supermarket. Availability is limited. Reserve now and pick up while shopping on New Year's Eve.
Maruta Shoten Osechi
It may be small, but it includes 30 different items, including everything from ikura to shrimp in an elegant box set. You can also place an order for futomaki and inari sushi at the same time. You can also buy homemade mochi from Tuesday, December 26 through 31 while supplies last (no reservations necessary).
Uwajimaya
Rolled omelets, tazukuri (sardines and anchovies), kazunoko, namasu and other osechi staples are plentiful in this set. Add a little crab or lobster from Uwajimaya's famous fresh seafood corner and you'll have a memorable New Year's Day feast.
Japanese sake matches well with osechi's many flavors. You'll find plenty of celebratory sake to choose from at Seattle's Uwajimaya.
醴 RAI
RAI is created using a new age labor-intensive production process with the yeast, koji and lactic acid being the keys to this rich brew. The deep notes spread out into a smooth finish. This sake took the gold medal for two years in a row in 2016 and 2017 from Monde Selection, and was the only gold medalist in the 2016 competition "Japanese sake award for looking good in a wine glass."
Brewer: Ozeki (Hyogo Prefecture)
龍勢 RYUSEI
A sake well-suited for the New Year, Ryusei features a white label junmai and a red label dry junmai. The white label is made with 100% Yamada Nishiki rice, giving it a strong structure. The taste changes subtly with age. The red label is made with Hiroshima's Hattan Nishiki rice, giving this dry sake a concentrated taste with a hint of sweetness from the koji.
Brewer: Fuji Shuzou (Hiroshima Prefecture)