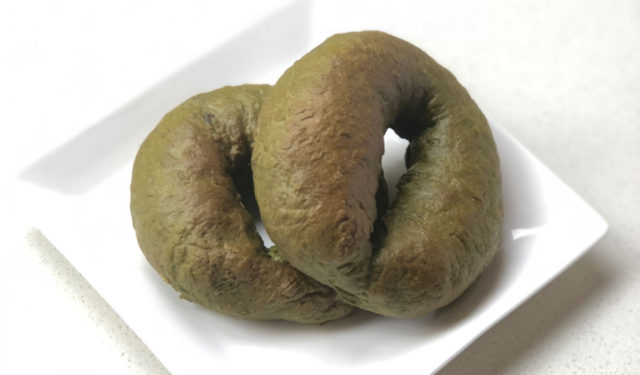 Green Tea Bagel with Anko
Add matcha and anko to a deliciously chewy bagel and bake.
Recipe by Setsuko Tanaka, Illustration by Hatsumi Kato
Ingredients (makes 4)
300 grams flour
4 grams dry yeast
5 grams matcha powder
40 grams anko (sweet red bean paste)
25 grams sugar
2 grams salt
200 ml lukewarm water
60 grams honey
Instructions
In a large bowl, add flour, matcha powder, dry yeast, sugar, and lukewarm water and mix until it is all blended together. Then add salt. Knead the dough to a fine consistency. Wrap the bowl and let it sit at room temperature for 10 minutes. 2. While resting the dough, boil water in a saucepan and melt the honey. Divide the anko into 4 equal parts. Preheat the oven to 360 degrees.

3. Divide the bagel dough into 4 equal parts. Flatten and stretch out each piece by hand, then put the divided pieces of anko on the dough. Close the dough into a circle and firmly attach the ends to form a ring. Make all 4 bagels the same way.
4. When water is boiling with melted honey, add each bagel dough to the saucepan. Boil for a minute on each side of bagel. Place boiled bagel dough on an oven tray and bake for 12-14 minutes in the preheated oven.
Matcha Powder used for this recipe
Sugimoto Tea Company – Organic Daily Matcha
sugimotousa.com | (425) 558-5552 | 4070 148th Ave. NE., Redmond

Sugimoto (Tea Company) has been producing Japanese green tea since 1946 in Shizuoka, Japan.  Made with organic green tea grown in the highlands of Southwest Shizuoka, Sugimoto's Organic Daily Matcha is the perfect choice for the health-conscious consumer or lover of Japanese tradition. Organic Daily Matcha is also great for green tea lattes, pastries, or even savory dishes.  This product is available at Uwajimaya, Maruta Shoten, Central Market, H-mart and other local Asian grocery stores.
---
Setsuko Pastry
setsukopastry.com | (206)816-0348 | setsuko.pastry@gmail.com
Setsuko Pastry provides healthy alternative pastries with a Japanese spin. Its creations are all original recipes, made from scratch with a low sugar content, no artificial flavors, and no preservatives. It specializes in custom orders and caters to vegan, low sugar, flourless, and special diets. Orders need to be made three days before expected pick-up day by phone or email. Pick up at Modern Japanese Cuisine.
---
Modern Japanese Cuisine
modern-seattle.com | 6108 Phinney Ave. N., Seattle | (206) 420-4088
Opened in 2015, Modern Japanese Cuisine offers traditional and contemporary Japanese cuisine in comfortable settings. Setsuko Pastry's dessert selections are served at the restaurant.