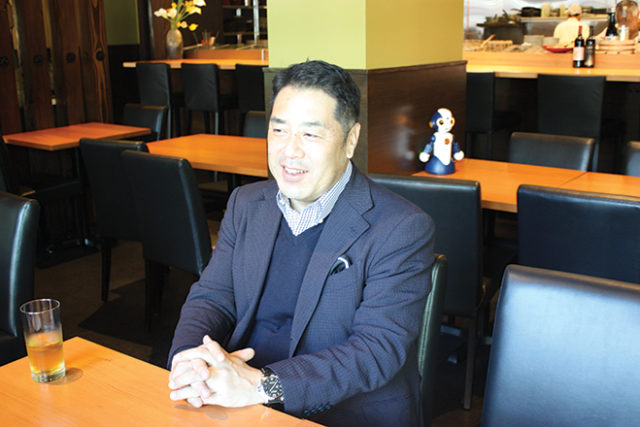 Long ago, Seattle's Japanese restaurants used to be mostly in the International District. Those days are long gone. Today's restaurateurs are bringing sushi and ramen and Japanese comfort food to neighborhoods like Wallingford, Queen Anne and Capitol Hill as well as the ID. Let's meet some of the people behind this Japanese cuisine boom.
Jun Yoneda – Plenty USA CEO
Born and raised in Kanagawa, Japan, Jun Yoneda's youth was all about baseball. He played baseball at Waseda University, known for its strong team. After spending his early career at Seibu Department Store, one of the largest department stores in Japan, Yoneda got a chance to devote himself to baseball again, this time on the business side. He was hired by Rakuten, an online commerce company, in 2004. He led the team that founded the Tohoku Rakuten Golden Eagles in the Nippon Professional Baseball league. Based in Sendai, the baseball team once had on its roster Hisashi Iwakuma of the Seattle Mariners and Masahiro Tanaka of the New York Yankees. Yoneda was involved in management of the baseball team for nine years until he started in the restaurant business in Seattle in 2013.
He explains that he became interested in the food business while volunteering after the 2011 Tohoku earthquake and tsunami. "The president of Santouka in Japan is a friend, and we both went to help with emergency food distribution," he says. "Victims of the disaster cried and said 'delicious' as they ate the ramen we gave them. It struck me then how much eating is connected to living and how a meal could make people so happy."
When the Tohoku Rakuten Golden Eagles won the Pacific League Championship in 2013, Yoneda felt like he had achieved everything he could in the baseball world. "I was about to turn 50, and I wondered what my final life work would be," Yoneda recalls. "I realized that I wanted to operate my own business. That's when I jumped into the restaurant business."
Yoneda chose Bellevue to open the first Santouka ramen store in North America. "I had no standing or experience in the restaurant business," he says. "When I started in baseball, I didn't have players or a manager or staff or even a stadium. I started from zero. It was a difficult stretch, but through my own point of view through my marketing expertise and by putting together an excellent staff, we used teamwork to learn how to operate one restaurant. There was no mystery or anxiety."
Yoneda recently opened Junkichi Robata Izakaya in Capitol Hill. "When it comes to Japanese cuisine, there has been sushi, then ramen. I kept wondering what comes next?" he says. Junkichi features a robata charcoal grill, a traditional way to prepare food at an izakaya in Japan. "At first we were worried about how it would be received in Seattle, but once we opened it up, it was very much like a Japanese izakaya, with people sitting at the counter sipping sake and friends having a ball eating together," Yoneda says. "The goal of Plenty is to produce 10,000 restaurants around the world — not only in the US, but we also have plans for Asia." Yoneda's challenges will continue.
Junkichi Robata Izakaya 224 Broadway E, Seattle
(206) 712-7565 Website
Hokkaido Ramen Santouka
Bellevue Store: 103 Bellevue Way NE, Bellevue
(425) 462-0141
University Village Store: 2626 NE Village Lane, Seattle
(206) 524-4431 Website
Read interview with Jun Yoneda in Japanese: