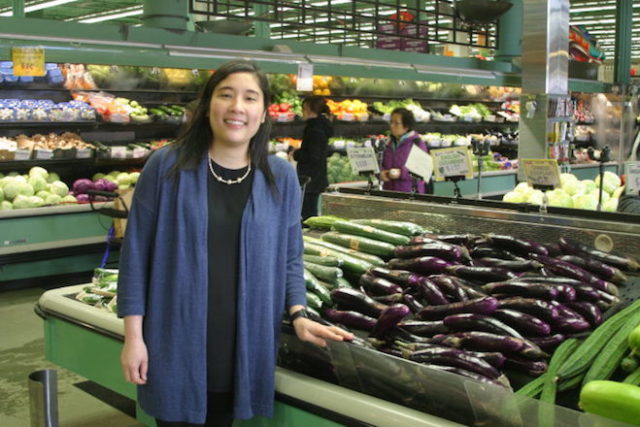 By Shihou Sasaki
The Moriguchi family has been a leading business presence in the region for 89 years. This February, third-generation Uwajimaya CEO Denise Moriguchi took the helm from her aunt. "I am supported by my grandparents, my father, my aunts and uncles and other relatives, as well as the history of this company" she said. So how does this youthful 40-year-old CEO see Uwajimaya developing? We talked to her about her new challenges, her family, Seattle, and the local community.
As new generation CEO of the Moriguchi Family
So far, things have been going well. I've only been CEO for a month, but it's been known that I would take over for about two years. I've had time to prepare. I feel really comfortable starting slowly and making changes that I want. I am still new and still learning but feel excited about the opportunities ahead.
The recent Asian boom helps raise awareness about Asian food. More people want to try it because it has a healthy and flavorful image. More people tend to try new restaurants, and eventually they come to Uwajimaya to try to cook on their own, try new sauces and different flavors. People often come to Uwajimaya because they want to learn more about Asian food, so we provide them with knowledge and products to further their education.
The Ehime Fair went very well in March. I think that Japanese customers really love the fair because they can get the products from a certain prefecture, which makes them feel very nostalgic for home. And non-Japanese customers like it too because it's an authentic shopping experience. They are trying new things and buying what the Japanese buy. We just really love having these different fairs, bridging cultures. People who have studied Japanese or perhaps lived there love to chat with the fair reps. These fairs go beyond food. It's also about culture and community.
I think the Japanese government is supporting these sorts of fairs and promoting them, helping these prefectures get a taste of overseas markets. We are benefitting, and the Japanese government sees the value in it. We have recently had the Ehime, Aomori and Shimane fairs. It's been a partnership and a real win for both people from the different prefectures and Uwajimaya.
New projects and opportunities
We started the shipping service for Amazon Prime members a year and a half ago. We want to try different things as our customers are changing. There are a lot of young people moving into the area, and shopping habits are changing. To stay relevant and remain a strong retail store, we have to try different things. Amazon Prime is one of them. I don't think it takes away from any in-store sales. A lot of the Prime customers are from Seattle, especially downtown. They may not have a car or may take a bus to come, so it helps that we deliver to their door. It's a nice way for people to try some products, and hopefully they will come to shop at our store in the future. I think it's a great way to reach new customers and provide people who want an alternative shopping method.
Kai Market is very exciting. This is about 1/10 or 1/8 the size of our typical stores. That's why we gave it a different name. It's a different concept. One way to describe it is a Grocerant, combining the words "grocer" and "restaurant." The name Kai is a kind of hybrid. It does not have to have specific kanji or meaning, but we wanted it to be easy to pronounce. We like the name because it could be Asian, but it also sounds very universal. Because it is a seafood market, the word "kai," which can mean "shell" and "ocean," works nicely without being purely Japanese.
The product we offer with Kai Market is a new concept. We have to make some adjustments, but we think the concept can go beyond South Lake Union. We want to see how Kai Market does because we do want to open more. But we haven't signed another lease yet, and we just want to make sure that we get everything tuned fine first.
Leaving Seattle for 20 years to get to know herself
I was gone for almost 20 years. I did my undergrad studies in Maine and worked in Boston for a long time. I also went to a business school. Then, I worked in New Jersey and in Toronto, Canada. I worked for five years for a small consulting firm where we did strategy and research and data analysis. After business school, I worked at Bayer HealthCare for marketing the brand products you would buy at the drugstore. It was interesting to learn and look at the growth strategies, marketing promotions and distribution, the retail business and more.
Even though I was away, I always felt Seattle was my home. But it was important for me to have a little freedom and reflect on myself to know who I am. I think it was good to go out and establish myself, be independent from my family, get a job, get promoted or do something because of who I am, not through family connections. Working at different firms gave me better perspective when I came back to Seattle.
Back to the Seattle family in 2013
There were various reasons for my return in 2013, but the timing really worked well. Tomoko, my aunt and former Uwajimaya CEO, wanted to retire so the family wanted someone to take over. Our family felt if we could find someone qualified, we wanted a family member to take over the business. I thought if I am qualified, I wanted to do it because I do really see the great potential of the company, and I wanted to be a part of it.
Also, I just had my daughter and really wanted to have my children grow up with their cousins. I am very close to my cousins. And I wanted her to have the same experience. We moved back when she was six months old. Ever since then, she has seen her cousins every weekend, and we are always hanging around with my family. That is very important for me.
In my generation, there are 19 cousins, and we have only four boys. We are lucky to have so many females, which forced our family to treat them very equally. People may think we are very progressive having two female CEOs, but having so many females in our family, it seems natural to us. I am so fortunate that our family is so open.
It is tough to be a perfect mother. It is especially hard to do dual duties, working and parenting. Luckily, I rely on my husband to take care of the kids. Even when my work gets very busy, we try to eat together every night. I simply want my children to be good people. We try to celebrate our history and culture. I want them to be aware and appreciate their background. They like all the Japanese sweets, and they try all sorts of foods from Japan, China and other Asian countries.
89-year tradition and philosophy
At Uwajimaya, our values are to treat our employees and customers well. That started from my grandfather. I heard if his employees or customers needed help, he was always helping them. I heard that there was always someone at the dinner table or on the couch because he was very welcoming and wanted to take care of people. I think that was important to him.
Although I never knew my grandfather since he passed away before I was born, I remember my grandmother very well. She was very generous, sweet and caring, a big part of Uwajimaya. I remember her working at the deli making sushi or some food to feed everybody, including me, my cousin, and friends. I think she was really kind of the glue that kept everyone together, taking care of each other and just being nice to each other.
Quality products is another value. We have been strengthening our offerings with quality products. Even though the way we are selling is changing, we are trying to maintain high quality.
The business environment changes as we move on. We will have new customers, new employees and business partners. However, we keep our philosophy – quality, customers and employees.
About Denise Moriguchi
Denise was born and raised in Seattle. After graduating from Lakeside High School, she moved to the East Coast for college. After graduating from the Massachusetts Institute of Technology with an MBA, she worked in the retail business marketing field for years. She moved back to Seattle in 2013 so that her two children could spend their childhood with their extended families, and to take over her family business.