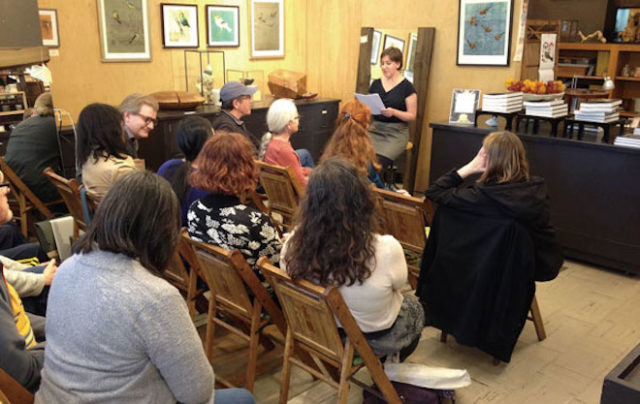 Atlas Obscura is a best-selling book at Kobo at Higo, according to co-owner Binko Bisbee. It's no wonder. The store and the book are a perfect fit. On May 6, the Jackson Street store was brimming with people celebrating Obscura Day 2017 and the publication of Ghosts of Seattle Past, a book that remembers what this fast-changing city has lost. Atlas Obscura is a collaborative project that explores "amazing, hidden spots" around the world, according to the company's website.
On May 6, Obscura Day 2017, the company hosted more than 175 events in 36 states and 25 countries. In Seattle, Obscura fans followed Rachel Kessler down Yesler as she talked about the street's history and ties to her family. The group then turned down 6th and headed to Kobo for intimate conversations with contributors to the Ghosts of Seattle Past anthology. Speakers included Tamiko Nimura, who wrote an essay about David Ishii's bookstore, and Dean Wong, who talked about running through the alleys of the ID with his best friend, Donnie Chin, the activist who was murdered in the summer of 2015. Local jazz legend Dave Holden regaled the crowd with stories about Quincy Jones and Ray Charles jamming with his father in the front room. "Our house was the only one in the neighborhood with a grand piano," he recalled.
Obscura Day attendees learned about the Murakami sisters and the old Higo five-and-dime store, which is preserved inside the Kobo boutique. Seattle Obscura Society field agent Eric Magnuson says the society has many more events planned about everything from Seattle baseball history to musical-box-making workshops. More information on Atlas Obscura and its various events can be found at atlasobscura.com.