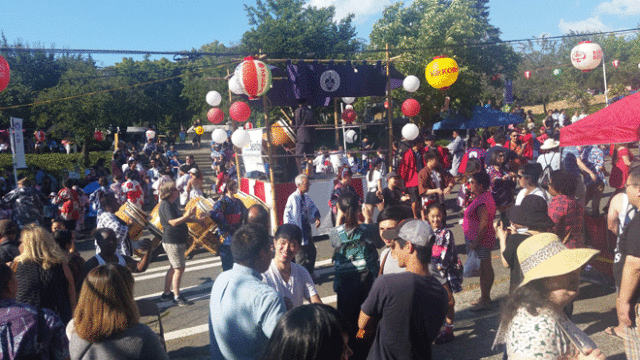 Seattle Buddhist Temple's 85th annual Bon Odori festivities drew big crowds last weekend as people enjoyed ideal summer weather. The festival featured music, dancing, refreshments, martial arts and taiko drum demonstrations and Japanese arts and crafts. Many festival-goers donned kimono or yukata. Mayor Ed Murray stopped by on Sunday to join the bon dances.
The sunsplashed Bon Odori is part of Seattle's Seafair summer celebration. Revelers slurped multicolored shaved ice, yakisoba and other noodle dishes, and partied in the street in front the Buddhist Temple on Main Street on both Saturday and Sunday. Two Story Zori, a band that features musicians from Guam, Hawaii, Samoa, the Philippines, Vietnam, and – wait for it – Oklahoma, played in the beer garden.
Obon is a time for the Japanese to honor ancestors who have passed away. During Obon, the spirits of the dead ancestors are said to return to visit their relatives. Lanterns help guide the spirits home. People make offerings of food at small shrines in their homes and visit Buddhist temples. In Japan, the festival is held in mid-August in many regions, but some areas still observe the tradition in mid-July. During the mid-August Obon, many people take time off work to return to their hometowns.