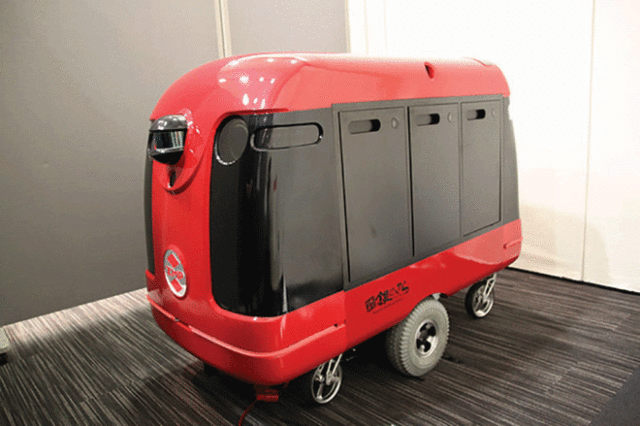 by Bruce Rutledge
Japanese robotics firm ZMP is teaming with food-delivery company Ride On Express to launch a series of sushi-delivery robots next month. The 3-foot-tall red robotic cars can deliver enough sushi for 60 people, the companies say.
The robotic self-driving cars are decked out with sensors that keep them from running into people. They travel at no more than 5mph, and they can navigate their way through sidewalks and streets day or night.
Ride On Express and ZMP held a press conference last week to announce the launch of the CarriRo Delivery robots. The companies have not yet divulged information on how many delivery robots will be working next month. For starters, the companies plan to limit the use of the cherry-red delivery bots to office parks and private areas.
The little red cars are oh-so cute, but they are also another sign that people making their livings behind the wheel are going to face a very tough future. As self-driving car technology advances, drivers will find fewer and fewer jobs, many economists predict. Takahiro Suzuki, author of The Economics of Singularity (in Japanese only), says drivers are at risk of losing their jobs by 2030. He predicts most delivery drivers will be out of work in less than 10 years.