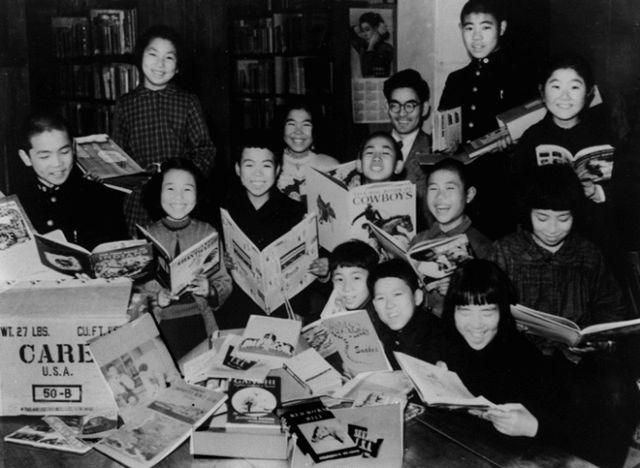 Organization Looks to US for Help in Preserving Postwar Stories
By Ryosuke Shima
Care International Japan, a Japanese nongovernmental organization (NGO), is looking to dig up memories of sending care packages, a tradition that started when American citizen groups sent those packages to Europe in the wake of World War II. Care International was founded in 1945 in the US to support Europe after the war. That relief extended to Japan in 1948. The aid to Japan lasted eight years, cost $2.9 million and reached some 10 million people. Today, aid is focused on developing countries in Asia, South America, Africa and other regions to provide a measure of independence for women and girls. The Japanese organization was formed in 1987. The current efforts by the Japanese organization include searching for people who sent aid and listening to their stories with the objective of preserving these stories for history. The group is asking for the cooperation of American aid-givers.
The care packages were small packages with foodstuff, clothes and other goods sent to war-torn regions. Japan received the packages throughout the country from 1948 to 1955. Packages included necessities such as food and clothing, but carpentry tools, produce, seeds, and farm implements were also sent, making it possible for people to get back to work and for engineers to make advances. These packages played a large part in giving the war-ravaged people a chance for economic liberty. It's said that in Japan alone, about 10 million people benefited from the aid, but there are few details about the people who sent the packages. It's thought that a good portion of those sending aid were Japanese Americans on the West Coast. The motive for Care Japan International's efforts is the desire to pay back those from overseas who helped Japanese people in difficult straits after the war. By preserving the postwar reconstruction history and recording the memories of those who helped, the spirit of giving can be passed down to younger generations. Those who experienced the war are getting older, so stories must be preserved quickly.  These stories will be made available on the Internet. The group will consider publishing them in other forms as well.
For Americans with stories to share, please fax 81-3-5950-1375, email info@careintjp.org or send mail to Care International Japan.