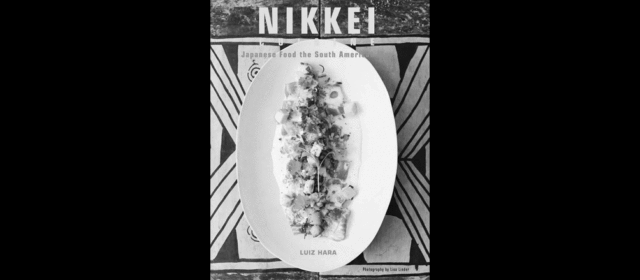 By Tamiko Nimura                                                                       For the North American Post
A set of chopsticks wrapped in bright ribbon, decorated with Portuguese words. A spray of pink cherry blossoms against a persimmonred background. These two images open Luiz Hara's cookbook Nikkei Cuisine: Japanese Food the South American Way, published in 2015. They preview the content and sensibility of the book: a deep appreciation for Japanese elements in a South American environment.
Like his book's subject, Hara contains multiple geographies and identities: Brazilian-born, ItalianJapanese descent, London supper club chef, Cordon-Bleu trained, ardent student of Japanese and French cuisine and chefs alike. Hara's enthusiasm for his subject is clear in every page of the book, from the detailed and precise text to the visual style. The book contains over one hundred Nikkei recipes, most with their own beautiful full-color photo illustration. (Hara himself did the food styling.) Many of the recipes were developed by Hara himself, based on what he has tasted and experienced in Nikkei restaurants and homes, but he's also gathered 10 recipes from Nikkei chefs around the world, each with a specific angle on Nikkei cuisine.
I learned a great deal from the book's Introduction, a thoughtful and entertaining encapsulation of the origins of Nikkei cuisine, a short history of Japanese migration to South America, and Hara's own family history within these contexts. Hara is also careful to distinguish "fusion" cuisine from Nikkei cuisine. The Introduction is interspersed with historical photo collages, showcasing everything from passport photos to chili peppers, from home dinner parties to state gatherings, from fish purveyors to basket weavers.
Those unfamiliar with Nikkei cuisine (as I was, before reading this book) might be quick to dismiss it as a fad, or as an unthinking use of ingredients and flavor combinations. Hara is firm here, however:
Japanese cooking is among my favourites, and it would be upsetting to me if people suggested it was being manipulated without much thought. Nikkei cuisine is a byproduct of migration and adaptation, created over 100 years ago in South America. It was a cuisine created out of necessity; it is a part of my family history and that of millions like me and so, unlike food fads, it is here to stay.
Hara's respect for origins and authenticity are echoed in each of the headnotes, as well. He's always very careful to include notes about each recipe's origin—whether this is based on his own "growing up" home kitchen experience, or gathered from a Nikkei chef, or his signature "chef" twist on an especially popular Nikkei dish. I learned more history from the notes, as well. I didn't know, for example, that Nikkei farmers introduced persimmons to Brazil and they are now highly popular there. In Hara's book, I was delighted to see the same kind of adaptation that my Issei grandparents used when they immigrated from Japan: when one ingredient is not available, find a substitute. It's the same kind of innovative spirit that moved my Issei grandfather to use Log Cabin syrup in his sukiyaki sauce. Hara's use of beer as a substitute for sake in his own sukiyaki recipe reminded me of that spirit.
My one caution is that a small number of the dishes reflect Hara's extensive training as a chef: they require specialty ingredients and techniques and equipment, which may be exciting for those who would like to make their own coriander oil or use a kitchen blowtorch. But the majority of recipes appear geared toward the avid home cook: arroz con pollo Nikkei, Sao-Paulo-style yakisoba, Brazilian churrasco with Nikkei flavors. Other recipes are familiar ones that I'd expect to see in Japanese American cookbooks: somen chicken salad, California rolls, teriyaki sauce, chicken kabocha stew, tamagoyaki, buta no kakuni. Adventurous cooks will gravitate towards other offerings, such as moqueca de camarao (seafood stew) with coriander rice donburi, salmon and passion fruit tirado, miso and mandioquinha cream with crispy salt beef, or the cover recipe for salmon sashimi the South American way (with Nikkei leche de tigre).
The book is aimed at a wide audience, for those who are fans of Nikkei cuisine and Japanese food. A bibliography of historical sources about the Japanese in Brazil, written in Portuguese, is in the back of the book. The Resources section also includes a discussion of ingredients (Brazilian/ Peruvian, European, Japanese, and other Asian). A list of suppliers is available for London, parts of the United States, and Australia.
Overall, Hara's book taught me that there's a lot for me to learn about Nikkei cuisine, but I was heartened to see a great deal of shared experience through our common cultural Japanese roots. It's a book that many Discover Nikkei readers can appreciate for its celebration of these roots.
Editor's note: The article was originally published in Discover Nikkei at www. discovernikkei.org managed by the Japanese American National Museum. Tamiko Nimura is a Sansei/Pinay writer, originally from Northern California and now living in the Pacific Northwest. She blogs at Kikugirl.net, and is working on a book project that responds to her father's unpublished manuscript about his Tule Lake incarceration during World War II.