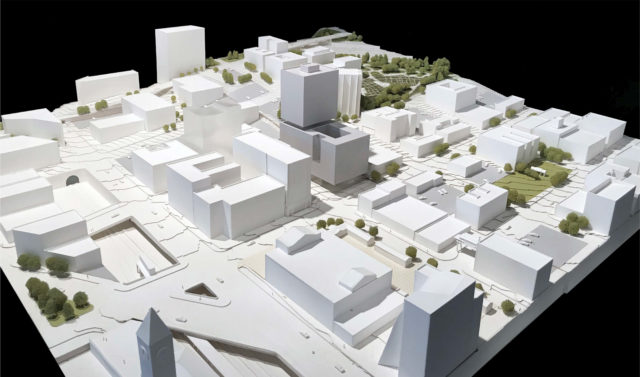 by Bruce Rutledge,
Tomio Moriguchi, former chairman of Uwajimaya and current publisher of this newspaper, with a partner, plans to build a mixed-use building on a half-block that stretches between South Jackson and South Main streets, replacing a parking lot there. Moriguchi's team, which includes award-winning Japanese architect Shigeru Ban, will unveil the project's broad strokes at an International Special Review District (ISRD) meeting on May 8.
The Project would include a 120-room hotel with dining facilities, a fitness center, and multi-purpose meeting rooms; 200+ rental apartments; and retail space for multiple retail tenants.
Shigeru Ban Architects will work with Arthur Chang of the local firm, Freiheit Architects on the project. Ban is known for his innovative designs, including the Aspen Art Museum in Colorado, the Oita Prefecture Art Museum in Japan, and his work creating emergency housing out of recycled cardboard tubes. He won the esteemed Pritzker Prize in 2014.
Moriguchi's Fujimatsu Building LLC, named after his father, will be joined by PortLiving, an awardwinning real estate investment and development company from Vancouver, BC, in developing the Project. PortLiving is working with Shigeru Ban to create the residences at Terrace House, one of the world's tallest hybrid timber structures in downtown Vancouver.
This Fujimatsu building will be a little over 200 feet tall, the new heights allowed under a recent upzone including fees for building citywide affordable housing. This exciting project will add to the vitality and complement the retail and restaurant activities in the Chinatown-International District. Fortunately, there are a number of real estate projects underway in the district today, which will add to the economic vibrancies of this excellent transportation hub of our city.