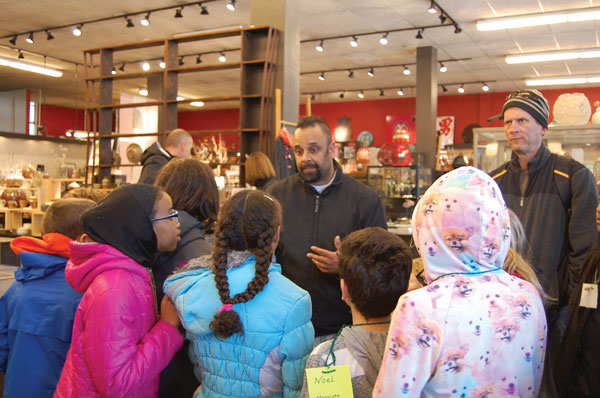 By Misa Murohashi, Translated by Bruce Rutledge
Fourth graders from Marvista Elementary School, part of the Highline school district, visited Seattle's Japantown on April 20 as part of an educational tour program led by the Wing Luke Museum of the Asian Pacific American Experience.
The visit was part of the National Park Foundation's Every Kid in a Park program. The tour of about 85 students, 15 parents and guardians, and three teachers split into groups of 10 to visit the Panama Hotel, Maneki restaurant, Kobo at Higo, and other spots. Students learned about the forced evacuation of Japanese Americans in 1941.
Wing Luke Education and Tour Director Rahul Gupta told the students about daily life in Japantown and how most of the people forced out of their homes were Americans born here. When war broke out, they were swept away to concentration camps, he told the students, then asked them if they thought this was just. "I am glad I got to learn about the history of Japantown," said one of the 4th graders who joined the Nihonmachi tour. "I want to come back with my family."