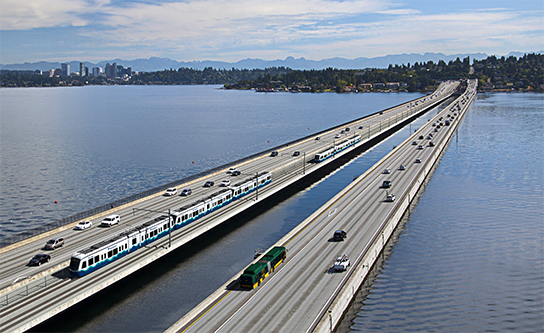 By Bruce Rutledge
With traffic congestion growing worse in the Puget Sound, the Lynnwood Link light rail extension got some muchneeded federal funding last week to allow it to begin construction next year. The $100 million federal appropriation approved by Congress represents the first installment of a potential $1.174 billion in federal grants to complete a light rail extension from Northgate to Shoreline, Mountlake Terrace, and Lynnwood. The project is expected to be completed by 2023. Once the 8.5-mile extension is completed, the light rail would run along the I-5 corridor and include new stations at NE 145th Street , NE 185th Street, the Mountlake Terrace Transit Center at 236th Street SW, and the Lynnwood Transit Center.
The project may also include stations at NE 130th Street in Seattle and 220th Street in Mountlake Terrace. New parking lots would provide 1,500 additional park and-ride spaces in total at 145th, 185th, and the Lynnwood Transit Center. Commute times from the Lynnwood Transit Center would be 13 minutes to Northgate Mall, 18 minutes to the U District, 26 minutes to downtown Seattle, and an hour to Sea-Tac Airport. The $100 million in federal funds, which President Donald Trump was supposed to approve this week, will get construction started, but there still is a long way to go in funding the $54 billion system expansion approved by voters in November. An additional $4.7 billion in total federal funding still needs to be approved.
Sound Transit's plan is to have light rail completed to the U District, Roosevelt, and Northgate by 2021, and to Mercer Island, Bellevue, Redmond, Shoreline, Mountlake Terrace, and Lynnwood by 2023. The construction of the 116 mile system doesn't stop there: the next stretch of rail is supposed to extend to Federal Way and downtown Redmond by 2024, and to Tacoma, West Seattle, Ballard, Everett, South Kirkland, and Issaquah after that.