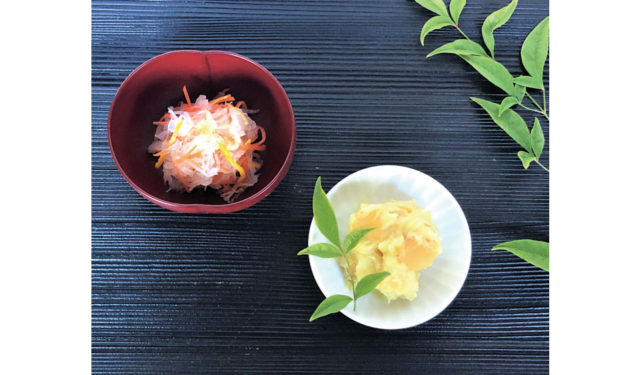 Kuri Kinton and Kouhaku Namasu
 Shiwasu (December, known as the busiest month of the year) has passed so quickly.
 Will you have Osechi in Oshogatsu (the New Year's holiday) in 2020? Osechi is traditional Japanese New Year's food. Assorted dishes are presented in Jubako (stacked square containers) and shared with family and guests for several days. It's known to be very labor intensive to make a full set of osechi, and not everyone has time to dedicate during the busy Shiwasu.
 In Seattle, some Japanese restaurants offer Osechi Ryori to go, and Uwajimaya also has boxed osechi for busy people. There are great options to enjoy an authentic Oshogatsu experience, but some dishes are relatively easy to make at home. I shared some Osechi dishes such as Datemaki and Chikuzen Ni in the past, which you can find on the Post's website: www.napost.com. This year, let's add a few more recipes to your homecooking Osechi repertoire – Kuri Kinton and Kouhaku Namasu. "Kuri" means chestnuts. "Kinton" means "golden futon" and the color refers to gold and money. Typically, kinton's golden color comes from Kuchinashi (gardenia pods), but it's hard to find kuchinashi in the US, so I substituted saffron for that. Red and white combination in Namasu means celebration and good luck. Enjoy making osechi with colorful dishes to bring you lots of fortune.
 Happy delicious New Year!
Kuri Kinton – Golden Chestnuts
erves 4 | 15 minutes (plus 1 hour to soak sweet potato) | Cook time 40 minutes
Ingredients (makes 4)
8 kuri kanroni (candied chestnut) – you can find a jar of kanroni at Uwajimaya
1 lb. Japanese sweet potato (at least ½ lb after peeling)
3 to 4 Saffron threads (optional)
½ cup sugar (or less)
2 tbsp. mirin
1/8 tsp. salt and more to taste
Instructions
❶ Strain kuri kanroni and reserve the syrup. Set aside.
❷ Peel the skin of the sweet potato approx. 1/8 deep, making sure any dark spots are removed in order not to have dark color in kinton. Peeled potatoes should weigh at least ½ lb. Slice the peeled sweet potato into 1 inch thick rounds.
❸ Place the sliced sweet potatoes in a bowl and add water to cover them completely. Soak for about an hour, changing water once or twice. Then drain the sweet potatoes.
❹In a medium saucepan, put the sweet potatoes and fresh water (just enough to cover them) over high heat and bring to a boil. If you have saffron threads, you can add them now.
❺ Lower the heat to medium and continue to cook until the sweet potatoes are fully cooked. You can test them by sticking a skewer into one of the slices. If the skewer goes in smoothly, it's done.
❻ Strain the sweet potatoes, reserving ½ cup boiling water and process in the food processor. If you do not have one, you can use a potato masher.
❼ Put the mashed sweet potato in the saucepan. Add sugar, reserved boiling water, mirin and reserved syrup.
❽ Over low heat, stir the sweet potato mixture with a spatula. Once the potato consistency changes to a creamy paste, add the kuri kanroni and cook another 5 minutes.
❾ Transfer the kinton onto a flat plate and cool to room temperature.
Kouhaku Namasu
Red and white pickled carrot and daikon radish
Serves 4 | 10 minutes | Cook time 30 minutes (plus overnight marinating)
Ingredients (makes 4)
½ lb daikon, peeled
1 oz. carrot, peeled
1 tsp. salt
1 tsp. yuzu or orange zest, thinly sliced (optional)
(Amazu Dressing)
3 tbsp. rice vinegar
1.5 tbsp. sugar
1/3 tsp. salt
Instructions
❶ Slice daikon diagonally into very thin slices and julienne. Slice the carrot in the same way.
❷ Put the julienned daikon and carrot in a bowl and sprinkle salt over, toss and leave for 20 minutes.
❸ In the meantime, make amazu dressing. Combine rice vinegar, sugar and salt in a mixing bowl. Set aside.
❹ Give a quick rinse of the daikon and carrot under running water and squeeze well to remove excess water.
❺ Add the daikon and carrot to amazu and toss well. You can add shredded yuzu or orange skin here. Transfer the namasu in a glass container and store in the fridge overnight.
❻ Served cold or at room temperature.