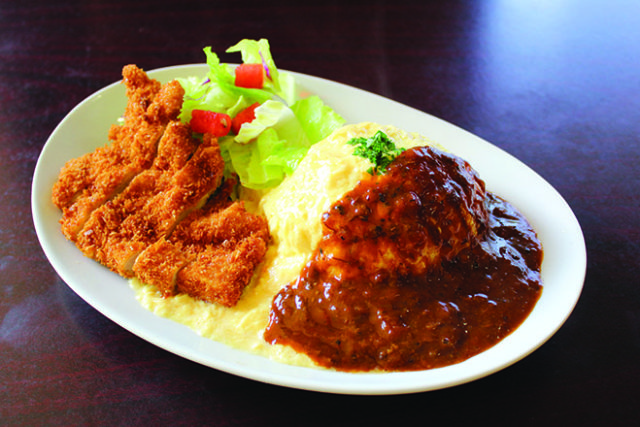 by Minami Okada, Translated by Misa Murohashi
The North American Post
Nakagawa, a Japanese restaurant in Bothell, will begin serving Japanese style yoshoku dishes in September. Nakagawa is owned by Chef Nakagawa and his wife, Masumi, who used to own Café Soleil in Mukilteo. Café Soleil was closed at the end of June after eight years of serving Chef Nakagawa's signature yoshoku dishes such as hayashi rice, stewed Hamburg steak, omu-rice and curry rice.
Chef Nakagawa has been serving sushi and traditional Japanese dishes at his new restaurant in Bothell since its opening in April. However, he decided to add his much-loved yoshoku menu to the restaurant's lunch menu. "Many customers have been asking for my yoshoku dishes," Chef Nakagawa says.
Omu-rice ($13.50) is one of the most popular Nakagawa's yoshoku dish. Savory Ketchup rice is covered with fluffy moist scramble eggs and home-made hayashi source. Stewed Hamburg steak ($14.75) is also must-try menu. The slowly cooked Hamburg is extremely moist and soft. The texture is completely different from what you imagine from "Hamburg." Side dishes are available at $4.00, including Ebi Fry (Japanese Breaded and Deep Fried Shrimp), croquette and pork cutlet. Information: Nakagawa Japanese Restaurant, 1427 228th St SE D6, Bothell, (425) 483-2221.