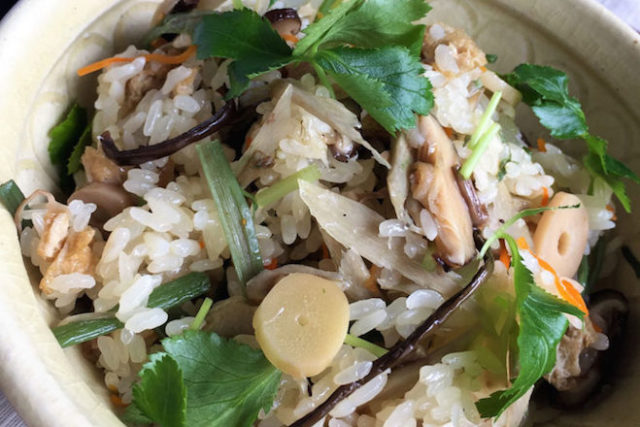 By Kanako Koizumu
In my hometown in the northern part of Japan, spring is the most exciting season. Everyone is thrilled to finally see the end of the long, dreary winter. They rush out into the mountains with joy and excitement to gather one of the great treasures of spring — sansai. 
Sansai is a term that refers to various edible wild plants such as warabi (baby bracken ferns), kogomi (fiddleheads) and fuki (butterburs). If you're lucky, you can find them at your local Asian grocery store or farmers market.
Okowa is a traditional sweet rice (mochigome) dish that highlights seasonal ingredients. So, sansai okowa is a perfect way to celebrate spring in the Northwest.
The fresh and unique aroma and texture of sansai makes a great accompaniment to the moist, chewy, sweet rice. Thanks to my generous friends who provide me with fresh sansai (and ask me to cook them ?), I have enjoyed sansai okowa several times this spring.
It's unfortunate that fresh local sansai is available for a very short time. But don't worry — packages of "sansai mix" are available year-round in the refrigerated section at many Japanese and Asian grocery stores.  This recipe calls for the precooked sansai mix.
A couple of easy preparation steps are required the day before, but other than that, sansai okowa is a surprisingly simple dish to make. I'm sure you'll love the authentic okowa flavors and experience!
Sansai Okowa (Sweet Rice with Edible Ferns)
Serves 6 people | Prep time 15 minutes | Cook Time 30 minutes |Passive Time 8 hours
Ingredients
1 package precooked sansai mix (approx. 7 oz)
3 cups sweet rice (1 Japanese cup = 5.6 oz)
2 rectangular sheets abura age (fried bean curd)
1/2 carrot (approx. 3 oz.)
1 burdock root (approx. 4 oz.)
6 dried shiitake mushrooms
2 cups water (360 ml)
2 green onions (or 1/2 bunch mitsuba greens)
1 pound boneless chicken thighs (optional)
2 tablespoons soy sauce
1/4 cup sake
1/4 cup mirin
2 teaspoons salt, plus more as needed
Instructions
The day before cooking, give the rice a quick rinse under running water (there's no need to scrub it), then add water to cover by an inch and soak rice overnight. Place dried shiitake mushrooms in 2 cups of water and soak overnight.
The next day, julienne carrots and burdock root into inch-long strips. Squeeze water out of shiitake mushrooms, remove the stems, and slice them thinly, reserving soaking liquid. Rinse abura age with hot tap water, squeeze out excess water and chop into ¼-inch pieces.
Drain sansai mix. If using chicken thighs, cut into ¼-inch pieces.
Thinly slice green onion, or if you are using mitsuba, chop greens coarsely. Set aside for later use as garnish.
Put mushroom soaking liquid in a medium saucepan with sake, mirin, salt and soy sauce, and bring to a boil over high heat.
Add all vegetables, sansai, abura age and chicken if using. Then reduce heat down to low and cook until all the vegetables are tender and chicken pieces are no longer pink, about 5 to 10 minutes.
Strain ingredients, reserving liquid in a bowl.
Using a rice cooker
Drain rice and put in rice cooker. Add reserved liquid to the 3 cups level mark. Place vegetables and chicken on top of rice, and then cook as instructed for your rice cooker.
Steaming using a two-level steamer
Place water in bottom pan. In top pan, spread a cotton cloth wide enough to cover its entire bottom and overhang sides. Put lid on and place over high heat.
When steam begins to emit vigorously from steamer, place sweet rice on towel in the top. Put lid back on and cook for 15 minutes, or until rice is just cooked but maintains al dente consistency.
Transfer cooked rice into reserved liquid. Stir well, drain excess liquid, then place rice back into steamer. Replace lid and cook another 5 minutes.
Place solid ingredients on top of rice in steamer, then cook another 5 minutes. Check consistency of rice. If it is still al dente, cook another 5 minutes.
Transfer rice into a large bowl and toss with vegetables and chicken, mixing well and adding more salt as needed. Garnish with chopped green onion or mitsuba.
Chef Profile – Kanako Koizumi
Kanako Koizumi, a native of Akita, Japan, is a chef, author and instructor focused on authentic Japanese home cooking. She will be teaching Bento and Izakaya classes in June at Tom Douglas' Hot Stove Society and ChefShop in Seattle. Chef Kanako also offers in-home private cooking classes for groups up to 12. You can reach her at info@kozmokitchen.com.
Kanako's Cooking School Information
Hot Stove Society | 2000 4th Ave, Seattle
Bento Class – demo and hands-on
Izakaya Class – demo only
Class Info : https://www.hotstovesociety.com/classes
Chef Shop | 1425 Elliott Ave W, Seattle
Class Info: http://chefshop.com/2017-0613-SPECIAL-CLASS-Japanese-Bento-Box-Picnic-P8949.aspx)