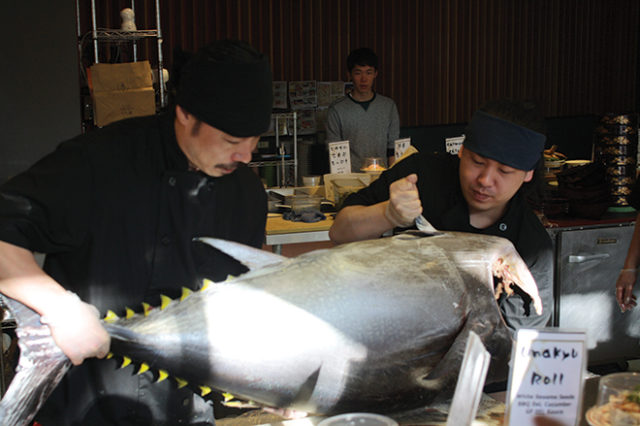 By Maiko Kobayashi, translated by Bruce Rutledge
Tuna filleting has grown from something you'd see at restaurants around Tsukiji Fish Market to a popular Japanese and now overseas entertainment. Crowds gather as fishmongers wield steely knives with quick precision to clean the tuna. The sushi and
sashimi that follows is rich with umami and satisfying to both the eyes and the palate. These events are still rare in Seattle, but Ten Sushi in Queen Anne has attracted a lot of attention by holding regular tuna-filleting events.
The April 26 tuna fillet display involved a Pacific bluefin tuna from Uwajima, Ehime Prefecture. The tuna alone weighed a full 153 pounds! The tuna arrived from Japan the morning of the event. The overwhelming presence of this huge tuna on the cutting board was a moment made for social media. Before the event started, a crowd of people huddled in front of the tuna, snapping photos.
The MC kicked off the show as the crowd buzzed with excitement. First the chef put the knife, which was as long as a sword, into the tuna's head. As the heavy-looking tuna's head was chopped off, the crowd gasped. It then became a race against time to preserve the freshness of the tuna flesh. The fish expert in charge of this chore was Ten Sushi owner, chef and craftsman Shinichiro Takahashi.
This was a hatchery-raised Pacific bluefin tuna, branded as TSUNAGU. From birth through breeding, the fish receive high-quality care, with their water temperature and feed monitored closely before they are shipped out. While wild bluefin tuna population is decreasing with the globally increasing demand, hatchery-raised bluefin tuna is becoming a new sushi trend in Japan. TSUNAGU brand was recently released in late 2017 from
Kyokuyo Co., Ltd targeting high-end restaurants.
Because you can eat precious tuna right as it is sliced in nigiri sushi or maki sushi style, Ten Sushi's tuna filleting events are always filled by customers who reserve their space ahead of time. The day included trivia questions involving sushi, fish and Japanese culture. People who responded correctly were served grilled tuna collar. "This is my first time to see the show," said Angela, a trivia winner who attended with her son, Eddie. "I
was shocked at how big the raw tuna was!" Another customer, Leslie, who attended with her daughter Midori, said, "We just recently returned to the US after living for years in Okinawa. It was satisfying to be able to eat sushi in Seattle that tastes just like the sushi in Japan."
Ten Sushi has opened a new store in the International District called Ten Sushi #35. Contact the restaurant for the next show schedule. Reservations are required for the show. The tuna filleting show can be also arranged for private or corporate parties.
Ten Sushi Seattle
500 Mercer St. C-2 2B, Seattle
(206) 453-3881
Ten Sushi Website
Read interview with Shinichiro Takahashi :
Japanese Restaurateurs – Ten Sushi Owner Chef Shinichiro Takahashi