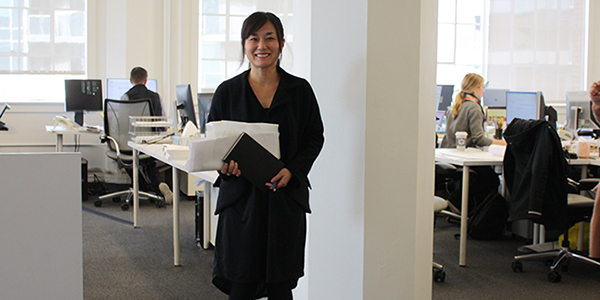 Makie Suzuki is a Seattle-based landscape architect designing cityscape and exterior spaces all over the world. We spoke to her about her career and her latest projects.
By Misa Murohashi, translated by Bruce Rutledge
Makie Suzuki is landscape architect. After receiving a master's degree in landscape architecture with urban design certificate from the University of Washington, she worked at Sasaki Associates and taught at the University of Virginia. In 2012, she joined Gustafson Guthrie Nichol. Some of the many projects she has worked on over the years include the Engineering Research Center at Brown University and a master plan for the Dead Sea Development Zone in Jordan.
Designing Cityscape
where a community thrives
Finding her calling
"Ever since I discovered that there was a job called landscape architect, I've been taken with it," said Makie Suzuki, who works as a senior associate at Gustafson Guthrie Nichol (GGN). An architect typically designs buildings, while a landscape architect designs the spaces outside the buildings. The work is not just about garden design but includes public spaces and may expand in scale to designing the scenery of a city or regional landscape strategies. "A project starts by considering every facet of place, from its history and culture to its topography, rivers, terrain, climate, ecosystem and also the lifestyle of people who use these spaces after we have completed them," she said.
Makie began on her career path to be a landscape architect around the time she graduated from university. She majored in sociology and studio art at Willamette University and did an internship at the nonprofit Portland Institute for Contemporary Art (PICA). At the time, PICA was in the Pearl District in the northern part of downtown Portland. A project was under way to revitalize the community through art. Through PICA's support, stylish galleries and cafes started to spring up, turning a once dilapidated warehouse district into a vibrant art district. Makie saw the changes play out before her eyes and she became enthralled with work that used design of spaces to make people's lives richer. Makie had an arts background in college with photography and ceramics, and she was also interested in social and environmental problems. This sort of work was calling out to her.
After graduating from college, she moved to San Francisco and began working at San
Francisco Parks Alliance (formerly San Francisco Neighborhood Parks Council), which is a nonprofit that aims to revitalize communities with activities in parks. "I was originally planning to go to graduate school and become a city planner. However, at a UC Berkeley Career Discovery Program, I discovered the existence of a job called landscape architect. I figured that I would enjoy a job like that, where results were revealed after each project, rather than the long-term city planning job." In 2006, she received her master's degree in landscape architecture from the University of Washington with urban design certificate. She worked for Sasaki Associates, a multi-disciplinary firm, and taught at the University of Virginia until she was hired by GGN in 2012. "Each project I have been involved in varies, so I never get bored of my work," Makie said. "New projects make me start learning about the site and users from the beginning. It's fun because I never quite master my work."
"I want to make a space that delves into the depths of the cityscape"
Makie has been involved in all sorts of projects from Barangaroo in Sydney, the Master Plan for Dead Sea in Jordan, to the local GIX plaza.
Recently, she has been working on the Rainier Square site in downtown Seattle owned by
University of Washington. The site is located along University Street and the Rainier Tower has a distinct inverse triangle at its bottom. Rainier Tower was designed in 1977 by the famous architect Minoru Yamasaki, a second-generation Nikkei from Seattle who designed the original World Trade Center. The 58-story new building being built next to Rainer Tower will have space for offices, apartments, and retail stores when it is completed in 2020. A hotel structure will also be added to the site. The office space has already been leased by Amazon. The building is being designed by NBBJ of Seattle, and the exterior
spaces are designed by GGN. Makie is the project manager.
Makie explained the team's vision for the project and the thrill of the challenge: "The area
around Rainier Square, including Rainier Tower, has a concentration of architectural works from different periods. We want to make spaces on decks or the hotel rooftop where people have the opportunity to gaze out across the history of the city and enjoy the scene. It would be interesting to create a comfortable space that delves into the depths of the cityscape, revealing the many layers of history, art, and beauty of Seattle."
GGN is currently involved in a very interesting nonprofit project: The Block Home Project. With this project, small houses called "Block Homes" are built in backyards of regular family dwellings and are used to house the homeless. Seattle-born architect Rex Hohlbein and his daughter Jenn LaFreniere began the project in 2017, with their passion to reduce homelessness and wipe out prejudice against those on the streets. GGN is one of many local organizations participating in the project.
"The Block Homes are as small as 109 squarefeet. Solar panels on the roof secure power.
Rainwater is stored and used for showers. A biotoilet doesn't use sewage to dispose of waste.
The Block House also has a small kitchen and sleeping space. It is remarkable in that the
house is low-impact on the environment," she explains. Homeless people move in and start to reestablish themselves through having shelter and connecting with the people who have offered the backyard space and the community at large.
In the residential areas of many American cities, there are laws prohibiting such micro-structures, but Seattle deregulated several years ago, allowing the project to move forward. It is getting attention as a completely different approach from the homeless shelters. "I hope to be involved in more projects like this that contribute to society," Makie said.
Teamwork is the key
The work of a landscape architect begins with site analysis, where research of the area's history, ecosystem, geology, topography and societal background is done. Then the design lead's big vision is detailed out through the process of design study. The production processes drawing architectural plans and perspectives are done again and again for the design study as well as to communicate the design to project members and to stakeholders such as developers, users and local communities. "It's definitely not a linear
process. During the production processes, we often get feedback and return to the design study to rethink certain things. Through trial and error, we progress." GGN puts together a team of three to five people working on each project. "Everyone has their strengths. Some people are really good at one aspect, and others don't particularly excel at any one thing but are really versatile and able to work well with others. We keep some flexibility
depending on the composition of the team members." Lately, Makie has often been assigned the role of project manager where she serves as a team leader/mediator. "This is definitely not work you can do by yourself. Teamwork is always important. It's true of the project team, but there are also people connected to the project such as developers, engineers, craftsmen, public agencies, and all sorts of others. And in the end, the people
who will use the facilities become part of a big team creating a site. Everyone is needed. I want to continue to be part of that big team that makes good things."
Makie was born in Nagoya, Japan. She remembers being a determined kid who never
gave up. In high school, she started to think, "I want to learn in this wide world." After entering university in Japan, she transferred in her junior year to Willamette University. Makie is busy with her work, but she enjoys the outdoors during her time off. "Seattle is surrounded by diverse nature. I enjoy it all, from the beaches along the Puget Sound to Mt. Rainier and the mountain ranges and the magnificent desert areas to the east." She
hopes to have opportunities to work on a project in Japan. "Compared with architecture, landscape architecture is still not that well recognized as a career choice. In Japan, even more so than in the US, it's not a very established line of work. It would make me happy if more people learn about this type of work," she said. Makie, always ready for a fresh discovery, has the world laid out before her.
Gustafson Guthrie Nichol (GGN) is a landscape architecture firm based in Seattle. GGN was founded in 1999 by Jennifer Guthrie, Shannon Nichol, and Kathryn Gustafson. The firm's 45 employees have backgrounds in landscape design, architecture, art, engineering, and ecology. Prominent projects include the National Museum of African American History and Culture, CityCenterDC, Lower Rainier Vista & Pedestrian Land Bridge, and the Lurie Garden at Millennium Park. GGN is the recipient of the 2017 ASLA National Landscape Architecture Firm Award and the 2011 Smithsonian Cooper Hewitt National Design Award for Landscape Architecture. The firm's project awards include ASLA National Awards of Excellence, ASLA and AIA Honor Awards for Design, Tucker Design Awards, and Great Places Awards from the Environmental Design Research Association. For more information about GGN, please visit www.ggnltd.com.