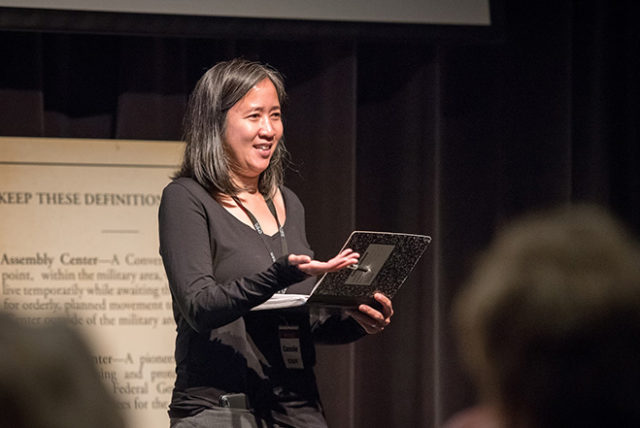 Cassie Chinn, the deputy executive director of Wing Luke Museum, is a fourth-generation Seattle resident. She studied art history at the University of California, Berkeley, then returned to Seattle to work at Wing Luke. Over the years, she has risen through the ranks and become a vital part of the only Pan-Asian museum in the United States. She lives on Beacon Hill with her family.
Community is key for Wing Luke Museum deputy executive director
Interview conducted by Bruce Rutledge,
Cassie Chinn calls herself a "homebody." While she lives on Beacon Hill, "home" for Chinn is definitely the Chinatown-International District neighborhood. The deputy executive director of The Wing Luke Museum of the Asian Pacific American Experience attends community meetings, block parties and cultural events in the C-ID. And she says there are many people just like her who no longer live in the C-ID but call it home. As the neighborhood faces unprecedented challenges because of development and gentrification, this attachment to the neighborhood may be its key for cultural survival. Chinn is on the front lines of the fight to preserve the C-ID's Asian cultural heritage, working tirelessly to make sure The Wing remains a strong cultural anchor. We chatted with Chinn about her career, the neighborhood and how history affects us all. Excerpts from the interview follow.
I heard that you interned at The Wing during your college days.
I grew up here. I'm fourth generation Seattle. I grew up on Beacon Hill, graduated from Franklin High School, and I went away to California for undergrad. I studied art history. But I'm a bit of a homebody (laughs). I would come home in the summer, so that led me down this path of interning at different museums. The Wing Luke Museum was one of those museums. I started interning here in the summer in between my junior and senior years back in the early 90s. At the time, I found out that the museum had done an oral history with my grandmother. I had no idea about that. I had never asked my grandmother about any of those stories. This was all new information to me. To be able to find out more about my own personal history and to understand better where I fit in the community as a Chinese American, as an Asian American, was incredibly powerful for me. We eventually took that oral history and created an exhibition and a book, and I saw how powerful that was in my grandmother's life. She kept that book on her coffee table until she passed away.
What sort of stories did your grandmother share with you?
She told the story of her mother, my great grandmother. Because of the impact of the Chinese Exclusion laws, husbands couldn't bring their wives here. They would have to go over to China, making that journey across the waters, to marry. My grandmother tells a beautiful story of how her mother had a rooster stand in for her husband-to-be, standing under the moonlight, saying that a promise is a promise.
At a certain point in time, my grandmother came back to Seattle because education was free here. Because of that Exclusion Act, you have these disjointed families separated across the waters. On my mom's side, I'm third generation. My grandfather was the first to come. But he was the third in line to make that journey. His father and his grandfather had been here, but they always had to go back to China to start their families. When the boys came of age, they would come to the States. I don't think people realize how a law that was passed in 1882, the Chinese Exclusion Act, still has these ripple effects down into families today, has completely shaped what are nation would look like. There were many Chinese immigrants in large numbers, but they were forced out. Wouldn't our population look different today if that hadn't happened? The Chinese Exclusion Act then sent the precedence for how we as a nation can determine who can come and who can't, who is American and who is not, oftentimes through a race-based lens.
That sounds eerily similar to what's happening today.
It's a very unfortunate similar pattern. The legislation (for the Chinese Exclusion Act) didn't just come out of nothing. There definitely was a climate and appetite for it, but it opened the doors. It said this is sanctioned, this is OK to treat people this way. Then things that might have been more hidden or under the surface felt more freedom to come out. Here in Seattle, you had the 1882 Chinese Exclusion Act, this federal law that passes, then in 1886, just four years later, it's the anti-Chinese riots, where violent acts happen, where people en masse are rounded up, and it's decided that we don't want any Chinese here in Seattle. We're going to push them onto a boat and force them out of the city.
Today, the neighborhood faces a different force that is pushing people out. What can the Wing do to help the community keep its cultural identity in the face of rampant development?
If we think about the Wing Luke Museum and some other organizations, we were blessed to have been created out of the Civil Rights Era. There were a number of civil rights leaders who came together and built these organizations. I always want to pay honor and tribute to those who came before us who had that vision. They had that idea. Folks like Uncle Bob Santos, or Wing Luke himself, who was really passionate about cultural preservation. Or Donnie Chin. It was part of his lifeblood — our culture, our identity, our history. They were the stewards of that. And now we're here, and our role is to continue to steward them well and to continue to connect them to more folks and keep them going. It's special because our organization, organizations like Denso and Uwajimaya, Kobo @ Higo, Momo, all those small businesses show that our cultural heritage is strong and it's of incredible value and worth. It's something that people want. They want to connect with it. They want to dive into it, and they love it. It's a strength that we have and that we can keep growing. People come to the museum because they want to connect with the community leaders, they want to experience all of the distinctive personality and quality that makes Seattle what it is. That's why they'll come to the Chinatown-International District to go to all of these incredible restaurants. That's the authentic food made by families who have been doing this for decades and decades. It's something that Seattle can be proud of, should be proud of, but also needs to continue to support and protect because of a whole host of reasons from the structural racism that is in place to the long-time disinvestment in the neighborhood. Because we are built on many small businesses, it's a fragile community. The more we can preserve and sustain it, to make sure it continues on, the better positioned we will be. It's still a delicate time.
When the Wing plans an exhibit, it seems that you make a point to involve the community from the very beginning.
Our museum is part and parcel of the community. It's not something separate. We grew from the community, and community leaders created us. Community members continue to sustain us. We view that as a strength. People can come here and get to know the personal, real-life story of everyday people here in Seattle. You get to really immerse yourself in the community, feel like you've met people, you've gotten to know Seattle better, you've gotten to know the people here better because the materials on display come directly from those people. They are sharing their histories, they are sharing their stories, they're sharing special photos, materials that they've kept in a box in their closet. That's how we create our exhibitions. We don't have curators here on staff, but community members who come and meet for a year, sometimes two years, to plan the exhibitions. People appreciate our exhibits because they are rooted in what people care about today.
What's in store for the first few months of 2018?
We're excited to celebrate and ring in the Lunar New Year with lots of family, friends and with the neighborhood. This year we'll have our annual Lunar New Year fair on Saturday, February 10. It's the year of the dog. We start out blessing our building with the lion dance, which is an important tradition to do every year. We would do it even if nobody came, but we're grateful that lots of people like to come out and celebrate. We have a full day of activities, inside with games and art activities, a film. A lot of families come out as an annual tradition, and we love being part of families' lives and building those traditions.
Our current Bruce Lee exhibition, "A Day in the Life of Bruce Lee," is open through  Sunday, February 11. Our overall neighborhood will be having its big Lunar New Year festival that day too. We are going to take a couple of weeks to install part four of our exhibit. It's entitled "A Dragon Lives Here," and it really dives into Bruce Lee's experience in Seattle, how it was a formative time of his life, what he did in different parts of Seattle, starting in First Hill, at Ruby Chow's restaurant, spending time here in the Chinatown-International District, seeking inspiration on the shores of Lake Washington, and furthering his philosophy and his martial arts at the University of Washington and the U District. You really get to know Bruce Lee in a personal way right here in Seattle. He was a groundbreaker, an innovator. Seattle fueled that in him, and that is something that is still distinctive of Seattle today. It's going to be a fresh take.
Come February 2018, it will be five years since we had the Secretary of the Interior and the full Washington state delegation here to acknowledge and recognize the museum as a National Park Service affiliated area and formally be part of the system. I still remember one of our community members beaming with pride that day because he said, "Now we're like Mount Rainier." The designation by the National Park Service has that sense that they recognize us as part of the American story. We're the only Pan-Asian American museum in the nation, so this was a way to say, yes, the Pan-Asian American story is part of the American story.
Over the past year, we've been working with community members and a group called Friends of Japantown to create a Japanese American remembrance trail, an urban hike through Pioneer Square, Japantown and into the Central District. There are over 40 sites on the trail. We did some test hikes this past summer. In a little while, we'll have the map brochure. The National Park Service provided some planners who helped with that and offered their technical expertise.
Do you have any hobbies?
You could ask my husband: Do I exist outside of the Wing Luke Museum? My hobbies? Hmmm. How about things that help me maintain balance?
OK. I get my creative juices out by baking. I like to knit. I do a lot of reading. I like to hike. I like to go running. I am involved in my church family and church life. It helps fuel my soul and keep me spiritually grounded. With work like this — and I think there are a whole lot of people who are similar — this is our community, so I'm not involved in, say, the neighborhood planning in the neighborhood I live in; I do neighborhood planning and get involved in neighborhood activities here in the Chinatown-International District. Our community might not live here — people have moved to Beacon Hill or further south in King  County — but this is our home base. This is where our cultural roots are; this is our home. It's a different model. There are residents here, but beyond the physical residential address, there are a whole lot of people who consider the Chinatown-International District to be home.
Where do people end up living now based on affordability? Now it's more Renton, Kent, Federal Way. But on the weekends, they still come here to go shopping. Or if there's a family dinner, they'll come here. Or if they want to be able to teach their kid about Asian American history, they'll come to the Wing Luke Museum. This neighborhood is still very much a crucial part of people's lives.
Wing Luke Museum of the Asian Pacific American Experience opened its doors in 1967 as a humble storefront at 414 8th Ave South in the Chinatown-International District (C-ID). The Museum was named in honor of Wing Luke, who was the first Asian American elected to public office in the Seattle area. Before the tragic death of Luke by a plane crash in 1965, he had suggested the need for a museum in C-ID to preserve the history of Asian American immigrants. Today, the Museum's mission is to connect everyone to the rich history, dynamic cultures and art of Asian Pacific Americans through vivid storytelling and inspiring experiences. As a Smithsonian Affiliate, National Park Service Affiliated Area, and the only panAsian Pacific American museum in the nation, The Wing is in a uniquely positioned to tell the stories of Asian Pacific Americans in their own voices through thought-provoking exhibitions, tours and public programs. The museum is named in honor of the late Seattle City Council member Wing Luke, who was the first Asian American elected to public office in the Pacific Northwest.
Wing Luke Museum 719 South King Street, Seattle, WA 98104