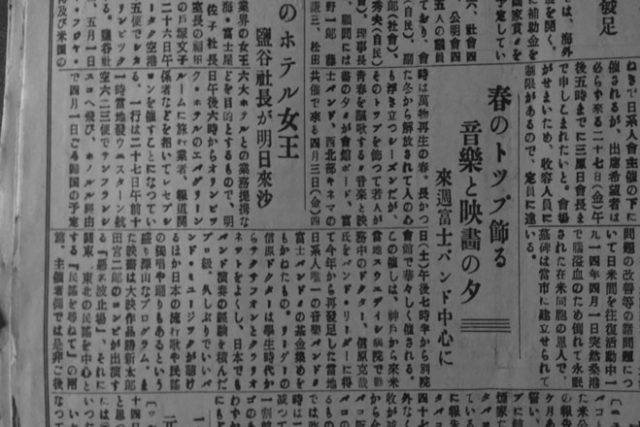 Original Issue Date: Mar. 25, 1964
Translated by The North American Post Staff
Spring has come. Local people are relieved after a long winter and welcome an exciting season. A community evening event featuring music and movies will be held on April 3 and 4 at 7:30 p.m. at Seattle Betsuin Buddhist Temple Gym presented by the Japanese Community Service in Seattle, Fuji Band and Northwest Cinema.
The event will be a fundraiser for the reunion of Fuji Band, the only Nikkei band in Seattle led by Katsuya Shinohara. He is a Swedish Hospital doctor from Kobe and has been performing in Japan, playing saxophone and clarinet.
The program will include popular Japanese songs, traditional folk songs and dances in addition to the band's great music. The movies shown in the evening will be "Akumyo Hatoba" played by Katsu Shintaro and Tamiya Jiro and "Minyo of Tazunete" featuring traditional folk songs from the Kanto and Tohoku regions.
The organizer hopes to have many attendees to support the event.