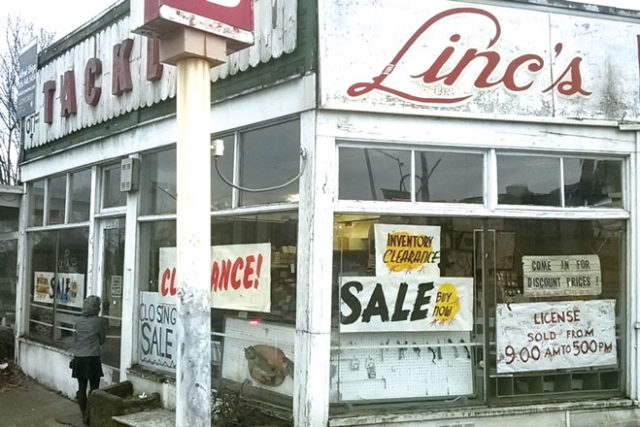 By David Yamaguchi
IF YOU NEED SOMETHING from Linc's Tackle, on Rainier Ave S. at S. King Street, now is the time. As described in the Seattle Times (Dec. 2, 2016), Linc's closing grows nigh.
What remains to be said is something about the Nisei fishermen who used to support places like Linc's. One was George Tokuda—a fishing nut if there ever was one—who ran Tokuda Drugs, with his charming wife, Tama.
The Tokudas were our neighbors, three blocks away, when my siblings and I were growing up. I have a fuzzy memory of one of the Tokuda girls, probably youngest daughter Marilyn, making hot chocolate for my siblings and me as a babysitter.
Among the older Seattle Nisei, Mr. Tokuda had grown up as the eldest Nisei in Mukilteo. I remember him telling us how he had translated for the Issei men who worked there in the sawmill.
In any case, when my brother Gary and I were in junior high, I remember Mr. Tokuda would call us, close his shop—I believe with a "Gone Fishing" sign—and drive over in his 1950s Chevrolet "fishing car," to pick us up. For Gary and I were his fishing groupies and muses.
By then, Mr. Tokuda's own son, Kip, had his own life. The arrangement worked for Gary and me because our dad, who was younger and ran a larger store, didn't have as much time for fishing. I also believe Mrs. Tokuda had something to do with her husband taking us along on his fishing trips. For he would foray to out-of-the-way places where it would not do for an older man to be alone if anything happened. A teenage boy or two can be useful to have along now and then.
Once, Mr. Tokuda's old car would not start for us to get home. It was Gary, who by then knew something about cars, who managed to get it going.
On our fishing trips, we went to various local destinations, I do not now remember exactly where. On one trip to Puget Sound, Mr. Tokuda brought Gary and me to an old, rickety pier. The boards were so old that they would crack as we walked across them. We walked carefully, for there were gaps in the boards where some had broken and fallen away.
We threaded those boards for one simple reason: there was a school of perch below the dock, grazing on its barnacle-encrusted piers. Even more amazing, we found they didn't seem to mind when one of their number was pulled skyward, out from among them.
The three of us filled several cardboard boxes with those perch before the school moved on. It was among the best fishing trips of our youths.
I recall dangling a line between the dock boards, only to find that I couldn't get one perch I caught up between the boards.
We brought the perch home, and spent the next several hours in the backyard cleaning fish. With Dad, we then dropped them off at our relatives' homes.
With the balance, Dad had the bright idea to bring the perch to Tai Tung in trade for a fish dinner for our family, which the cooks there were happy to do. They made us a multi-course perch meal.
On other outings, I remember Mr. Tokuda bringing me without Gary to fish for crappies in local lakes. Instead of using real bait, he taught me to use a strip of chamois skin on a hook. It worked just like a worm, and stayed on the hook far better in the weeds near shore where the crappie lived.
In any case, in any month of the year, Mr. Tokuda knew where to catch fish and how. Perch. Crappies. Smelt in LaConner. Trout.
Today, such knowledge is largely lost, as are the plentiful fish. Yet the latter swim on, largely in the minds of adult Sansei boys who were privileged to have been taken fishing by those live-to-fish Nisei men.