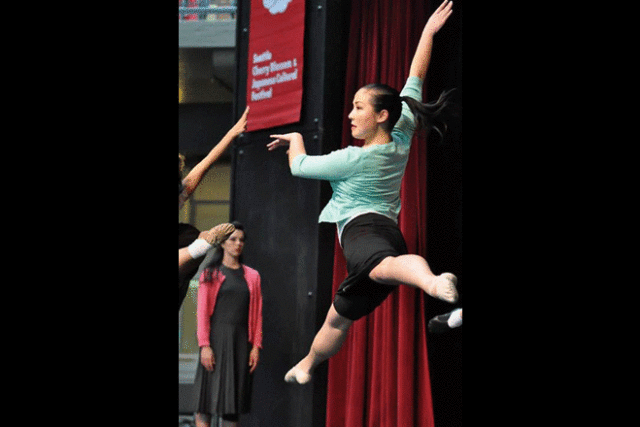 By Fumika Iwasaki The North American Post
Gabrielle Kazuko Gainor (Nomura) has been an energetic choreographer fighting for social justice and against stereotypes she faced as a youth. Being a Gosei (fifth generation Japanese American), she still has plenty of stories about her ancestors and their World War II experiences.
"In 1906, an earthquake occurred in San Francisco, and I know my Nomura side were carpenters, so after the earthquake they found there was work for them, so they came to the states and helped to rebuild the city," she said. "So they, my great-great grandparents, came over, and my great grand parents were incarcerated during World War II in Heart Mountain in Wyoming, my ojichan (grandfather) was born in camp."
Gainor, media relations manager of Seattle Opera and a member of the local chapter of the Japanese American Citizens League, said she is the first of her family to live in Seattle while most of her family history belongs to the Los Angeles community. She added that her family's connections helps her see herself as a Japanese American.
"I think I've always been aware of being Japanese American," she said. "I'm a mixed person, a Filipino, Irish American as well. But I grew up saying certain Japanese word around the house. My mother had me when she was young, so my grandfather was a really big part of raising me. He is Sansei (third generation Japanese American), but because his mom is a kibei who lived so much of her life in Japan, he is really connected to Japanese culture.
"In addition, my great grand mother gave me middle name, which is Kazuko," she continued.
For Gainor, her grandfather made a great impact on not only identifying as a Japanese American but in regards to social justice. Beside World War II, she learned from him the importance of civil rights and social justice, sharing stories of a farm worker's movement to support his Mexican neighborhood.
"Actually, he spoke Spanish as well as Japanese," recalled Gainor of her grandfather.
She created a modern dance company called Relay Dance Collective that performs in Seattle with local dancers and choreographers. In 2014, she created the dance piece "Farewell Shikata ga nai" about Japanese American incarceration during World War II, with ballet and taiko drumming.
The play was featured at JACL Seattle chapter's annual banquet, Seattle Cherry Blossom and Japanese Cultural Festival, Asian Pacific Islander Heritage Month celebration and the Wing Luke Museum.
"It was a great opportunity to tie my background and dance together with my involvement in the Japanese American community," she said.
Through dance, Gainor has recently been choreographing about stereotypes of different of people including Asian Hollywood stars.
"A lot of times Asian men in Hollywood are hunky and get the girl, like Jackie Chan, or they are ninjas or clown-like psychics," she said. "I'm just sort of expounding on these stereotypes and how they affect us as a choreographer, and how we change with them. I want to make a statement there is more than being a Japanese person, a Japanese American person, an Asian person. I'm just constantly thinking about these issues because this is the way I experienced the world, and the way I am treated in society and the world as an Asian woman. I guess my goal is just to tell stories as an artist. These are just stories I know how to tell because of being Asian and Japanese."
In Japanese, there is a proverb: Ko Young ha Oya no Senaka wo mite sodatsu. It means "Children grow as they look at the backs of their parents." Young people really look to their elders. If you want to make a better future, it might be best to make yourself a role model.
Gainor said that art is a suitable way to express this and make an impact on society.
"It's important for children to have role models…because a lot of us don't," she said. "And if we can inspire the next generation, that would be great."