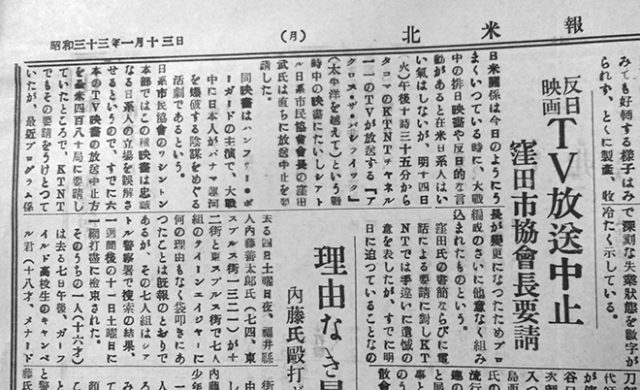 Original Issue Date: Jan. 13, 1958 Translated by The North American Post Staff
Japanese Americans will not feel good if they find any anti-Japanese statements or movie screenings filmed during World War II, especially around this time, since U.S.Japan relations have improved.
Tak Kubota, president of Japanese American Citizens League Seattle Chapter requested that KTNT Channel 11 in Tacoma suspend the broadcast of "Across the Pacific" at 10:35 p.m. on Jan. 14.
The spy movie featuring Humphrey Bogart was filmed during World War II with a story about Japanese spies exploring the Panama Canal. The National JACL has already requested that 480 TV stations around the country suspend this kind of anti-Japanese propaganda programs and films that could lead viewers to misunderstand Japanese Americans.
KTNT received the request, but the film was scheduled due to a transition in program directors.
KTNT issued a sincere apology to Kubota via mail and phone, but the schedule could not be changed at the last minute. Both reached an agreement that KTNT will acknowledge their mistake before the program begins tomorrow.