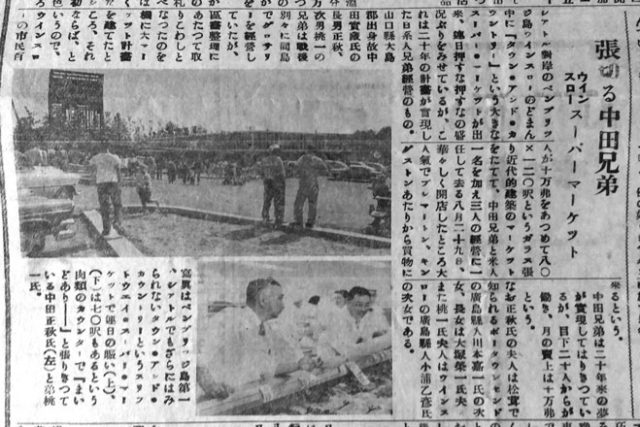 Original Issue Date: Oct. 19, 1957
Translated by
The North American Post Staff
Town and Country Supermarket, located in Bainbridge Island's Winslow, has been successful since its opening. The supermarket has been planned for 20 years by Japanese American brothers  Masaaki and Momoichi Nakata, whose late father, Jitsuzo, immigrated from Oshima in Yamaguchi Prefecture. The Nakata brothers used to separately own  grocery stores, but both markets were forced to close due to development. They created a building plan for the big market, and over 100 residents in Winslow raised $100,000 for a 80×120 feet glass building.
Since opening the business on Aug. 29, the business run by the Nakata brothers and another American has been quite popular. Customers even visit from the Bremerton and Kingston areas.
The Nakata brothers have been so excited to run the business that they have expressed interest in continuing for 20 years. At this time, they have hired 20 workers and earn $100,000 a month.
Masaaki is married to the second daughter of the famous matsutake hunter and Port Townsend resident, Yoshikazu Kawamoto, from Hiroshima. His first daughter is married to Eiichi Otsuka. Momoichi married the second daughter of Otohiko Koura of Winslow from Hiroshima.