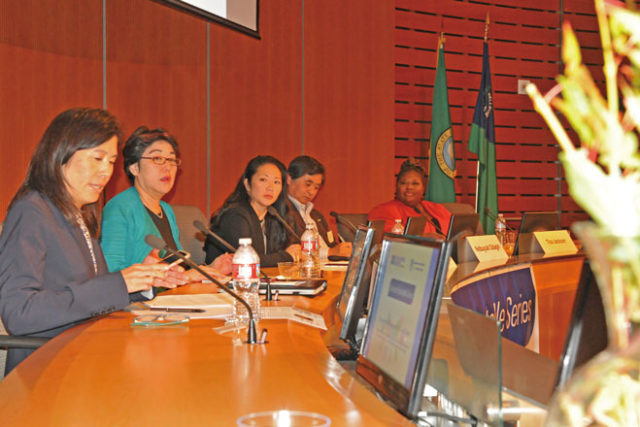 By Kiyomi Matsui
The North American Post
An annual community business roundtable event hosted by the Japan-America Society of Washington and Japanese Business Association of Seattle was held on Sept. 21 at Bellevue City Hall, featuring empowerment of women in the United States and Japan.
The panel discussion was joined by Keynote Speaker Royanne Doi, Corporate Chief Ethics Officer of Prudential Financial, Inc. moderator, and emcee Jill Nishi, Director  of Office of the President and Chief of Staff in Bill & Melinda Gates Foundation. Panelists included Margaret Arakawa, general manager of Windows and Devices Marketing in Microsoft Corporation; Nobuyuki Odagiri, executive vice president chief technology officer of Toray Composites(America); and Tisa Jackson, director of Global Diversity& Inclusion Practice Management in Microsoft Corporation.
A variety of subjects were discussed related to women's empowerment in companies in both the United States and Japan from women returning to jobs and careers after giving birth and Japanese men's thoughts on jobs and child care. An interesting topic introduced a recent Japanese word, Ikumen, referring to Japanese men who are more involved with child care.
Doi said that many Japanese men still think that a woman should quit her job upon  marriage or giving birth and stay home and that the women think the same way. She said it is indeed a misunderstanding as over 70% of women want to return their jobs. She also shared her experience in that she appreciated seeing a book of "Ikumen" as one featured section with men's popular cars, fashion and cameras in a bookstore, which signifies men's thoughts on women and childcare have changed in day to day life.