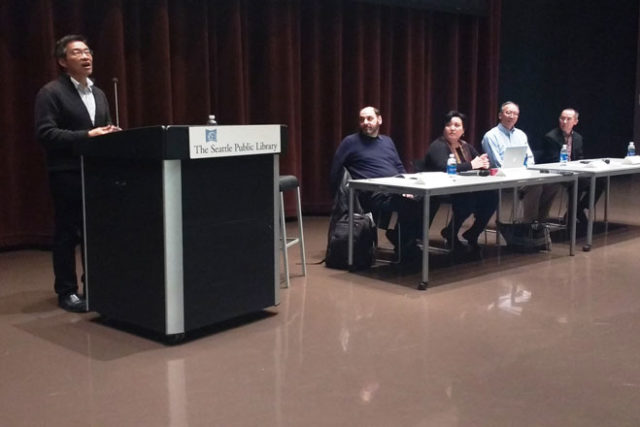 By Shihou Sasaki
The North American Post
Japanese American history scholars discussed the lessons from the World War II incarceration in the current political and social climate on Sunday at the Seattle Public Library's Central Branch.
Brian Niiya, content director at Densho, moderated the discussion with three scholars and authors, Karen M. Inouye, assistant professor of American studies at Indiana University, Bloomington; Greg Robinson, professor of history at Université du Québec À Montréal; and Lon Kurashige, associate professor of history at the University of Southern California.
Over the last 70 or so years, Robinson said that the United States has been ethically, racially and sexually more diverse, and such an event like mass-incarceration targeting a particular race would not optimistically happen again. But all the scholars added that related acts of injustice are still happening in different ways around these communities and even in other countries.
This has been a key topic in current politics, especially in the presidential debates. The history scholars said that the experiences of Japanese Americans during World War II have been a great lesson to share with diverse communities after the incidents of September 11, 2001.
Robinson, Inouye and Kurashige are located in different communities, including Canada, Midwest and West Coast. All scholars said that experiencing other regions' people and their thoughts will be eye opening and help recognize the diverse views and opinions.
Kurashige added that prejudging would be a possible cause for being misled. He added that he has his own opinions especially of a current presidential candidate, for example, but it would be more important to be open and listen first.
"You should have as empty a mind as possible to be able to listen," Kurashige said, "It does not need to change one's mind. But it's important to have an open mind but not to prejudge."
Kurashige pointed out how the United States acted over Buddhism before and after World War II as a historical occurrence of prejudice over a religion. Japanese Buddhist ministers were directly targeted by the FBI after the attack on Pearl Harbor in 1941, but the religion has become a symbol of harmony in the past decades.
He added that this can be a parallel with the current Muslim situation, and he hopes to see some change in the next generations like what happened to views over Buddhism.
The event was partnered with Densho and supported by The Seattle Public Library Foundation's authors series program.