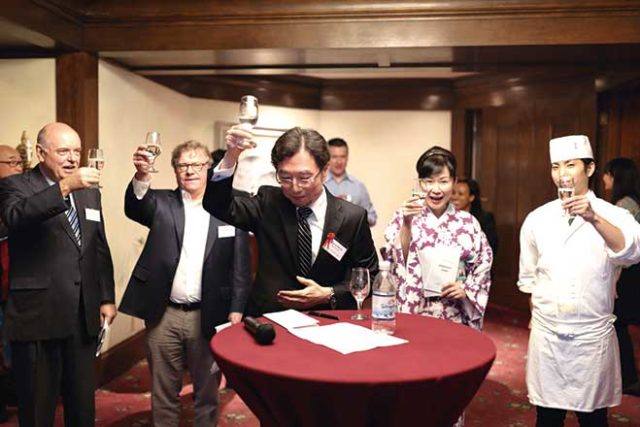 By Fumika Iwasaki
The North American Post
Local food business representatives joined a Japanese sake event at Consul General Masahiro Omura's official residence on Feb. 20.
The Japanese sake industry has been pursuing new markets abroad to counter the challenges of growing a business in Japan. As one of Japan's most iconic exports, the sale of sake overseas has been expanding for the last three years. The United States is the biggest consumer of sake outside of Japan itself..
"Like Daiginjo, which is one of Japanese sake varieties and made from rice polished to 50% or more and served at Nobel Prize dinners several times, sake is one of main items of 'Cool Japan,'" Omura said.
Japanese sake was identified last December as a Geographical Indication Item along with Scotch whisky and Bordeaux wine. Yukio Hamada, director of the Japan Sake and Shochu Makers Association, explained that GI is an international system to protect regional brands of liquors or agricultural products that have a special quality or social evaluation. He added that the system can help to raise sake's prestige.
Sachiko Miyagi from the Cedar River Brewing Company talked about how sake can be enjoyed with various ingredients.
"Umami's (savory taste) sweetness is going to pair well with any type of food," she said of sake's versatility. "Cheese and sake is a popular paring these days. I love having burgers with sake. Actually, it's very popular in Boston."
The event included 12 breweries carrying 30 kinds of sake to share with around 80 attendees with the potential to build or extend their businesses with Japanese sake.
"Sake pairing has a lot of potential variety depending on the cuisine or season," said Tokubee Masuda, committee chairman of the Overseas Sake Promotion Committee of the Japan Sake Shochu Makers Association. "We would like people in foreign countries to enjoy learning about Japanese sake."