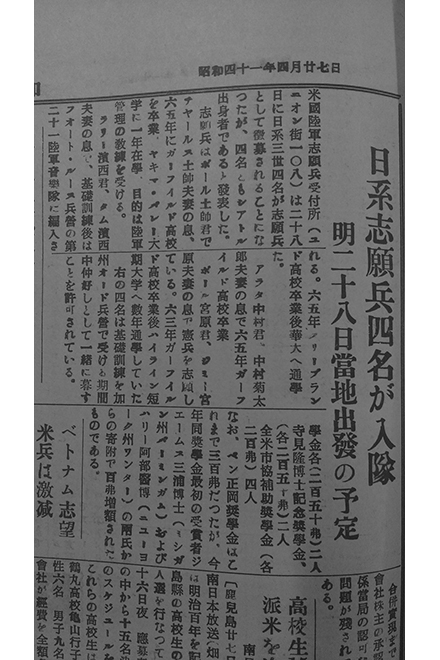 Original Issue Date: April 27, 1966
Translated by Minami Endo
The North American Post
The United States Army Recruiting Office (108 Union St., Seattle) announced that four local Sansei (third generation Japanese Americans) have enlisted as volunteer soldiers.
Paul Haji, son of Mr. and Mrs. Charles Haji, graduated from Garfield High School in 1965 and attended Yakima Valley College for a year. He will undergo military training for the army administration.
Larry Hamanishi, son of Mr. and Mrs. Tam Hamanishi, will enroll into the 21st Army Band at Fort Lewis. He entered the University of Washington after graduating from Cleveland High School in 1965.
Arata Nakamura, son of Mr. and Mrs. Kikutaro Nakamura, graduated from Garfield high school in 1965.
Paul Miyahara, son of Mr. and Mrs. Jimmy Miyahara, applied for the military police corp. He attended Highline Community College for a few years after graduating from Garfield High School in 1963.
Those four men are permitted to live together as friends during the military training at the Fort Ord in California.