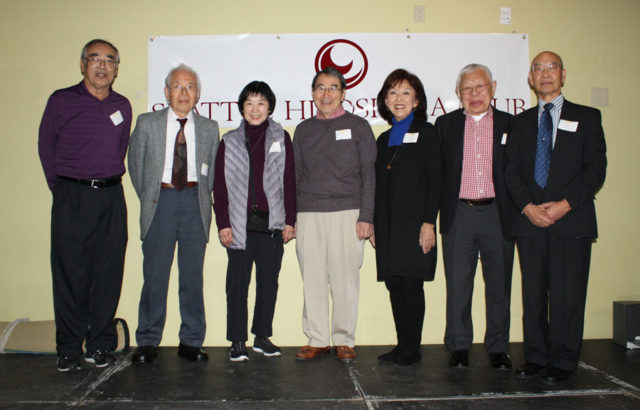 Seattle Kumamoto Kenjinkai By Ryoko Kato, translated by Misa Murohashi
Seattle Kumamoto Kenjinkai's New Year party was held on January 18th at Blaine Memorial United Methodist Church in Seattle. The venue was filled with the club's members, families, friends, and representatives from community organizations including Ayako Tsuyada from the Consulate General of Japan, Kurt Tokita from the Japanese Cultural & Community Center of Washington and Tsuchino and Mike Forrester from the Japanese Community Service of Seattle. Found in 1907, Kumamoto Kenjinkai has a long history. Currently, they host several community events every year including the New Year celebration, a family picnic and a Pilgrimage tour to Japanese American historic sites.
During the program, Vicki Toyohara Mukai awarded "2019 High School Graduate Gift" to two students; Alina Butler, Garfield High School student who will attend University of Washington and Maya Hirota, Kentwood High School student who will attend Seattle University. On stage, children from Megumi Preschool performed "Soran bushi," traditional songs and dance from Hokkaido, Japan. Students of UV Performing Arts also performed dance to Japanese pop music. "I appreciate everybody who supports our activities," Kenjinkai's president Calvin Terada explained. His father and former president Alvin Terada added, "We would like to continue our thriving community. We welcome young people who are interested in our activities."
---
Seattle Hiroshima Club  By Misa Murohashi
Seattle Hiroshima Club's New Year party was held on January 25th at Terry's Kitchen in Bellevue. Founded in 1900, the club has been serving to connect Japanese and Japanese Americans who have connections to Hiroshima prefecture. After WWII, the club members supported atomic bomb survivors by sending donations to their hometown.
Today, while the club provides opportunities for members to connect each other, it continues its educational programs teaching importance of peace based on member's experiences from the atomic bomb.
Seattle Hiroshima Club has given awards to over 130 students since its scholarship program began in 1964. This year, Joshua Kai Otake, a student at Kentridge High School received the scholarship. He is the son of Masanori and Jennifer Otake and grandson of Koji and Akemi Tachibana Otake. He plans to pursue a major in computer engineering after high school graduation.
This year, Shogo Kusumi was awarded the Certificate of Appreciation for his long term contribution to the club. Born in Bellevue in 1930, Kusumi moved to Hiroshima prefecture in 1932 with his family. During WWII, he survived American B29 bombers in Kure's Navy base. He lost one of his brothers to the atomic bomb dropped in Hiroshima City. Another brother who stayed in the US brought him back to Seattle after the war and Kusumi graduated high school and college in Seattle. He worked for Boeing and raised four children with his wife Fusako. He has served as a board director of Seattle Hiroshima Club since 1984 and was president from 1996 to 1998.