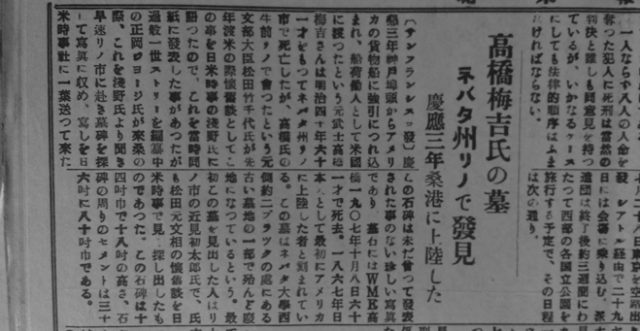 Original Issue Date: June 6, 1967
[From San Francisco] There was a Japanese immigrant named Umekichi Takahashi. He was once a samurai but was taken into a U.S. cargo hold in 1867 at the Port of Kobe and forced to work as part of the crew. He later passed away in Reno, Nev. in 1907.
Takechiyo Matsuda, former Minister of Education, Culture, Sports, Science and Technology in Japan, met Takahashi when he was still alive and shared this story with Mr. Asano of the Nichibei Times.
An article was published later, and when George Masaoka heard the story from Asano, he decided to head to Reno and find Takahashi's gravestone. Masaoka took pictures of the grave and sent them into the Nichibei Times.
This photo is very rare and has never been featured before. The gravestone reads "WMK Takahashi passed away on Oct. 8, 1907 at 61. He was the first Japanese to land in the United States in 1867."
The tomb is located in a cemetery two blocks west from the University of Nevada, but it is nearly a forgotten site. Hatsutaro Omi of Reno, who read the Nichibei Times article, discovered the grave.
The gravestone is about 42 cm wide and 54 cm high. The cement around the gravestone is 108 cm high and 240 cm wide.