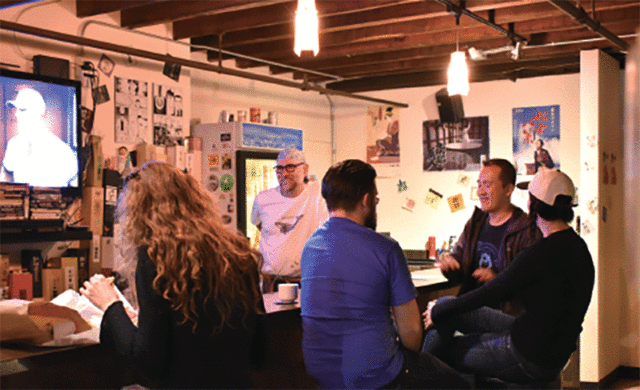 Saké Nomi– The pioneer of Seattle's sake world
Just as a name like Saké Nomi (meaning "only sake" in Japanese) suggests, the store only sells sake. There are about 200 different kinds of various microbrewery sakes throughout Japan. Johnnie and Taiko Stroud opened this store in 2007. "I wanted a place where I could enjoy many favorite sakes," Johnnie tells why he opened the store.
On a corner of Pioneer Square, the entrance is tucked away. Open the door, and immediately a beautiful sight of orderly arranged bottles greets your eyes. The interior is designed to remind you of a sake brewery. Taiko changes the decorations to match the seasons. There's a pamphlet in English explaining how to make sake, the basic rice-milling rates, and all sorts of other tools for learning about sake. The couple said they wanted the store to serve as a sort of sake museum, which gives us a glimpse of their passion for the brew.
Johnnie first encountered sake about 30 years ago. After graduating from college, he took a job teaching English at Shiwa-cho in Iwate Prefecture. At an outing with colleagues after work, he first realized how delicious sake could be. He also liked the atmosphere of these drinking sessions with co-workers. Were there times when he found it hard to be a sake pioneer? "Of course," he replied. From the time they opened until recently, Saké Nomi was the only retail sake shop in the US where you could have a drink at the site. They had to figure everything out for themselves. "But we had a clear goal, so we were able to struggle through," he said. Most Americans didn't know much about sake, so they were quick to say they didn't like it and didn't give it a chance. Or they just thought sake was just to pair with sushi. But once they gain some knowledge, they began to see how easy it was to appreciate sake. Johnnie's goal is to demystify sake.
Today, about 95% of their customers, or "nomidachi," are Americans. The bar has a lot of regulars too. They often hold tasting parties featuring a certain brewery. "There is a lot more knowledge about sake than there used to be," says Johnnie. For customers tasting sake for the first time, he asks what they usually drink and what tastes they prefer, then chooses a sake just for them. "For the first-timers, a sweet or fruity tasting sake is just right. For example, Oku no Matsu Adatara Ginjo from Oku no Matsu Brewery in Fukushima Prefecture. It won the grand prize in the sake category at the International Wine Challenge. For more experienced sake drinkers, I'd select something barrel-aged, heavier and dry. Cask-aged Yoshinosugi from Choryo Shuzo in Nara Prefecture has a spicy flavor from the cedar barrel and is good for people who drink whisky." In spring, the store has lots of namazake. Find the sake right for you.
Saké Nomi | 76 S. Washington St., Seattle, WA 98104
☎︎ (206) 267 – 7253
www.sakenomi.us