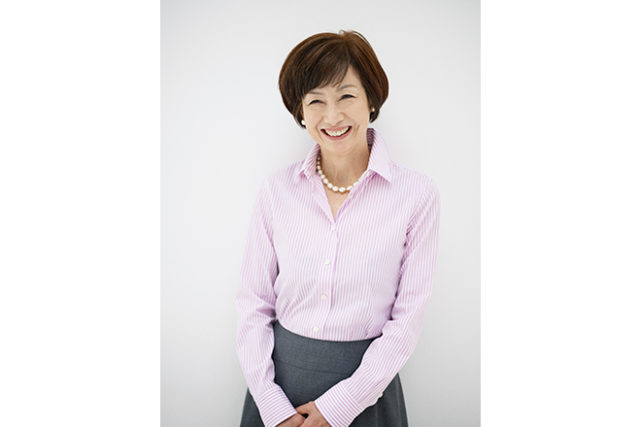 A lecture by Hideko Yamashita, author of DanShaRi
Hideko Yamashita is known for her long-selling hit book DanShaRi. She's been to Seattle twice before, and her lectures always help raise one's awareness. To find out what she'll be focusing on this time and what DanShaRi is all about, we spoke to her recently.
by Noriko Huntsinger, Translated by Bruce Rutledge
What do you have planned for your lecture this time?
This time I am accompanied by skilled interpreters in English, Chinese and Japanese, so we will provide simultaneous interpretation in English of my DanShaRi lecture in Seattle for the first time. We don't have any other plans for a separate event. DanShaRi refers to the process of returning to yourself through a method of private inquiry and creating your own living and personal spaces. I believe there's a need to raise awareness about "the unhappiness of too little" and "the inconvenience of too much," as I touched on in my previous Seattle lecture. We can be hurt by having too little and also by having too much. However, it's very difficult to notice when we have too much. And we live in the midst of too much.
The viewpoint of subtraction
The philosophy of subtraction
The action of subtraction
I'll be talking about how DanShaRi is a way of living our lives more effectively through the Subtraction Solution. Seattle is a beautiful city. The cherry blossoms are blooming, and it's wonderful. Whenever I come here, I enjoy meeting the Seattle DanShaRi-ans I've become friends with.
What do you make of the current DanShaRi boom?
In Japan, the word DanShaRi is well-known. It's even used normally in everyday conversation. While the word forges its own path, I often want to talk about other things, so there are times where I feel disappointed.
However, the number of people who deeply understand the DanShaRi concept and practice it has soared. Today, there are countless practitioners in China and Taiwan. The book has been published in various European countries. The DanShaRi I created has sent me around Japan and across the world.
What sorts of people do you hope become practitioners of DanShaRi?
Everybody. Age, gender, employment, ethnicity or nationality doesn't matter. It's a necessary active philosophy for anyone. I'm not an expert on the situation in the US, but I believe that the way we wrap ourselves up in too much stuff is true with all sorts of people. It's just a matter of difference in degree, depending on what sort of environment we find ourselves in. It's important that DanShaRi starts with the things and the spaces right in front of you. Before thinking about where to begin or how to begin, have the awareness to get rid of the things that aren't necessary to you right now.
It's the same for children. For us adults, understanding and acting upon DanShaRi can be fast. We get the sensibility behind DanShaRi. It's important to give children excellent things, but it's more important to give children a refreshing space. Adults need to do a better job of understanding that. Space has a lot of power. Its influence shouldn't be overlooked.
In the US, the words "minimalism" and "minimalist" are getting a lot of attention.
DanShaRi is very different from minimalism, and a DanShaRi-ist is very different from a minimalist. They are similar but different. If minimalism is an attempt to minimize, and a minimalist is someone who excludes things, then DanShaRi is the appeal of optimization and a DanShaRi-an is someone who chooses things.
Lastly, do you have a message for our readers?
Person-to-person connections are miracles. I am grateful that I was able to meet you because of DanShaRi.
A lecture by Hideko Yamashita
Venue and schedule are not confirmed at the time of this issue publication. Please refer to www.cherryblossomfest.org or contact seattledansharians@gmail.com.
Hideko Yamashita is a clutter consultant in Japan. Born in Tokyo, she studied literature at Waseda University. Using principles of yoga, she came up with the idea for creating an everyday method of tidying up called DanShaRi, which stands for "deciding," "releasing" and "leaving" stressful situations and things behind. DanShaRi is about renewing the heart and transforming the mind. Starting with the book DanShaRi, she has written or overseen a series of books that have sold more than 4 million copies. www.yamashitahideko.com