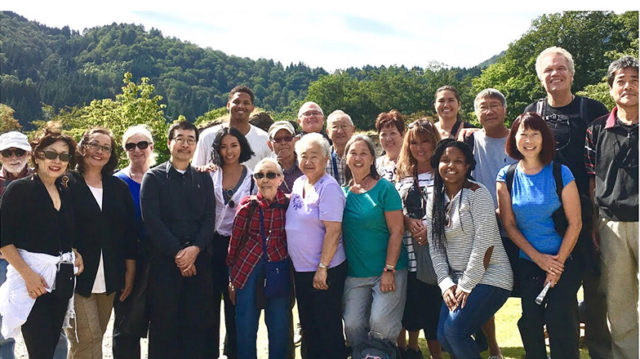 By Reiko Buckles,
Being half Japanese, I have always wanted to go to Japan. When I heard about this Japan trip from my mom, I jumped at the opportunity to go! To be able to go to Japan with my parents was a dream come true. Ashley, one of my best friends from college, nor also interested and able to go. I hadn't spent this much time with Ashley since we lived next to each other in the dorms our sophomore year of college, and this much time with my parents since I lived at home! I couldn't wait to spend so much time with my friend and parents in a country I'd always wanted to visit. The trip was perfectly planned with seven cities to visit and a Japanese guide to help us every step of the way. The flight to Japan was unlike any flight I have ever been on. The flight attendants were so kind and attentive, the in-flight Japanese meals were tasty, and the time flew by! Arriving in Japan was surreal. I could not wait for our adventure to begin!
Each city we visited was unique and different from the other, and each day was a perfect balance of planned activities with time to explore on our own.
In Tokyo, I was surprised at how warm it was in September. At night, there was so much activity and such bright lights! Ashley and I wandered around the shops and restaurants near the hotel and found a great little ramen restaurant, which started our trip obsession with ramen (I think we had it 10 of 12 dinners!). We were able to visit many temples on this trip. The first one was Asakusa Temple. At this and every temple we visited, I fully immersed myself in the experience, washing and praying, doing more washing and praying, and burning incense.
At Ueno Park, Ashley and I went to the zoo and I was able to see a panda (my favorite animal) before wandering around the rest of the park.
Leaving Tokyo, we traveled aboard the Shinkansen bullet train to Takayama. It was amazing to go from Tokyo with its bright lights and activity to historical Takayama with its delicious hida beef and historical area. From there, we visited the cute village of ShirakawaGo with its straw-roofed farmhouses and beautiful mountainous countryside. Both places were so beautiful and unique in such different ways.
After Takayama, we went to Kyoto which was a unique experience with historic temples only blocks from the bustling Kyoto Station. It was fascinating to learn how the temples were built so many years ago with such limited resources. The 10th floor of the Isetan mall in Kyoto Station with its nine different ramen restaurants soon became Ashley's and my favorite place to eat. And yes, Ashley and I ate there every night! Thank goodness we did so much walking during the day!!
While staying in Kyoto, we traveled to multiple places including the beautiful Himeji Castle with its racks upon racks for swords and the Fushimi-Inari shrine with its row upon row of torii.
We visited Hiroshima which I think was a particularly important stop on our trip especially given the times we are in today. The level of destruction this bomb caused is surreal and really sobering. The pictures, artifacts, and testimonials of survivors are something everyone should see and hear. There truly should be "No More Hiroshimas."
We visited the Kinkaku-ji (The Golden Pavillion) with its immaculately kept grounds, and the Kiyomizu-dera with it beautiful views of Kyoto. In Nara (one of my favorite places), we experienced the friendly deer that roam the streets freely as we walked to the Todaiji Temple and the Daibutsuden where we experienced the breathtaking buddhas.
To cap off the end of an unforgettable trip, Ashley, my mom, and I went on a walking tour of the Gion district in the pouring rain (an experience I will never forget)! I learned so much about geisha, geiko, and maiko and we were fortunate enough to see a beautiful maiko in passing.
This rain-soaked adventure was followed by a final meal in Japan of, you guessed it, ramen with my mom, dad, and Ashley. I savored every bite as I knew I would not be getting anything like it any time soon.
There are so many things I miss about the trip already including spending time with my parents and Ashley, meeting new friends on the trip, the kindness and politeness of everyone everywhere we went, the ability to buy inexpensive and delicious onigiri at Family Mart, the robes and slippers in every room, the temples, shrines, and villages filled with history, the clean streets everywhere you go (despite there being no garbage cans), the bidets(even in public restrooms!), fresh mochi, and ramen, ramen, ramen.
Being a half Japanese American, I think this is a trip all Japanese Americans should take.
I will cherish the memories from this trip forever and look forward to returning someday soon.
I would like to thank Elaine Ikoma Ko for planning this trip which allowed me to see so much of Japan that I would never have seen had I planned the trip on my own. And our guide, Shigeki-san who was invaluable in helping us each and every day and without whom we would have been lost!
The 8th annual Japan group tour will be September 24-October 5, 2018. Cities include Tokyo, Kanazawa, Shirakawa-go, Kyoto, Okayama, Hiroshima, and Nara. Tour cost will be $3,750 double occupancy (including land and flight costs). Space is limited. Contact Elaine Ikoma Ko, elaine@hokubeihochi.org; or call 206.519.5469.