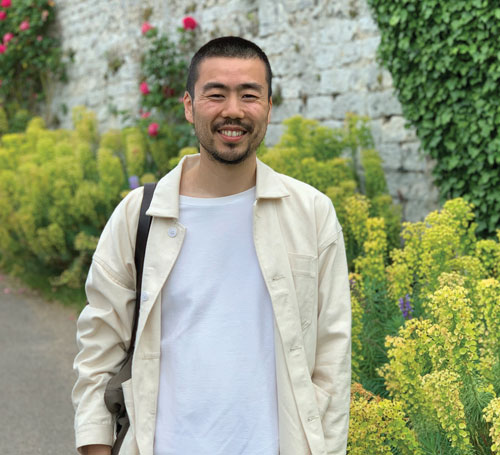 'No Borders, No Boundaries' for Seattle Designer Travis Suzaka
Interview by Elaine Ikoma Ko, Special to The North American Post
Artwork and photos by Travis Suzaka
Travis Suzaka is a Seattle Yonsei, a fourth-generation Japanese American. He is presently completing a Master's degree in Design at the Paris College of Art while working as a freelance designer. https://travissuzaka.com
For those who know the Seattle native and designer, Travis Suzaka possesses a gentle personality which belies his inner drive to not let any barriers or borders keep him from his quest for exploration and learning. Travis, a Yonsei, has lived in Japan, in New York, and now in Paris, in his continuing journey. Travis has experienced more in his young lifetime than most people his age, and while he has many new adventures awaiting him, he has never veered far from his core values, Japanese culture and sensibilities, and love for his hometown Seattle. Sharing his story should serve to both inspire and challenge young and old to never stop dreaming and in this uncertain world, to not delay until tomorrow what can be done today.
How did your early creative interests and talents develop as you were growing up?
Much of my free time was spent drawing and coloring from a young age. My mother used to bring home rolls of continuous stationery paper with holes in the margin that I would doodle all over. I was never much interested in video games like other boys.
From early on, I used to watch hours of VHS tapes of samurai dramas such as "Abarenbo Shogun," "Mito Komon," and "Toyama no Kinsan," and was especially fascinated by the architecture and hairstyles. I believe my earliest drawings recreated the bright kimonos, stone gardens, and castles that I saw in these films.
Growing up in a Nikkei household, I was surrounded by many Japanese artworks and objects. We had two lithographs by Hisashi Otsuka of kabuki actors in the play "Renjishi" that first captivated my imagination of our ethnic roots. Amongst the many breakable, "don't touch" antiques in our living room, there were a hanging "uchikake" wedding kimono, "tansu" cabinets, "ningyo" dolls, and lots of other heirloom ceramics. I was enchanted by all the things in this room and again, was heavily inspired by the colors and motifs which I still incorporate into my work today.
You are a bilingual Yonsei (fourth-generation Japanese American), which is not very common. How did you become interested in the language, culture, and living in Japan?
My Nikkei parents are from Seattle, and my great grandparents immigrated from Hiroshima, Tottori, Kagoshima, and Nagano prefectures. From early on, my family emphasized the traditions of our Japanese ancestry, introducing my brother and I to the seasonal events and customs they grew up with. My parents signed us up for kendo, we attended the Buddhist temple on Sundays, and I always looked forward to going high up in the woods in autumn to hunt for matsutake mushrooms. I loved the New Year's Osechi spread more than the Christmas roast, trying all of the colorful delicacies and faithfully following the auspicious traditions.
For many years, my grandfather traveled to Japan to visit our relatives and pay his respects at the family gravesite. I was fortunate to be able to tag along several times and I learned so much about Hiroshima and have become quite close with our relatives there. I thank my grandfather for creating the familial ties before he passed.
When I was a teenager, my brother and I began renting tapes from Video Hop that provided shows straight from Japan and we were able to learn the written language through reading subtitles. When I started college, I began taking formal Japanese classes at the UW and in my last year of my major studying communications, I stumbled upon a semester-long study abroad program at Aoyama Gakuin University, Tokyo, which offered intercultural communication courses in English that would be transferrable.
I thought it would be interesting and fun to broaden my educational experience so at age 21, I ventured off to live in Japan for the first time, not knowing what was in store for me!
What were your most impactful experiences in Japan?
While in Tokyo, I was able to thoroughly immerse myself in the youthful delights and nightlife of the city with many opportunities to frolic around with new friends from all around the world.
During my stay, I lived in a male dorm in Yokohama and many of us foreign students were shocked to hear that the bathing facilities were shared. But eventually, it became the place where I learned so much of the language as every evening, all of the students would congregate in the giant "onsen"-sized bathtub and would talk for hours as we soaked. I hadn't mastered Japanese yet but was able to greatly improve my language while there. Upon leaving Japan after one year, I still yearned to learn more about the culture and wished to explore the traditional side of Japan.
Upon returning to Seattle and after college graduation, I immediately started searching for jobs in Japan. I secured an English teaching position in a small town in Tochigi Prefecture in the Kanto region.
I discovered a "whole new" Japan this time around.
Although the hustle and bustle of Tokyo had been exciting, with the bright lights and spiderweb of transit systems, I found the lifestyle in the "inaka" countryside to be more grounded with respect to nature and society. It was here I found the Japan that I had dreamt of during my childhood, where the houses and gardens I saw in samurai films still stood strong and flourished. I was excited to finally be able to delve into the arts and find a deeper understanding of the traditions I grew up with.
The townspeople were warm and welcoming, and the customs and food coincided with the changing seasons. As the maple leaves turned red in autumn, we gathered chestnuts and shiitake mushrooms in the back of my school. In the frosty winter, we drank sake while huddled under "kotatsu" (covered heated tables), and bathed in outdoor, natural hot springs with floating yuzu citruses. Summer was also exciting, with festivals that lit up the village streets and barbecues next to mountain waterfalls.
It is a different pace of life than Tokyo, but living in tangent with nature cultivated my respect for sustainability. I also learned from the townspeople who were so knowledgeable of traditions and customs. It was most life changing for me.
Would you recommend Americans, young and of all ages, to experience living in Japan?
Japan is a beautiful country and culture and I highly recommend study abroad to any student. Not only was it motivating to gain an international perspective on my field of study, but it was great fun to live in another country at my youthful age.
However, I found "studying abroad" to be strikingly different than "working" in Japan. As a student, I was living in a bubble of freedom and leisure, oblivious to the social issues surrounding me. When I returned to Japan for work, I suddenly found myself placed in a more serious role in Japanese society, pressured to follow the rules and conform to societal expectations.
I believe Japan has a long way to go to address gender equality. Women colleagues, including my manager, were expected to make coffee and tea for everyone during staff meetings while the men continued to work. Although I have some criticisms of what I encountered while working there, my colleagues were also very welcoming and inclusive.
My time in Japan came to an abrupt halt with the 2011 Great Tohoku Disaster and I returned to Seattle shortly after. With all the fond memories of living in Japan, I often go back and forth with the idea of returning again.
You returned to Seattle and got involved in the local Nikkei community. Do you have any reflections to share here?
On returning from Japan in 2011, I began work at this very newspaper, The North American Post (NAP), and specifically planned and designed the assembly of the Nagomi Tea House in the old Uwajimaya building, a popular gathering space which was the vision of publisher Tomio Moriguchi. Unfortunately, the teahouse space has since closed down and reflecting back, the project was innovative in bridging leaders and organization of the Japanese American and Japanese communities.
Alongside the Tea House, I worked with the editorial team of the NAP. It was inspiring to see the editor-in-chief at that time, Shihou Sasaki, and other staff members, work tirelessly to produce the weekly content. It was motivating to have a shared understanding of obligation to the community that supported us.
After two eventful years with NAP, I made the decision to venture out again and decided to move across the country to New York. The bicultural work experience I obtained while at NAP eventually landed me work as a designer in a Japanese art gallery dealing ukiyo-e woodblock prints.
Do you have any reflections about living in New York?
New York is a city of transients, and many come with the hope for success and self-expression. Surrounded by photographers, musicians, dancers, and designers, I was inspired to experiment with my own creative expression and to get back into art. Living in the artistic enclave of Brooklyn, I attended live nude figure drawing nights, explored comic book and zine fairs, and spent many nights in my small Bushwick bedroom exploring different art styles. Even as an adult, I still find myself incorporating the same Japanese motifs and architecture of my childhood drawings.
Not many people of your age have traveled afar to express themselves and chase their dreams. Tell us about your latest move to Paris.
After several years of employment in a profit-driven industry, I began reflecting on my nonprofit work with Hokubei Hochi Foundation, which helps the NAP with projects, yearning to once again be a part of movements to better our communities and society. I decided to search for a graduate program that would combine my design skillset with my interest in social justice and eventually came across the Paris College of Art's Master in Design for Social Impact.
What is the program about?
I am enrolled in an exciting and intensive one-year program that covers a span of topics from design thinking methodology to 3D modeling, and courses around the ethics and social responsibilities of designers. My thesis will investigate the issue of "cultural appropriation" (use of something in a way that doesn't respect its original meaning) in art and design. It will use case studies of the inappropriate misuse of kimono to argue the harmful effects cultural appropriation can have on minority populations.
It's been engaging to learn about design in the broadest sense—from the design of business models that create equity for all employees, to the conscious pairing of colors and furniture to nurture a positive environment in mental health facilities.
It's an intimate group of eight students in the program that come from a variety of backgrounds including interior design, advertising, nonprofit, and law. It has been so interesting to compare and contrast experiences and beliefs from the seven countries we come from.
What are your newest impressions of life in Paris? 
Every day I have moments where I tell myself, "France is so similar to Japan." The French and Japanese are both extremely polite in public, love to keep windows open for fresh air, even in the winter, and seem to have similar manners in professional conduct. The produce is extremely fresh and just like Japanese shopping streets, Paris is dotted with markets and alleys of wine shops, fromageries (cheese shops), and patisserie windows of seasonal sweets.
Although I'm in France, I luckily haven't strayed too far from my Japanese culture. I was nervous about missing Japanese food, however, just a few blocks away from my apartment is Rue Saint-Anne, known as the Japantown of Paris. Just north of the Museé du Louvre, the streets of this neighborhood are lined with grocery stores, cafes, and restaurants. You can find everything from ramen, sushi, or gyoza (raviolis). It's so bizarre and fun to speak in French and Japanese at the same time!
What are your current vision and goals after graduation? 
The program aims to teach us how "design can change the world," and I hope to mobilize the knowledge I gain to pivot my career towards human-centered design, a methodology in which environmental and social impacts are considered just as important as profitability. After graduation, I hope to work for an agency that focuses on social impact or a corporate social responsibility team. I know that I want to find something that's human-centered with a creative atmosphere.
Any reflections or messages you'd like to share?
With everything happening in the world today, it is so important for the younger generations like myself to take a moment to remember the stories of our grandparents and great-grandparents that we grew up with. For Japanese Americans, these include the stories of World War II when they were unjustly incarcerated for just looking like "the other." Decades later, it is no longer us, but other groups who are being targeted through the same xenophobic legislations.
Therefore, I strongly encourage young people to pause and look at what is happening to families and children being imprisoned at the border, and to get involved/follow grassroots organizations such as Tsuru for Solidarity and Nikkei Progressives. This is our time to speak up against dehumanizing immigration policies. As descendants of Issei who came in pursuit of a greener pastures, this is our time to stand up and say migration is a human right.