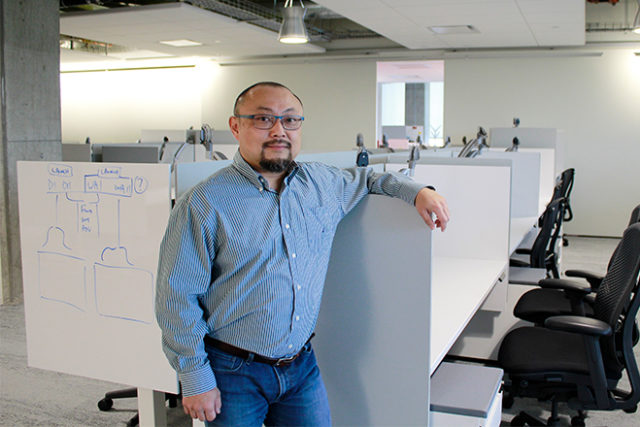 Hiroaki Takamatsu has abundant international IT experience, having taken on the important role of principal software engineering manager at Microsoft. Last year, after nearly two decades with Microsoft, he left the company and joined the Seattle area startup Tableau Software. Takamatsu described the feeling that he had "found the next mission in his life." The North American Post talked with him about his career and his various activities outside of the office. Excerpts follow.
"I learned in the US that by sharing wealth and kindness with the next generation and the people around you, a virtuous circle is created"
Hiroaki Takamatsu was born and raised in Saitama Prefecture. He has worked in software development and IT-related businesses for nearly 25 years. As Microsoft's principal software engineering manager, he was in charge of development and management, including decisions around hiring, salaries, rates, and layoffs. While working there, he received the Gold Star Award four times for innovation and patent ideas, and Microsoft's president's award three times for a total of seven awards. In January 2017, he entered Tableau Software and is currently working as its engineering manager. He serves as an adviser to Startia Inc. (listed on the first section of the Tokyo Stock Exchange), and he also lectures, works as a business coach and advises universities and other companies. He was the director and chairman of Seattle IT Japanese Professionals (SIJP) through April 2017. Find him on Facebook
By Teruyo Koshimiya, translated by Bruce Rutledge,
From sporty youth to IT engineer
As a youth, Takamatsu loved sports. He played baseball, soccer, volleyball and liked to ski. He lived a healthy childhood, passing his time playing this sport or that. At the same time, he was growing up at a time when the computer, the thing that would shape his career, was beginning to be used by everyone. "When I was in third grade, I went to a friend's house and first became attracted to the computer. My dad brought home an old used Apple computer from work, and I taught myself programming on it by reading instructions in a magazine. I was aiming to be an 'otaku (geek)' who was good at sports," he says with a laugh.
When he entered high school, he joined the ski club, an activity he enjoyed since he first tried it at the age of two. To train, he would travel in the summers to Mt. Hood in Oregon or Mt. Hutt in New Zealand, and then train on the slopes of Japan in the winter. Because of his busy training schedule on the ski slopes, he didn't even attend 40 days of high school in a year. "Please at least take the final exam," his homeroom teacher pleaded with him. He only got good grades in his information-processing class. When he was ready for the university entrance exams, he was thinking about focusing on skiing. He was a finalist from Saitama prefecture and he entered the Kanto Championships in January of his senior year of high school. Unfortunately, he tore a ligament in his right knee, forcing him to miss his final national interscholastic competition. The path to a career in skiing had closed. Just before he graduated, Takamatsu had a change of heart. He decided he wanted to be a commissioner at the United Nations. This new dream set him on a course to study abroad. A few days after graduating, he boarded a plane headed for Canada.
"When I was taking an English proficiency test to get into university, I scored 3 out of 100. I thought I had studied, but the truth is I headed overseas with basically no knowledge of English," Takamatsu says with a laugh. During his first summer vacation, he had to leave the dormitory and traveled around Canada; but he didn't really have a feel for the country, so he spent most of the time in his old and inexpensive motel room watching TV. "Probably TV worked for me. I went back to school and started to understand English," he says.
Takamatsu is a chatty person at heart, and through aggressively offering his time as a volunteer, he soon became enmeshed in English-speaking society. His language proficiency improved by leaps and bounds. At university, he immersed himself in studying his major, business management. He took a computer class, but he knew all the class contents already. Thus, a professor asked him to be an assistant, which allowed him to refine his computer skills.
When Takamatsu started looking for work, and now that he held the golden ticket of both English and computer knowledge, his skills were in great demand. While it was a tough time for Japanese graduates looking for jobs, he received many offers from computer-related companies, including one from the company he later entered: Microsoft Japan. Once he had set on the idea that this was the direction he would pursue, he chose Lotus Corp. "The woman who hired me was very pretty," he says with a laugh.
He graduated university in the top tier of his class. At graduation, he was honored by the valedictorian for being chosen as the student who most improved his grades. "When I entered, I had three points," Takamatsu says pleasantly. In Japan, he worked for Lotus for four years, then entered Microsoft Development Japan. However, this young man who had enjoyed the natural beauty of Canada during his student days couldn't help but feel cramped by the packed trains, long commute and life of an average Japanese corporate worker. In a few years, he transferred to Microsoft's headquarters in Redmond. At that time, he and his wife, whom he married in 1996, had a 1-year-old baby.
A turning point in his American life
Takamatsu was serious about how his child would be raised. For several years, he came to work during the day, went home to have dinner with his family, and once their child was put to bed, he would return to work. He was one of that new breed of Japanese men who actively raise their children. However, Microsoft, one of the world's leading IT companies, was attracting top talent from around the world. Hanging on to one's job was no easy task when mass dismissals occurred regularly. "For the first three years or so, I wasn't promoted," he recalls. In this competitive climate, Takamatsu gained experience in all sorts of work. He became a senior manager in 2008. Then, in 2012, he was promoted to the important position of Principal Manager.
Above him were only executive officers. He handled a budget of $45 million and a staff of nearly 40. At the same time, he was active updating technology and security functions in the Windows Networking and Device area. He devoted himself to his work, knowing that any mistake he made would ripple out and affect the world's Windows users. "I was able to experience such a wide variety of work, which would have been impossible at a Japanese company," he says. "I worked hard and didn't let the pressure or competitiveness get to me."
His psychological turning point came four years ago, prompted by his divorce. At the time, the company was going through massive layoffs. As the manager, he had to tell some of his team members that they were losing their jobs. In this difficult atmosphere, he began to think to himself, "For the rest of my life, what will I be responsible for? I want to pass on what I have learned to the next generation." He had found his answer.
But how to put those words into action? He began to see the way forward in October 2016 and started looking for new work. When considering Takamatsu's career, what happened next made perfect sense. Offers came in from Amazon, large Japanese IT companies and others in the field. But Takamatsu didn't choose a big company this time. Instead, he went with a young company, founded in 2012: Tableau Software. "I chose this company because of its stance toward community service," he says. "It was founded along with the NPO, Tableau Foundation." The nonprofit organization uses the company's data visualization software in its community service. It first got involved in the effort to rid Zambia of malaria by 2012. "In 2012, children in Zambia were dying of malaria at a pace of one every minute. They set a goal to eradicate those deaths, joined with PATH, another Seattle NPO working in the medical sector, and by 2014 we had brought the fatality number to zero." The data visualization technology helped them see where malaria was likely to spread and allowed them to achieve their goal.
"There are a lot of companies in the US, like Microsoft, that advertise the abilities of their products while at the same time working to improve society. I think that in this moment, Americans are showing their genius." Community service connects to the company's long-term profitability. Takamatsu, who was attracted to this way of thinking, would like to make sure Japanese companies understand this logical "kill two birds with one stone" way of thinking. Of course, the company is operating within a culture that encourages people to pursue volunteering and other activities outside of work. US society offers a model for this sort of practice, and Takamatsu was ready to take part.
In 2016, he remarried someone he had met in Canada when he was 19. They rekindled their friendship via Facebook a few years earlier and decided to meet. She had a child, was divorced and is confined to a wheelchair because of serious rheumatism. "I took stock of myself and my time with Microsoft and started thinking about what I wanted to leave to posterity," Takamatsu says. "What is happiness? I thought about a lot of things as I made the decision."
Learned in the US: the virtuous circle
"I learned in the US that by sharing wealth and kindness with the next generation and the people around you, a virtuous circle is created," Takamatsu says. "I want to spread this message and my personal stories to the Japanese and to others around me. That is my life's work." Inviting broke Japanese exchange students over to his house for a homecooked meal is just one example of Takamatsu's virtuous circle in action.
Takamatsu has been volunteering since his student days in more ways than he can possibly remember. For one, he suggested that the Japanese Language School form a PTA and file as a nonprofit. Because of this, the PTA could accept donations from companies. A soccer group he formed and helped coach started with 15 people and now has more than 120. He has also volunteered for the Pacific Northwest Ballet, where his daughter has been a member for 14 years. "I don't think of any of these things as volunteer work," he explains. "I do it because it makes me happy." That's part of the virtuous circle.
There are a lot of IT-related companies in the Seattle area that have connections to Microsoft, and many Japanese are part of this world. In 2010, the Seattle IT Japanese Professionals (SIJP) group was formed to bring all these Japanese IT people together. The group started computer classes for children and held career events for students. Anyone interested in IT and Seattle could join. Takamatsu was a supporter from the very beginning. After serving as a board member for two years, he was the chairman through April 2017. "The current chairman and founder, Kenji Imasaki, has a desire to teach children about programming and is making efforts to do activities with students," Takamatsu says, adding that he wants to support Imasaki's efforts. In Japan, many people think Silicon Valley is where all the IT is happening, "but today there are more IT workers in the Portland and Seattle areas." Seattle is a world leader when it comes to IT information and personal connections. "I continue to have these profitable experiences," Takamatsu says. "I want to give back to Japan from the United States, so I'm not thinking about changing my base on the West Coast here in Seattle."
SIJP : Seattle IT Japanese Professionals
This NPO was founded in Seattle. It gathers Japanese IT professionals from Seattle area IT companies such as Microsoft, Amazon, Google and Nintendo America to create and support community activities around specialized technology and knowledge. It regularly holds events of interest to children, students and adults. Anyone interested in IT can join the group. There is also a student division to support Japanese university students in the Seattle area.
Tableau Software
Tableau, headquartered in Seattle, helps people see and understand data and explore with limitless visual analytics. Customers can build dashboards and perform ad hoc analyses in just a few clicks. They can share their work with anyone and make an impact on their business. From global enterprises to early-stage startups and small businesses, more than 70,000 customer accounts around the world use Tableau to turn data into actionable insights, and more than 300,000 people use Tableau Public to share public data in their blogs and websites.