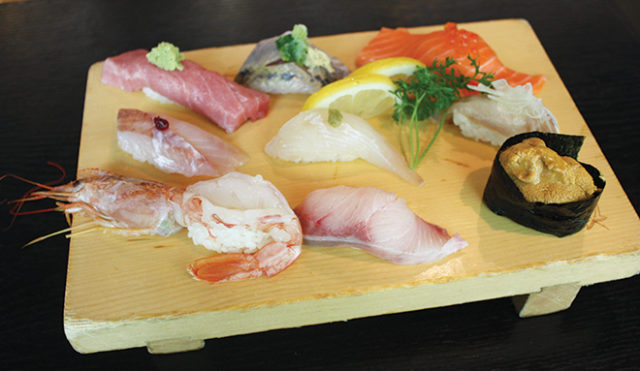 Long ago, Seattle's Japanese restaurants used to be mostly in the International District. Those days are long gone. Today's restaurateurs are bringing sushi and ramen and Japanese comfort food to neighborhoods like Wallingford, Queen Anne and Capitol Hill as well as the ID. Let's meet some of the people behind this Japanese cuisine boom.
by Bruce Rutledge, Ai Isono and Misa Murohashi
The man who greets you with a smile when you take a seat at the counter of Ten Sushi is Shinichiro Takahashi. "I work here every day," said Takahashi. "I enjoy connecting with my customers and right now, I'm having so much fun that I don't feel like it's really work." Rightly so. You can't miss him when you visit his restaurant in Queen Anne. The man born and raised in Aizu Wakamatsu, Fukushima Prefecture, jumped into the sushi business right after finishing high school. Since then, he's been standing at sushi counters for 25 years. It all began with part-time work at Genki Sushi, which at the time in the late 1990s was starting its rapid global expansion. … Continue reading
Born and raised in Kanagawa, Japan, Jun Yoneda's youth was all about baseball. He played baseball at Waseda University, known for its strong team. After spending his early career at Seibu Department Store, one of the largest department stores in Japan, Yoneda got a chance to devote himself to baseball again, this time on the business side. He was hired by Rakuten, an online commerce company, in 2004. He led the team that founded the Tohoku Rakuten Golden Eagles in the Nippon Professional Baseball league. Based in Sendai, the baseball team once had on its roster Hisashi Iwakuma of the Seattle Mariners and Masahiro Tanaka of the New York Yankees… Continue reading
There are quite a few Japanese restaurants dotting 45th Street in the Wallingford neighborhood. Along that route, Issian, Ramen Man and Kokkaku are all operated by Yuta Sugimoto. The large, heavy-set Sugimoto has a friendly aura and is affectionately called "Sugi-chan" by his regulars. The three restaurants are part of the Safari group of restaurants headquartered in Osaka. Sugimoto operates the three as the president of Safari USA. Issian on 45th opened in 2008. "The concept for Issian is a Japanese neighborhood izakaya. There's sushi, yakitori, okonomiyaki — delicious dishes are served at inexpensive prices. Lately, as prices rise in Seattle, it has been a challenge, but we continue to follow that concept," Sugimoto says… Continue reading
Kozue Restaurant, opened in 2004, is approaching its 15th anniversary. "This is the Seattle restaurant that delivers the most authentic Japanese home-style tastes," Owner Masae Fukuyama says with a smile. Kozue is located on 45th Street in Wallingford and has long been beloved by the residents in that neighborhood. The menu features fried oysters, pork ginger, katsu curry (curry with a pork cutlet) and other Japanese comfort food. The homemade tartar sauce and Worcestershire sauce conjure warm memories of family meals. "You may be surprised, but a Mexican chef makes it all," Fukuyama says. "With those dishes, he can hold his own with any Japanese chef." Chef Manuel started as a dishwasher when the restaurant opened… Continue reading 
Restaurants are opening and closing at an alarming pace in Seattle and Bellevue. Old favorites are saying goodbye, but in their wake a slew of new restaurants are bringing new twists on old favorites. Nowhere is that more apparent than with Japanese cuisine. We say goodbye to grand old dames like Bush Garden and hello to W'az (411 Cedar St.), a haute kaiseki restaurant run by Hiro Tawara, and Junkichi (224 Broadway E), a robatayaki restaurant in Capitol Hill. If you don't know what "kaiseki" or "robatayaki" mean, well, that's part of the fun. New offerings are tickling our palates (and wallets) in different ways.