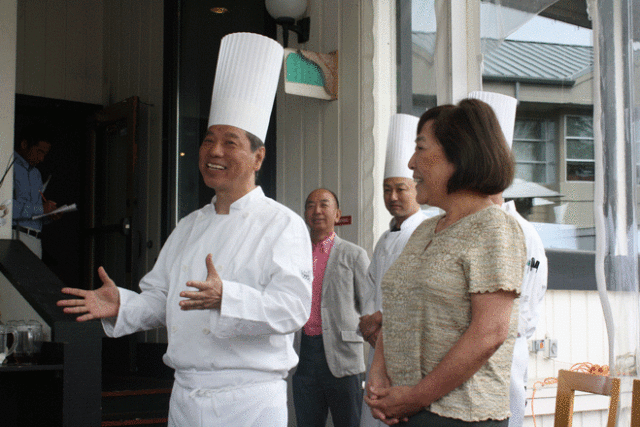 By Maya Inui
I Love Sushi, an authentic Japanese restaurant located in Bellevue, has started a new business -I Love Souzai – home cooked side dishes without any preservatives and colorants. Juro Oki is the chef of souzai, who currently works with 7-11 Holding Company and other well-known restaurants in Japan. He uses local vegetables and fruits to produce healthy dishes, especially using the skills of fermentation so that the foods are more nutritious and delicious even when it's cold.
According to the owner of I Love Sushi, Mr. Yokoyama, it took him 2 years to convince Chef Oki to start the very first souzai business at a restaurant in the world. Mr. Yokoyama opened the restaurant 30 years ago, and now, he is about to begin selling "a new type of Japanese food". Usually, souzais are sold at department stores or supermarkets in Japan. But because these souzais are cooked at the restaurant, the cooking process and the presentation has much higher quality.
Chef Oki hopes to spread the greatness of souzai- how they are very delicate and detailed- among the people in Washington. "By eating, you get more energy and you become more beautiful", says Chef Oki. He explains the importance of using fresh food from four seasons; starting with the roots, sprouts, stems, fruits and vegetables, and going back to the roots; to prevent any kind of sickness. For example, the summer theme includes all the fresh vegetables and fruits, which you can see in some of the salads like Yellow Power Salad and Octopus Marinade. During autumn, Chef Oki will be using root vegetables such as sweet potatoes and carrots, and other seasonal vegetables like pumpkins. Some of his favorite dishes are the Steamed Chicken with Shiokoji because it has little oil and healthy, and the Tomato Salad with Tosazu, which includes berries and vegetable gelatin, focused on the presentation of colors.
The souzais can be ordered online or via phone call, where you can pick them up at the store, or you can also walk-in and purchase them during business hours. Although some are pricy, the souzais and bentos are worth buying because of their convenience.
For more information, visit http://ilovesushi.com/