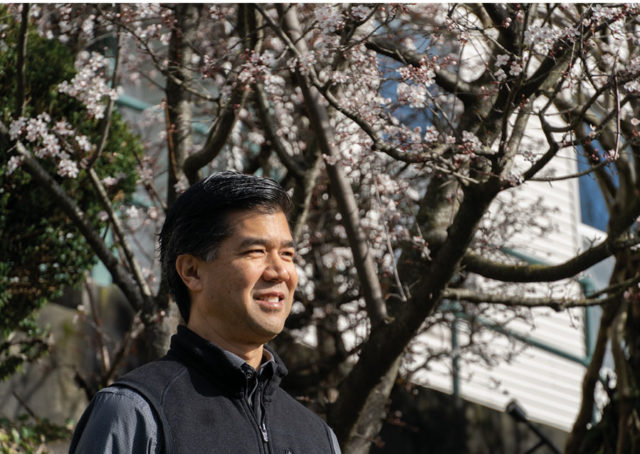 Kurt Tokita
Preserves History, Community at the Japanese Community and Cultural Center of Washington
By Bruce Rutledge. Photos: Kensuke Kamata
Kurt Tokita was born in Tacoma. He moved around a lot as a boy because his father was in the Air Force, living in Texas, Wyoming, Hawaii, Taiwan, Florida, then back to Bellevue for junior high and high school. He went to UW but ended his schooling in LA, where he lived for 16 years. He moved to Renton in 2001, got involved with the JCCCW in 2003, and became the board president in 2011. His professional career has been in IT, most recently as a senior software engineer for Advanced Micro Devices. He has two grown children Aaron (28) and Torey (24).
Kurt Tokita, president of the Japanese Community and Cultural Center of Washington (JCCCW), is living proof that the center teems with history. When he is in one of the buildings, he keeps making uncanny connections that illuminate his family's past. He learned from an acquaintance that his grandmother and grandfather and their eight children lived upstairs in one room after World War II, when the center was known as the Hunt Hotel or Hunt Hostel. Japanese Americans repairing their fractured lives after returning from Minidoka congregated at the center, living there in cramped quarters until they could get back on their feet financially.
About two years ago, Kurt learned that his great grandparents were also connected to the center. "Why didn't anybody tell me before?" he says with a laugh. And on a recent visit for this interview, he bumped into Natalie Hayashida, the baby in a famous photo that hangs on the center's wall. The photo depicts Natalie's mom, dressed in her best clothes, cradling baby Natalie, as she prepared to evacuate Bainbridge Island. "It's one of the most important and memorable photos from that time," Kurt says.  Natalie happened to be visiting from outside of Houston, where she now lives. After being introduced to Kurt, they established that their families had many connections. "Now that I know she's a family friend, that (photo) means so much more," Kurt says. This is the sort of thing that happens when Kurt is in the cultural center.
The center is rich with history. It is home to the oldest Japanese language school in North America, founded in 1902. "Hawaii started the same year, but we don't know which month," Kurt says. "We have 95 students on the weekends and 150 adult students during the week. We thought there would be a decline as people looked to China, but there is still big interest."
The center has historic photos and artwork on the walls and in display cases. A large mural by Roger Shimomura is displayed on one wall of a main room on the first floor. Divided into three panels, it depicts images from the Issei, Nisei, and Sansei generations, featuring everything from the different rice cookers through the ages to the different racist ways Japanese were depicted in the US. It is vintage Shimomura. In another hallway, beautiful wood carvings and jewelry made of shells are on display. Many of the pieces were made in the desert while people were incarcerated in Minidoka. Artwork by Aki Sogabe dons the walls of several of the center's rooms and hallways. And there's a shiny new elevator that was installed recently so that the elderly, the disabled, and parents with young children in strollers can more easily get to and from the second floor.
But the center is more than just a museum. As we walk through it with Kurt, we hear a group practicing taiko. A dojo on the first level looks well used. "There are five or six groups that use it on evenings and weekends," Kurt says. "The room is used constantly." The Hosekibako store is a great place to stop for Japanese artwork, antiques, and other items donated by families from all over the country. In other words, the JCCCW is an active place linking the past to the present. And Kurt has been in charge of the nonprofit for more than 10 years, having taken the helm in January 2011.
There's a lot to do, of course. The buildings are old and need constant maintenance, which means constant infusions of money. The center's big fundraiser is its Tomodachi Gala, a dinner and auction held every spring. This year's gala will be on April 11 at the Hyatt Regency Lake Washington in Renton. To register and/or find out more about the gala, check out the center's website: https://www.jcccw.org/tomodachi-luncheon
"Donations are always welcome, but we also encourage you to take a class and get involved in any way you like," he says.
Kurt says he's been filming interviews with his family members to preserve their history. "I've always been interested in family history. When I was in third grade, I lived in Hawaii with my mom and my sister and my grandparents while my dad was in Vietnam flying for the Air Force. On my dad's side of the family, there are about 85 of us. But on my mom's side, there are about 135 of us. They keep their traditions. When they make mochi, they do it the old-fashioned way. People from all over the country fly in. They actually do it over fire. They'll do almost 150 pounds of mochi. The living room is just full of bags and bags and bags of mochi," he says. "I got to hearing stories." And he wanted to capture those stories before the older generation passes on.
When his mom grew ill and eventually passed away in 2015, he waited too late to interview her. "I missed that chance. That gave me a greater urgency to film these stories."
We stop at the second floor room where Kurt's grandparents and children lived. "My family lived here for two, two-and-a-half years," he says. "It wasn't until I got involved with this project that someone said, 'Your family lived here.' I said, 'What? I never heard that!'"
Then a couple years ago, during a KCTS interview of Kurt and his father at the center, Kurt's dad tells him, "This picture here is your great-grandfather Suzuki." "I'm like, what?!" Kurt says. "I had no idea that my great-grandparents were here." It turns out Kurt's great-grandparents lived in the back building after World War II. "I had never heard that until two years ago. How come you never said anything, Dad?"
Kurt's grandmother was a successful businesswoman who managed the Cadillac Hotel. "My grandmother was quite the businesswoman," he says. His grandfather Kamekichi Tokita was a well-known artist. But he died young, leaving Kurt's grandmother to raise the eight children while managing three hotels at once. "She had a apartment unit and three hotels at one point," he recalls.
Kurt would visit her every couple of years when he was growing up. "She lived in Queen Anne in a condo. She was a no-frills person, not one to go play with the kids. When my sister and I would visit her, we'd be bored. She would say, 'There are some toys in the basket.' You look in the basket, and it's toys for 2 or 3 year olds," he recalls, but is interrupted by the loud banging of a taiko group practicing down the hall. After he closes the door, he resumes: "The rule was we had to spend one night with grandmother. Then the next morning at 8am, Auntie Shiz would be waiting. She had four kids. We would spend the rest of the week with them."
Kurt got in trouble playing a joke on his grandmother once when he was in high school. "She calls at about 8 o'clock in the evening and asked me if it was 8 o'clock in the morning or the evening. I jokingly said, 'It's morning, grandma.' My mom asks, who was that? Grandma. Mom says, 'You told her it was 8 o'clock in the morning? She's going to go to work!' I had to call back and she didn't answer the phone, so my mom made me drive from Redmond to her house (north Beacon Hill), and she was at the bus station. Sorry grandma! At 80, she was still going down to Seatac to sell flowers every day. She also loved matsutake picking and salmon fishing."
A wonderful book about Kurt's grandfather was published by Barbara Johns in 2011 through University of Washington Press. It's called "Signs of Home: The Paintings and Wartime Diary of Kamekichi Tokita." Tokita began a diary the day the Japanese bombed Pearl Harbor and vowed to continue it until the war ended. The diary gives an intimate look at the hopes and fears of an Issei American during that time, and Johns contextualizes his paintings within the overall art world of the 1940s. "Barbara has become a close family friend," Kurt says.
We stop at a photo of his family on the wall, where he points to his dad, just a boy of 10 or so, at Minidoka. "My dad and his siblings were pretty young, so even in camp, their experience was quite different from my grandparents'," Kurt says. "Coming here was great for them because they had all these kids in the same building."
Outside the center is a small empty lot where Kurt's dad and other children played baseball. "They would hit towards Rainier (Ave.), but everybody was right-handed, and the ball would go in the street," Kurt says. "So they all did switch-hitting and hit left-handed. It used to be the entertainment for all the drunks, who would sit on the hill and watch the kids play baseball."
Kurt spent about 16 years in Los Angeles, finishing his schooling and working there in the IT sector. The bulk of his career has been with Advanced Micro Devices, where he is currently a senior software engineer. When he eventually moved to the Seattle area in 2001, he was looking to get involved with a building project, something that had always interested him. Friends steered him toward the JCCCW, which was established in 2003. "I was originally interested in the building process, but I was in a meeting, and someone pointed to me and said, 'Your family lived there.' All of a sudden, it became a personal project.," he says. "The original idea was to knock this building down and build a new center. But doing the research and knowing my family lived here and that there is so much history, it didn't make sense to knock it down. To know that my dad and his brothers and sisters lived in what is now the administration office, that is neat!"
Kurt has always been attracted to history, artifacts, photography, videography, and art. He collects old cameras, for example. Recently, he bought a camera at a Portland antique shop. "I found in the manual that the person wrote their name. That person lived in Bremerton or one of the islands. I'm in the process of trying to track down that family to see if they want it back."
That's the kind of thing Kurt does, which makes him perfectly suited for presiding over the cultural center.
Japanese Cultural and Community Center of Washington (JCCCW)
1414 South Weller Street, Seattle, WA, 98144
(206) 568-7114 | www.jcccw.org
Established in 2003, JCCCW is dedicated to preserving, promoting and sharing Japanese and Japanese American history, heritage and culture. Located at the site of the original Seattle Japanese Language School founded in 1902, JCCCW is deeply rooted in the history of the community and committed to preserving its legacy for future generations. It currently provides a wide variety of educational, cultural, recreational and social programs including the Seattle Japanese Language School, the Northwest Nikkei Museum, the Nikkei Bunko Japanese Language Library.
Tomodachi Gala


Date: Saturday, April 11, 2020
Time: Check-in, Cocktails and Silent Auction at 5 p.m. Dinner starts at 6 p.m.
Location: Hyatt Regency Lake Washington At Seattle's Southport, Renton, WA

The annual fundraising event brings the community together to support the Cultural Center and its programs. It also honors the contributions of individuals or groups who have promoted and celebrated Japanese and Japanese American culture and heritage. In 2020, the JCCCW is proud to recognize Costco – Japan and immigration attorney Christopher Helm.