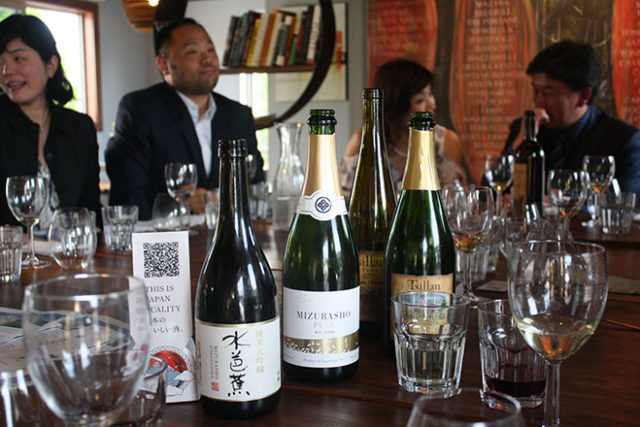 By Misa Murohashi, translated by Ritsuko Morimura
Mizubasho is a sake brand which has been on the wine lists of Michelin three-star restaurants such as Daniel in New York and El Bulli in Spain. Nagai Sake President Noriyoshi Nagai, who invented the brand, visited Seattle in July, and held a dinner called Nagai Style where sake was paired with Western dishes.
Introducing Sake to the wine stage
Nagai Sake is located in Kawaba village in Gunma prefecture. Kawaba is a small mountain village with a population of 3,300. It's surrounded by mountains where the sources of five rivers, such as Tone river, gush cool mountain water. The first president of the company, charmed by the region's pure water and nature, bought land in those mountains in 1886. Noriyoshi showed us a picture of the mizubasho plants in their full glory. "Our village has a temple called Kissho, and mizubasho bloom there," he said. The plant is known for growing only in places with both high altitude and pure water. It made for a perfect name for the brewery's premium sake.
Noriyoshi was born and grew up in the village. He majored in architecture during his university days. He was going to continue his study at an architecture school in England; however, he canceled his trip at the last moment and decided to take care of the family business. "At that time, my life mentor told me, 'You need to drink the world's wines if you are going to run a sake brewery.' He had me drink Montrachet, a French wine know as the king of whites." Although he wasn't acquainted with wine as a young student, he was impressed by the taste. He kept that memory fresh in his mind as he started the business. As a successor of the family brewery, he began learning how to brew sake while also studying the world's wine market.
Sake is categorized and ranked based on the style of brewing and the levels of rice polishing: junmai, honjozo, ginjo and daiginjo, for example. Noriyoshi thought it was odd that the price of a bottle of sake was influenced by its technical category. "In the wine world, there is little ranking by categories," he explained. "the price depends on the winery's brand power."
He aimed to build the brand power of Nagai Sake and bring his sake into competition with wine, which is a much bigger market than the one for sake. "At high-grade French or Italian restaurants, sommeliers recommend wines to pair with dishes, but there is no idea like that in the sake world." Noriyoshi was determined to craft new sake brands considering food pairing with both Japanese and western food.
Nagai Sake today carries four labels under the Mizubasho brand: a sparkling Mizubasho "Pure" designed for "kanpai" toasts and to pair with appetizers; a Junmai Daiginjo for a first course such as salad and soup; a Mizubasho Vintage for main meat dishes; and a dessert sake. Noriyoshi named this four-course sake pairing "Nagai Style," and aimed to get them on wine lists of the world's finest restaurants.
Five years seeking the right taste made a deep impression
Matsumi Corless, director of overseas markets for Nagai Sake, says, "When sake competes with wine, it will be possible to make them tasty like wine by adding fruitiness so that it's loved by connoisseurs of wine." However, Noriyoshi had a different goal. Mizubasho was designed with the emphasis on expressing the rich flavor of rice. The four Mizubasho sake brands are all crafted in a traditional Japanese way simply using rice and water, no other ingredients. They use the same kind of rice with the same polishing rate. However, interestingly, they have totally different tastes, aromas, colors and texture. Matsumi said, "From the view of the wine world in which different grapes are important to have various tastes, it is a really interesting development."
Noriyoshi worked in the production section for about twenty years before becoming president of the brewery. "Once a month, I shut myself up in my sake cellar apart from smartphones and computers and check all of our merchandise. It is the most important work even now." He is particular about the quality, and this underlies Mizubasho. It took more than five years to develop his first big hit, the Mizubasho Pure sparkling sake. Pure is made with the same technique as Champagne, secondary fermenting in bottles. It is totally different form other sparkling sake, which has added gas. The brewery went through 700 rounds of trial and error before getting it right. Noriyoshi stayed in the Champagne region of France for a month to learn the skill of secondary fermentation. In 2008, Noriyoshi completed Pure and then made a contract with El Bulli in Spain in 2009. The success of Pure helped spread the Mizubasho brand around the world. "First-class sommeliers around the world gave me compliments, saying 'I've never experienced this taste before,' so my confidence grew."
The next year, he completed four other labels, including the Mizubasho Reserve. Reserve is vintage sake, which has been aging in a sake cellar at minus two degrees Celsius for more than ten years. It is equal to red wine in its deep taste, and was developed to pair with Western dishes featuring lean meat.
Bring Japanese sake culture to the world
"I believed that the Mizubasho brand would absolutely work well at the very top levels," said Matsumi. She has worked in the international wine market for a long time, creating a network of contacts with political and financial ties, and this has helped Nagai Sake. "A year and a half ago, I asked the owner of The Herb Farm in Woodinville to gather their chefs and sommeliers to taste Mizubasho. At first, everyone was silent and a tense atmosphere could be felt. There was a pause as people who were informed about wine were digesting the taste of sake for the first time. After the silent pause, we received wonderful feedback."
Matsumi thought that if these people approved of Mizubasho, the brand could be successful at the high-end market. She and Noriyoshi visited three-star restaurants such as Daniel in New York and the French Laundry in Napa Valley. Daniel went for the Pure sake, while French Laundry took all four Mizubasho sakes.
While Yoshinori spends most of his time abroad selling Mizubasho brand around the world, he says he retains strong ties to the Kawaba village. "I aim at developing my company internationally and having its roots in my hometown: global and local." Nagai Sake runs a restaurant called Kuracafe in an old reconstructed sake cellar. It features dishes made with sake and local ingredients, a cake made of sake lees in partnership with a local baker and coffee made with the same pure water used to brew Nagai sake. "Kawaba village is rich in beautiful nature, delicious ingredients, and many great ryokan hotels," Noriyoshi said. He has teamed up with other local brewers to create Sake Tourism programs. He got the idea from joining a winery tour in Napa Valley. "I would love it if our sake makes our village famous, and attracts people from around the world to Kawabamura," he said.
Noriyoshi believes that he needs to touch people's hearts in order to create a beloved brand. The flavor that has been loved in Kawaba village for 130 years will bring a fresh vitality to the world's wine market.
Information
In the greater Seattle area, Mizubasho labels are available at Uwajimaya and other Japanese grocery stores. US distribution is managed by Silkroad Wine and Spirits.