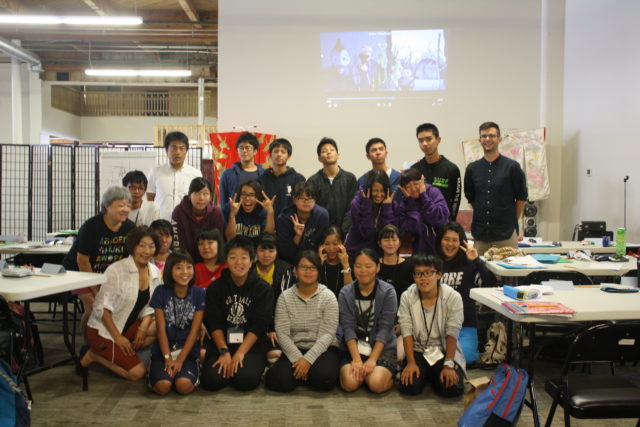 by Minami Okada,
Translated by Bruce Rutledge
The North American Post
Twenty-two middle and high schoolers from Okinawa came to Seattle this summer to take part in homestays from July 26 through August 16. The program, which is in its 33rd year, is sponsored by the Okinawa Times. This is the fourth time the program has come to Seattle. Hokubei Hochi was a supporter.
The Okinawa Times runs the program in hopes that the middle schoolers will be inspired by the diversity of American culture and the chance to experience a different culture and speak English.
The students team up in pairs to take part in the Seattle area homestays. They'll learn English and American culture. On Monday, Wednesday and Friday afternoons, they study English at the Nagomi Tea House. They learn English conversation and get introduced to American culture. The teacher, Kyle Travess, is an English teacher based in Shanghai. He helped out with the program during his summer vacation. The students were enthusiastic about learning new things, he said, making his lessons very fun to teach. Field trips for the students included outings to the University of Washington, the Space Needle and a Mariners' game.
Many of the students said they joined the program to experience another culture. Some even worked part-time jobs to save up for the trip. Ena Majya, a high school sophomore who wants to be a flight attendant said she joined the program to get one step closer to her dream job. "My parents were against it at first," she said, "but I explained to them my dream and my desire to learn English, and they let me come. It's so fun, I don't want to go back to Japan!"
High school freshman Chise Tamamura said that the English being taught in Seattle "is so different from what we're taught in school. Before I joined this program, I thought I spoke a lot better English."
While the program is focused on high schoolers, six middle schoolers joined the group this time. "I'm happy because I always wanted to join the program but never could," said ninth grader Shiori Sugiyama. "When I get home, I want to put more effort into English and get ready for high school."
Many of the students said they wanted to use this experience to improve their English and would keep studying hard when they get home so they can come back for a visit sometime. This summer, they've had a once-in-a-lifetime experience.
Students from Okinawa studying at Nagomi Tea House
Photo by Minami Okada