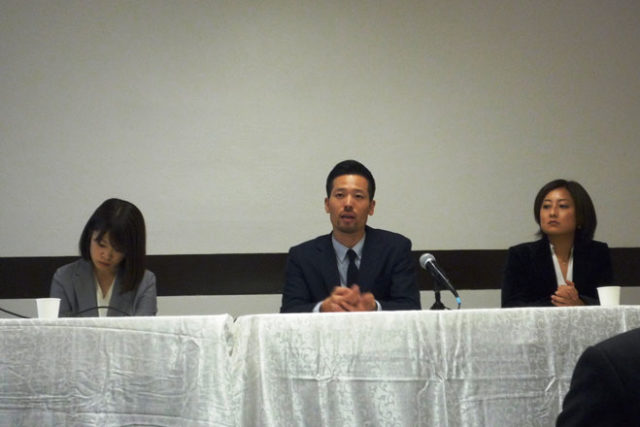 By The North American Post Staff
The Japanese government hosted a lecture titled "Walk in U.S., Talk on Japan" on Oct. 26 at Japanese Cultural and Community Center of Washington. Former Japanese Ambassador to the United States Fujisaki Ichiro and the group members presented Japan to the audience from legal, economic and cultural representatives.
Fujisaki began sharing his  childhood memories about Seattle and his impression that many Japanese Americans lived in areas segregated from other Americans in the early 1960s. While Fujisaki recognized the discrimination at the time, many Nikkei still became lawyers, doctors or CEOs.
He commented that this is an important time for Japanese Americans to know more about Japan. He also expressed his gratitude for the support of the Great East Japan Earthquake from Americans including many Japanese Americans.
The "Walk in U.S., Talk on Japan" program was launched in June 2014, organizing 14 teams to the United States to discuss and introduce the present day Japan. The group led by Fujisaki also gave lectures at the University of Washington on Oct. 26 and Everett Community College on Oct. 27.
Kanako Katayama of Sumitomo Corporation introduced Japan's utility revisions after the Great East Japan Earthquake and domestic nuclear power issue. She shared the experiences of how  Japanese corporations and residents have attempted to care energy with creative ideas such as light control by  proper angles of blinds, efficient energy management systems to the concepts of Cool Biz, an ecological business fashion.
Katsuya Yuzuki, who works in the real estate business, explained the overview of Abenomics that has developed a support system for working women to improve the human resources in Japan. He also mentioned that the Summer Olympic and Paralympic Games in Tokyo in 2020 will help as an economy boomer.
Erina Kimizu from Shiseido said that the modern Japanese culture has been created from fusion, or mixture of modern and tradition that can be seen in kimono and other businesses. Other examples, especially uniting with the American corporations, might include teriyaki hamburgers from McDonald's and green tea lattes from Starbucks, she added.
The JCCCW event had a small audiences due to heavy rain, but the following Q and A was very lively.