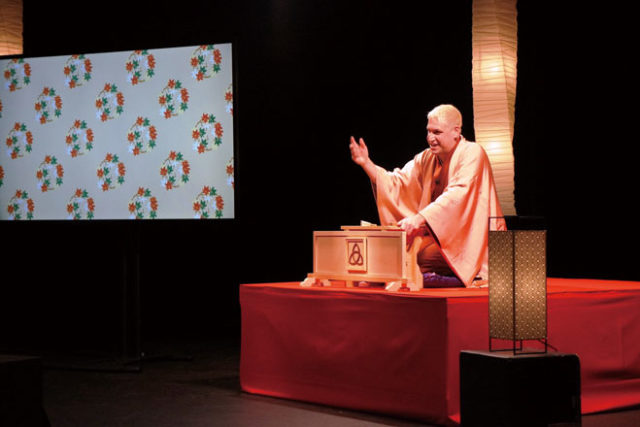 By Shihou Sasaki
The North American Post
Three years have passed quickly for Katsura Sunshine, a Japanese rakugo storyteller, after his first performance in North America in 2013. The Canada-born rakugo performer said that his studying and training would never end, but at least he has gained experience and now is considered a Japanese cultural ambassador in sharing Japan's appeal through his performances of a Japanese verbal form of entertainment.
Katsura Sunshine led a special lecture event "Dive into Ukiyo-E" at the University of Washington on Tuesday and Wednesday. The event was a kick-off lecture of the 2016-2017 UW Mitsubishi Lecture Series, which was partnered with NHK World, a Japanese television production to film Sunshine's lecture and performance.
UW Japan Studies' Mitsubishi Lecture Series has reached the fourth year and will focus on Japanese art.Wearing kimono, Katsura Sunshine introduced the cultural art forms of rakugo and ukiyo-e (traditional woodblock prints), entertaining 130 attendees both days.
"Each [ukiyo-e] print has a story inside that people in Edo period could understand," he said. "But for us, we cannot see the stories because it was three hundred years ago. It is a marriage of two art forms [to get the stories alive]."
This is the second performance in Seattle for Katsura Sunshine after his U.S. debut in 2013. He said this experience is his second asceticism.
"It's been a lot of learning for me, how to communicate with international audience," said Katsura Sunshine, who wants the English rakugo as simple as possible, with the same rhythm, intonation, timing, accent and pace [as the Japanese version.]
"I don't want to just entertain North American audience, I want to entertain them with something truly Japanese, something that I studied and I received from my master and I want to stay with that."
"Little by little, I have been getting closer to the goal, but never, ever becoming perfect," he said, smiling.
Katsura Sunshine never expected that he would be such a cultural promoter for Japan when he originally planned to stay in Japan for half a year to study noh or traditional Japanese performing art in 1999. He quickly dove into the world of rakugo and was trained under legendary rakugo performer Katsura Bunshi VI.
He said that he had no racial issues or discrimination in the rakugo world, except for his learning of proper language usage with others. He said that Japan has been open to other cultures and adaptable for many years, enough to be ready for diversity.
The world may also be ready for more Japanese cultural aspects. After his successful international performances in the last few years, he said that rakugo has been recognized as a show, ready to compete with other entertainment in the United States.
"I am trying to make the rakugo into a show that competes with the musical, standup comedy or other entertainment," said Katsura Sunshine, who will have two key performances in 2017 in London and New York. "I would not have expected that three years ago, but people has been enjoying the show."
From his originally planned six-month stay to 16 years of cultural involvement, Katsura Sunshine said his long-term goal is to perform rakugo everywhere around the world, different theaters and towns.
"Like the izakaya or karaoke, I want rakugo to be an English word," he said.
The "Dive in Ukiyo-E" will be aired in NHK World in December.