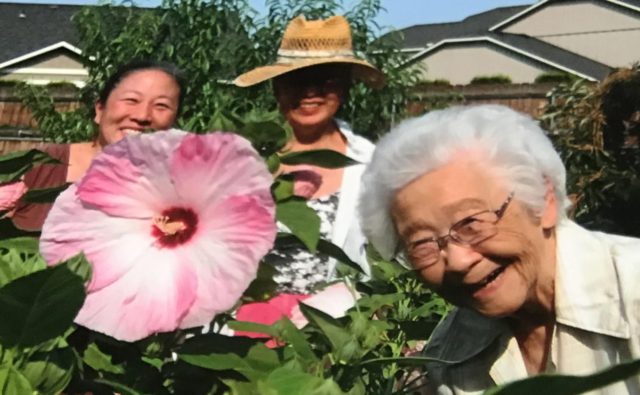 Koharu Sera is a spritely 98-year-old with no apparent aches or pains. She stands about five feet—actually 4 feet, 9 inches—topped by a cloud of curly white hair. She agreed to an interview with me for an Omoide writing assignment at the Japanese Community and Cultural Center. She greeted me at Nikkei Manor in Nov. 2019 and led me to her tidy apartment. I was pleased when she told me that she and her friends enjoy the Omoide stories published in the North American Post.
Koharu was born in San Francisco to Sadako and Bungo Hikido, immigrants from Wakayama Prefecture. While her parents worked as sharecroppers in Danville, her mother bundled Koharu on her back.
Eventually, Koharu was joined by the births of four brothers. Sundays were always a day of rest and father drove them to church in Berkeley. After the service, they stopped at a favorite spot where they could see San Francisco off in the distance as they enjoyed their bento lunch.
After she graduated from high school in 1938, her parents asked if she'd like to visit her uncle's family in Wakayama for a few years. Koharu readily agreed as did many other Nisei's whose parents sent their eldest to Japan. Reasons included helping family and gaining a Japanese education. Unfortunately, her visit abruptly ended when her father wrote that she should return as soon as possible because of growing tensions between Japan and America.
In 1941, she sailed on the Kamakura Maru which she later learned was the last ship allowed to dock in San Francisco. When she reached customs, she was inexplicably sent to a detention center. Although she was released the next day, that worrisome incident foreshadowed another.
Shortly after she returned, Franklin Roosevelt signed Executive Order 9066 sending all Japanese on the West Coast to ten concentration camps after Japan bombed Pearl Harbor. Koharu and her family boarded a train to Gila River Camp hastily built on the Gila River Indian Reservation in the Arizona desert.
Koharu remembered when another train approached theirs, the guard ominously ordered them to pull down the shades. At Gila River, she worked as a nurse's aide for $16 a month.
It wasn't long before she received and accepted a mail proposal from Yukio Sera. She had met him at the Berkeley church her family previously attended. They began corresponding after he was drafted and she was in camp.
After they married at Gila River, she accompanied him to army bases in the United States. Koharu proudly said that all her brothers served in the army.
After Yukio's service ended, they settled in Berkeley and raised three sons. When she and Yukio retired, they moved to Bellevue to be near their sons and grandchildren.
Several years after Yukio died, Koharu moved to Nikkei Manor. She was pleased that her granddaughter bought her house so when she visited, her former neighbors were happy to see her again. At Nikkei Manor, she likes having her own apartment, eating familiar Japanese foods with friends, going on field trips, and making crafts.
Her sons and friends regularly took her to the same church she and Yukio always attended.
She said, "Faith is something that cannot be preached to you. Believing in the Lord is something you feel. It has to come from your heart."
The recent coronavirus pandemic has changed Koharu's routine. In a recent phone call, she told me that all the residents at Nikkei Manor have been in quarantine for weeks. She said her meals are now delivered to her apartment. Although she could visit with other residents in the hallway, they were careful about keeping distant. No visitors are allowed in nor could they go out.
She keeps up with outside friends and family by telephone. And as usual, she enjoys watching NHK television and doing the daily Seattle Times crossword puzzle. Daily exercise sessions are available, too. She said no one at Nikkei Manor has contracted the virus.
Listening to Koharu tell me of these new constraints, I can see that she as well as the other residents at Nikkei Manor appreciate the staff and workers' care during these troubling times. The "ganbatte" spirit prevails there.