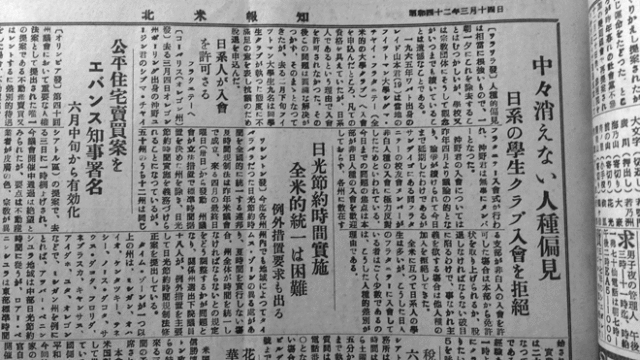 Original Issue Date: March 14, 1967
Translated by Minami Endo
The North American Post
[Walla Walla, WA.]
Racism is so deeply rooted that it is difficult to solve it in a short time. However, it is regrettable that racism still continues at schools or religious organizations.
In 1965, Raid Yamamoto, 19, from Wapato applied for membership in Sigma Chi Frater nity at Whitman College, but he failed because he was a Japanese American, even though he qualified for all of the conditions for joining the club. This issue had not been peacefully settled and still remains. At the end of last February, nine students from Whitman College stated their dissatisfaction about the attitude of the club and applied to leave the club to protest against the issue.
Japanese American Permitted to Join the Fraternity
[Corvallis, Ore]
On March 4 , a Sigma Chi Fraternity's entrance ceremony for Eugene Okino from Boring, OR., was held to welcome him as a new member. The ceremony was delayed until this time since a dispute occurred over his admission. Particularly the alumni association members of this fraternity in San Diego opposed stubbornly against non-white members' admission.
The main point of the issue until today is that the club's main office does not welcome non-white members. If the local committees in each state permit admission to non-white members, they are either deprived of the license or need to withdraw from the club. Therefore, not wanting to rock the boat, they denied the admission of other races.
This is the reason why only a few Japanese American students can be members of this kind of white fraternity even though there are many Nikkei students all over the States.