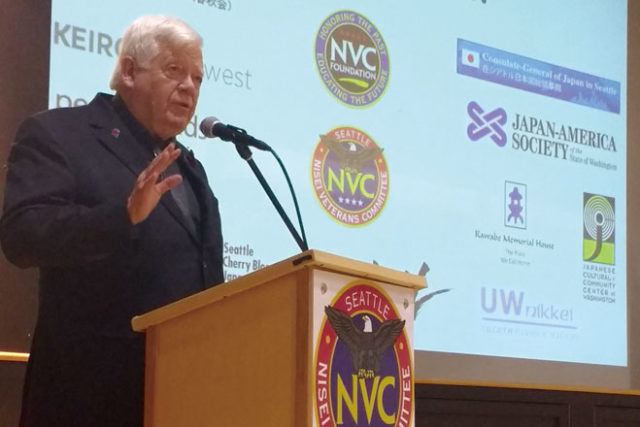 By The North American Post Staff
Japanese community organizations gathered for a retirement celebration of Congressman Jim McDermott, a long-time supporter for the local community and Japan. About 15 organizations and their representatives joined the reception last Thursday at NVC Memorial Hall.
McDermott has been a U.S. Representative from the state's 7th District for 14 terms since 1988, contributing to building a strong U.S.-Japan relationship. He announced in January that he would retire after his current term concludes this year.
Consul-General Masahiro Omura read the letter of appreciation from Japanese Foreign Minister Fumio Kishida, who shared McDermott's various achievements, saying, "for the efforts including U.S.-Japan relations and tireless work towards furthering America's understanding of Japan during your service, I would like to again express my sincerest gratitude. …It is my hope that as a true friend of Japan, your advice and guidance will continue to contribute to the U.S.-Japan relations." 
In November 2014, he received the Order of the Rising Sun, Gold and Silver Star, from the Japanese government. "…[W]e must honor our differences with the rest of the world but we must remember that we are all bound together in the need to solve the problems of the world," he stated upon receiving the award. "Japan and the United States must stand together."
As community representatives, Dale Kaku, vice commander of the Nisei Veterans Committee, and Charles Aanenson, president of Peace Winds America, and Tomio Moriguchi of Nikkei Community Network shared the community's appreciation, following a remark and toast by fellow Congressman Adam Smith.
State Governor Jay Inslee also shared a congratulatory letter to celebrate McDermott's accomplishmens.
McDermott's contribution to the community began in the 1970s when he served as a State Senator. He was deeply inspired in the 1950s by his college classmate, David Sakura, who shared experiences of the Japanese American incarceration and the military. The congressman himself served for the U.S. Navy. And his name brick was put on NVC's Japanese American Memorial Wall, next to the late William Kenzo Nakamura, who received the Medal of Honor after McDermott suggested President Bill Clinton re-examine the Nisei's performance in the U.S. military.
Last Thursday, McDermott recalled his political experiences, including his 40 visits to Japan to strengthen the two countries' relationships and his recognition of Nisei veterans' contribution and heroism.
But at one point, he also shared a story of a third-grade Muslim girl, who told her school teacher that her family would move out of the country, considering what the country has recently been facing.
"When you hear that from a seven or eight-year-old kid, you know what is going on in this country right now," he said," and why I consider the Japanese American community very important because you have been through it. You know what that means when somebody starts talking like that."
And he shared the same message when he received an award from Japan.
"We must stand all together," McDermott said.