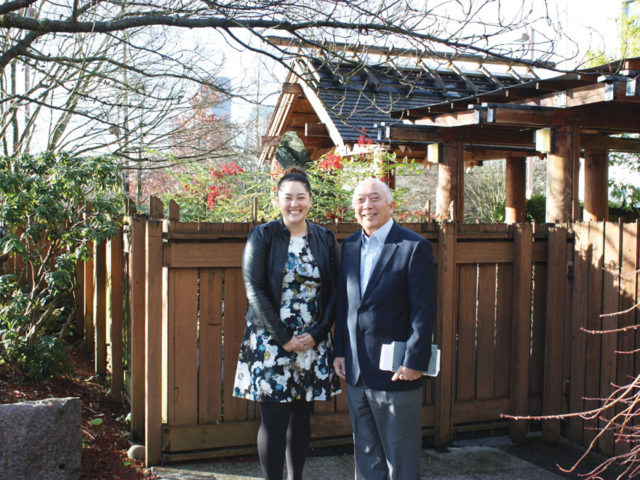 Frank Fukui became Keiro's board president on January 16 after serving two years as the board treasurer. He grew up in Seattle, attending to Bailey Gatzert Elementary School after the internment and on to Garfield High School and the University of Washington. He met his wife of 50+ years, Penny, at Bailey Gatzert 59 years ago. Frank bought the office products and managed print services firm Woodburn Company in 1989 and has won many awards over the years for excellent service.
Bridgette Takeuchi grew up in Renton and graduated from Seattle University, where she also played basketball. She worked in corporate America for years, including a stint as an auditor for Ernst & Young and ten years at Symetra Financial, where she ascended to vice president of audit services and later vice president of business technology.
New leadership helps healthcare institution evolve
Interview conducted by Bruce Rutledge,
Forty-three years ago, seven Japanese Americans — Glen Akai, Harry Kadoshima, Sally Kazama, Henry Miyatake, Tomio Moriguchi, Tosh Okamoto and Fred Takayesu — got together to figure out a way to care for their aging Issei parents. They decided to form Issei Concerns (later Nikkei Concerns), a culturally sensitive nursing home that still serves the community today as Keiro Northwest. That seed they planted nearly a half century ago has grown into a mighty tree with deep roots in the community. Today, Keiro Northwest has grown into a 21st century healthcare company that has seven distinct branches of service. Whether an elderly person needs help shopping and cleaning or culturally sensitive longterm care, Keiro is there for Seattle's Asian community. Last fall, the nonprofit organization appointed Bridgette Takeuchi as interim Chief Executive Officer after the departure of CEO Jeffrey Hattori. In mid January, Frank Fukui took over as president of the board. He had previously served as the organization's treasurer. The North American Post sat down with the two leaders to talk about the challenges facing Keiro. Excerpts from the interview follow.
"Why am I here?
Because I care about this community. "
Frank, you grew up here. What was Seattle like during your youth?
Frank: We came back to Seattle from the incarceration camps with the same two suitcases that we were allowed to take to Minidoka, and we couldn't find housing. But when we finally did, the first and second grade classes of Bailey Gatzert Elementary School were almost 100% Japanese Americans. I'm sure they were not expecting the sudden large number of students, but when their doors opened, we were all there! I was probably in the second or third class that started there.
From there, I went to Washington Jr. High School and I graduated from Garfield High School in 1960. It was a good year! I learned a lot. I worked in a gas station on 10th and Jackson when I was 15 years old. All my customers were Japanese Americans or Japanese from Japan. We only had a couple of Caucasians come in, but I think they were just driving down the street and needed gas. Also, because there were no credit cards at that time, we'd run a tab. The customers would come in, write their names down — $3 worth of gas — and they'd sign it. That was the credit system in those days. I asked some of my older friends why we only served Japanese. They said, well, you can't go to a Caucasian place because they won't serve you. I said, Really? I never knew that because at 15 years of age, I didn't have a car yet. I never even thought about that.
I guess that's why I went to a Japanese American barber (Mrs. Matsumoto) in my neighborhood. I had a Japanese American dentist (Dr. Kanemori). I shopped at a Japanese grocery store (Tom's Grocery) and I got my medication from a Japanese American pharmacy (State Drug). Hence, the idea of a Japanese nursing home arose (Keiro).
And so institutions like Keiro sprung out of a need to take care of your community because of redlining?
Bridgette: Tosh (Okamoto) said he wanted to come back and leave part of his legacy. At the time, there was still a lot of racism as a result of the war. I think that's an important part of the story in this day and age for people to understand. Why the story is important is because we all see what is happening today.
How has the business model changed for Keiro Northwest over the years?
Bridgette: We have seven programs. It originally started as a nursing home for the first generation. What you see today is an evolution of healthcare and health and wellness. That is reflected in the number of programs we have grown to support today. Our mission statement is currently stated as the continuum of healthcare for the elderly or the aging. Frank is a sprightly 75 year old.
Twenty, thirty years ago, that would have been our target demographic. Frank's still running a successful business. Times have changed. How do you evolve your business model? That's where our Horizons continuing education programs come in. Catering and home care are needed because people want to stay at home longer. The concept of a nursing home has really changed.
It's an entity that's been around for 40-plus years. But I think the original intention to serve the Japanese American community has also evolved. Our value proposition is in the cultural awareness and sensitivity. More than 90 percent of our staff are of different ethnicities. We speak so many languages, I can't even name them all.
If you think of it as a life cycle, first we have catering. Think about celebrations. The food is really good here, so we cater a lot of events. A lot of our events are here in our Garden Vista room. It's beautiful.
Then you have Kokoro Kai, which is adult daycare. Families or volunteers bring individuals to a location. We are shutting down our Eastside location, which is very sad. But it will still continue at Nikkei Manor. There are a lot of culturally sensitive activities. There are a couple of elementary schools that come a few times a month.
Then we have home care. Our director of community enrichment describes it like being a grandkid. The volunteers can do shopping, visit, and/or clean. They are not administering medical attention. They are there to be an assistant so that family members and caretakers can have a little reprieve from the day-to-day grind of taking care of someone. This is for someone who is still fairly independent and wants to stay at home. That's our home care business.
Then we have Nikkei Horizons. This is for your really active but early retired folks, so 50 and above. There are great travel opportunities. We do guided tours that are personalized. We have two guides who go on these tours. You can do one that walks in the footsteps of the 442 soldiers. That's really cool. We go to Japan a few times a year as well. We also have a lot of classes — calligraphy classes, AARP classes. A lot of retirees take care of their grandkids so we want to start targeting grandparent and grandkid classes, particularly during (school) breaks and summertime.
At Nikkei Manor we offer assisted living. It is mostly Japanese and Japanese Americans. It is for folks who are a bit independent but still need assistance. There's a nurse on staff. There are a lot of great organized activities that they can participate in. And the food. They have a choice of an American or Asian-inspired meal three times a day.
Then you have Keiro, the rehabilitation & care center. It's a traditional nursing home. We have a lot of long term folks who are here for elder care. Then we have a whole new tranche that is focused on our service of rehabilitation. They may have had a hip replacement or an injury and they are here to heal with us. We have a great rehab center here. We also have a workout area too, so even if you're here for long term care and you are not going back home, you still get your workout in.
Tell us about the Gala planned for February 9 at the Bellevue Westin.
Bridgette: We are expecting a lot more people than usual at the gala this year, which is very inspiring. We have a lot of really good donations this year for auction items. We have been blown away at how generous people have been this year. We have original paintings and private tours with the head winemaker at Chateau St. Michelle — when the community is called to action, they come together. We have a great lineup of things to auction off.
For the raise the paddle, our goal is $100,000. We want to renovate the Garden Vista Room.
One of the challenges of an NPO is staying current. We still have quad rooms. Upstairs is pretty clinical. That's not what you would see in a nursing home in this day and age. We don't have $25-30 million to revamp the entire building, so what can we do with what we have? The Garden Vista (in the Keiro building) is one of our most special spaces. We want to create a space where family members can have a cup of coffee, get a sandwich, visit with each other. It's personal to me and my family. I had two great uncles here recently. I had two young children and was pregnant with my third. Shushing a two-year-old boy is no fun, but we didn't want my kids to interrupt my uncle's roommate. It would have been great if we had had a space where the kids can run around and be themselves.
The other part is the staff. Families need a good space, the residents need a good space, and the staff needs a good space. They didn't say this but as leadership, we know. Their staff room doesn't have any windows. This is a beautiful space.
Bringing the community back in is the intention of this as well.We want the community to feel that they're part of this and have a reason to come here.
Gentrification is changing the face of the neighborhood. What can Keiro do to protect itself?
Bridgette: This building is paid off which is great, but because of the cost of living here, every day we get offers from folks wanting to buy this facility, tear it down and build a condo. It's a struggle. I think the city recognizes that it's an issue but I don't think they're doing anything about it. I think there is a real risk because there is such a rich history and culture. You just walk around this block and you see the churches. We also have the oldest dojo in America right down the street. It's a shame, it's very sad, but we have to be realistic about what does this mean for the future. I think it's going to be my generation that is going to have to tackle this issue and execute plans for the future.
Frank: A majority of us lived and socialized in the International District (ID) which was called the Central Area at that time. Now most of us have moved out. . At one point, I think 25% of the students in Seattle Public Schools were Japanese Americans. Now, I believe it's around 2%.
Bridgette: I'm fourth generation so I'm the next generation after Frank's, the yonsei group. My family has mostly been involved with the veteran's organization. My dad was the first sansei commander and the longest serving commander at the Nisei Veterans Committee (NVC) at this point. My mom is a past church school superintendent for Blaine United Methodist Church. My family is very involved in the community.
Why am I here? Because I care about this community. I am half Japanese. I have one cousin who is half Japanese, half Chinese and another who is half Japanese, half Filipino, so there is this change and evolution in what is Japanese American. For me, if someone asks me, "What are you?" it's like, I'm American, because I have this lineage that has this amazing story back to the internment camps but I'm also a daughter of the American Revolution from some of the original settlers in the state of New Jersey. But truthfully, it was my mother who pushed that (Japanese) influence onto our family. It wasn't until she started telling us about the internment camps and making my great uncles talk to us about it. We would go to NVC to volunteer and she would take us to church at Blaine. That was her making sure we understood our roots and the amazing history that we come from.
Keiro Northwest provides care for Asian seniors across a full spectrum of health and wellness services. It has been doing so under different names since 1975. Over the decades, its services have evolved to adapt to healthcare needs. Kokoro Kai, an adult day program promoting social interaction and wellness activities, began in the spring of 1978; Nikkei Horizons, a continuing education program for active seniors, was started in 1990. In 1998, the Nikkei Manor assisted living facility near Uwajimaya in the ID opened its doors. Keiro also specializes in rehabilitation. It has become a comprehensive elder care organization and a cornerstone of the Asian community in Seattle.
Keiro Northwest
1601 E Yesler Way, Seattle, WA 98122
(206) 323-7100
www.keironorthwest.org
LUNAR NEW YEAR CELEBRATION
FRIDAY, FEBRUARY 9
Celebrate the Year of the Dog with local, national, and international celebrities. Includes dinner, live & super-silent auctions, Fund-A-Need, and more. Funds raised by this event will be dedicated to renovate the Garden Vista Room.