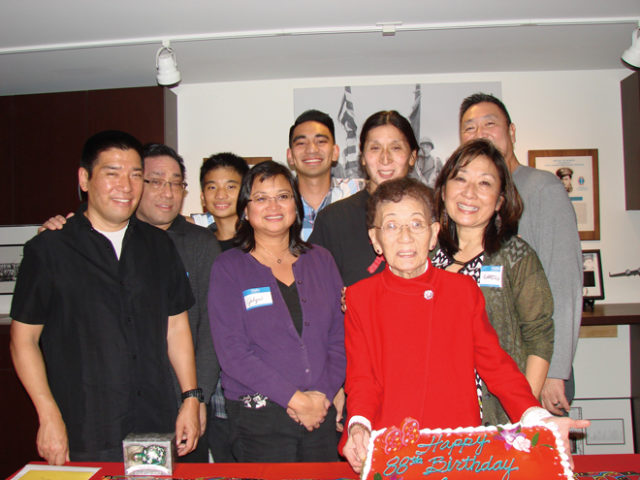 By David Yamaguchi
The North American Post
In mid-April, I introduced a friend to high-school friend Carolyn Yasui at an informal gathering. A few minutes later I was thunderstruck to hear Carolyn relating her life story, which I had never heard, nor even thought to ask. For to me, she had always been "just Carolyn."
Carolyn today is gracious, polite, always upbeat, and always smiling. Everyone likes her.
Carolyn is an exercise nut. For example, that day she had logged over 19,000 steps through going to her exercise class, then on a walk, then to dance class.
So far as I know, Carolyn has always been happy. In school, I would guess that teachers wrote of her, "Carolyn is a pleasure to have in class."
Carolyn explained that she had grown up as the eldest of four, and that her father had died when she was seven, leaving her mother to raise her and three younger brothers, the youngest who was one.
"We didn't go to Disneyland in the summer," she tossed off with a smile.
Wow! So for this week's column, I had to follow up. What was her mother's story?
According to Carolyn, her mother, Julie Mayeda, raised her and her three brothers (Scott 5, Stan 3, Eddie 1) after her dad, Fred Mayeda, passed in 1964 of leukemia at age 34. To raise her children, Mrs. Mayeda worked for most of her life as a bookkeeper at Mutual Fish.
"Quite the supermom," writes Carolyn. "We all lived our lives on Beacon Hill on Juneau Street [in a house] that my parents bought thinking [it] was their starter home.
"Mom will be 90 years old in July of this year, 2016."
On her own role as eldest daughter, Carolyn adds in her funny way that she "learned… to make a mean TV Dinner & Banquet Chicken at a young age."
To all the Moms—and surrogate moms—out there, Happy Mother's Day!