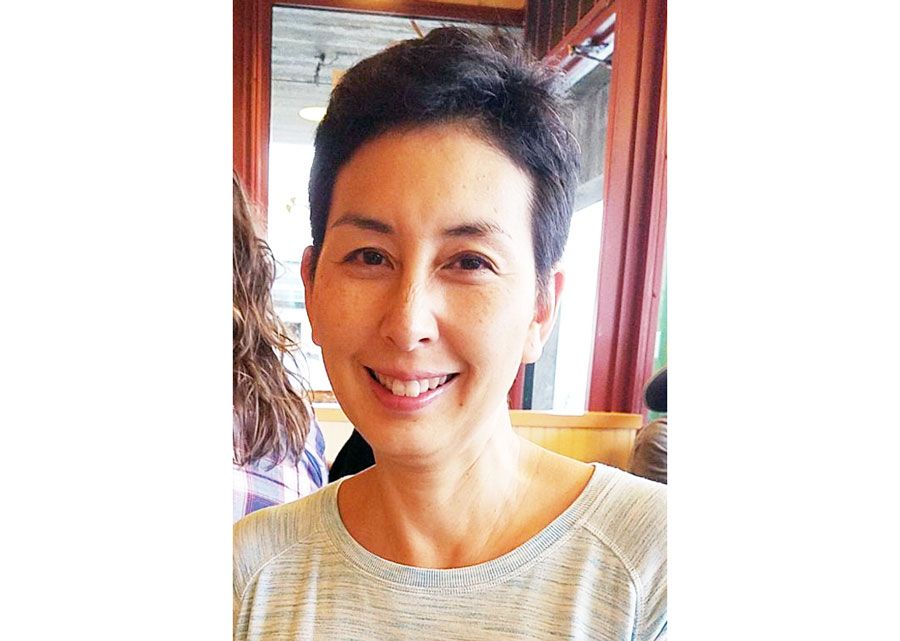 Interview by Elaine Ikoma Ko, Special to The North American Post
Artwork and photos by Michelle Kumata
Michelle Kumata is a local, Sansei artist best known for her prior work illustrating for the Seattle Times and helping the Wing Luke Museum with its displays. Here, we profile Michelle's more-recent "Japanese-Brazilian Diaspora Project," which explores her family's immigration history. To learn more, visit https://www.michellekumata.com/japanese-brazilian-diaspora-project. To see Michelle's art firsthand, she will next have work on display in an exhibition, "Not Your Monolith,"honoring Bellevue Japanese-American farmers. The exhibition adds to the voices of Black and Indigenous People of Color (BIPOC), who have been underrepresented in the arts. 
Not Your Monolith, Nov. 5 – Dec. 19, 2020 (https://cocaseattle.org/not-your-monolith)
Center on Contemporary Art (CoCA), 114 3rd Ave. S., Seattle
Seattle native Michelle Kumata's artistic journey has taken her across the country to New York and across the hemisphere to Brazil, not only to discover her identity and legacy but to express it through her work. By exploring her family's Japanese-Brazilian (JB) roots, she shares her story of how, through oral histories and visual art, she has established a legacy for future generations of her family.
A shy, only child growing up, Michelle has become an accomplished artist whose work has been showcased in The Seattle Times, and in cultural centers, museums, and galleries locally and across the nation. Indeed, she shows that you can express your identity and convey strong messages to impact others through all types of creative endeavors. The North American Post interviewed Kumata by email, as excerpted below.
How and when did you discover your interest and talents in art?
I grew up an only child and I was quiet and introverted but had a vivid imagination. Art was a way to entertain myself, where I could create my own world. I wasn't a prodigy, but I had a passion for art from an early age.
My father is a talented artist, and introduced me to art. He would draw with me when I was little. I have fond memories of the line drawings he'd create on my paper lunch bags and I was so proud to bring them to school. When I visited my grandmother's house, I noticed several professional looking paintings on her walls. I asked who made them, and she told me my father painted them as a teen when he was at Franklin High School.
My maternal Issei (first-generation) grandparents would watch me in the Keene Apartments, which they managed, across the street from the Wonder Bread factory in the Central Area—I can still smell the baking bread. My grandmother also fueled my artistic interests by letting me paint with leftover beet juice. They were poor but resourceful, and epitomized the "mottainai" spirit, to not waste anything.
Even today, there is still something magical about art and the act of creating, especially when you start drawing and you lose sense of time and space, and get lost in your work.
What shaped your parents' Japanese American identities?
My mother is Nisei (second generation) and her parents immigrated from Kajika, Mie-ken, Japan. My father is Sansei (third generation) as his parents were born in the U.S. and his grandparents were from Hiroshima. Both my parents were born in the Minidoka incarceration camp during World War II, so they don't have any vivid memories of the camp experience.
My mom said that her parents never discussed the incarceration camps—it was rare for Issei and Nisei to talk about camp, especially in the 1970s and early '80s. For many, there was a sense of shame, anger and resentment, and also a desire to put it behind them.
My mother's family returned to Seattle after their incarceration. Her parents managed "flop-house" (cheap hotel/boarding house) hotels in the downtown/Pioneer Square area.
There was a lot of propaganda encouraging Japanese Americans (JAs) to move away from the Pacific coast after the war. My father's family relocated to Cleveland, Ohio, and they later returned to the Seattle area in the 1960s.
My mother grew up in a mainly Japanese-speaking household, but she only spoke a few words and phrases to me. My father grew up being cared for by his Issei grandmother, so Japanese was his first language but as he grew older, English was the main language spoken in his household. It seems that in order to fit in and assimilate, to become more American, the language was lost through their generations. I took Japanese language classes in junior high school but it wasn't a priority for me at the time, so I do regret that I didn't take that opportunity to learn the language.
Coming from Seattle, how did you end up in New York, as a young person, and what was it like?
I was fortunate to have a mentor, Miyo Endo, a Japanese-American (JA) artist and family friend, who suggested I look into the illustration program at the School of Visual Arts in New York City (NYC). I applied without telling my parents, and to my surprise, I was accepted.
NYC was an education in itself! The intense pace, diverse cultures, museums and galleries, and more. The first day I walked out of the dorm, pedestrians were walking by so fast, it made my head spin. But there was so much to discover and learn there—I was fascinated by the city. Every day was an adventure—you never knew what you would witness or experience!
When I was younger, I could tolerate smaller living quarters and make do with the bare minimum. The truth is that artists are survivors—they are creative, resourceful, resilient, and adaptable, and can make something amazing from nothing. As an artist, I feel that I'm carrying on the spirit of my immigrant ancestors.
How did you find your way to the local Asian Pacific American (APA) and JA community?
After attending Seattle Public Schools for ten years, I attended a small private school. I experienced culture shock, and I was trying to find ways to connect to the APA community. My mom, a Seattle Public School teacher, told me to visit her school to see a local Nikkei (Japanese descendants) drumming group, "Seattle Taiko." I saw them perform and that was it for me!
Taiko is loud and unapologetic and breaks Nikkei  stereotypes. You feel taiko in your heart—it's physical and emotional. And it became so empowering for me to play, especially as a young, unsure woman.
Getting involved in taiko helped me connect with the Nikkei community and build my identity and pride. Jeff Hanada and Ken Mochizuki, fellow taiko players, suggested I contact Ron Chew, then editor of the "International Examiner" (IE), about doing illustrations for the newspaper. I spent a month of my senior high school year working at the IE, where I learned about APA history and issues.
Some time after returning to Seattle from New York, Ron Chew recruited me to help with the local Wing Luke Museum's ("The Wing") Executive Order 9066 exhibit, which focused on the JA incarceration. This was a pivotal moment for me, as I had not heard firsthand stories about the incarceration experience.
In recent years, I have reconnected with my heritage through my art. I started painting traditional Japanese fairytales, then created portraits based on photos of local Nikkei during the 1930s, a pre-WWII time when Seattle's Nihonmachi (Japantown) was active and vibrant. I also had the opportunity to make a large mural inspired by Bellevue Nikkei farmers and the effects of the incarceration on later generations.
Two years ago, I left my full-time job to focus on art. I wasn't sure where I was going, but I wanted to continue to explore my identity and find my voice.
More recently, what drew you to explore your maternal Japanese-Brazilian roots?
I had visited my ancestral family in Brazil a couple times before, but never really explored our family's history. In 2018, I attended a local workshop for artists interested in working abroad. At the end of the workshop, the facilitator asked attendees to mark a world map with places they would like to visit to do an art project, then asked them to explain why. I chose Brazil because I had a lot of family members there, more than in Japan, and I was curious how they ended up in South America.
I applied for and received a local 4Culture Art Project grant to travel to Brazil, collect stories, and create art. I mainly set out to find out more about our JB family—how my great grandmother and six of her children ended up in Brazil while my grandmother ended up in Seattle.
Where did you start with the JB project?
I had a lot of experience with oral history collection and project management at The Wing, so I felt confident I could take on this project. I reached out to Ricardo Haragutchi, a JB relative living in Florida and family historian who keeps track of our family tree. Ricardo has been gathering family information for decades, so he was very helpful in getting me started and coordinating interviews and homestays for my visit.
A couple months before my trip, I started listening to a Portuguese language CD in my car. With a digital recorder, laptop, Portuguese phrase book, omiyage gifts (smoked salmon, tea, and prints of my artwork), I went off to my new adventure in Brazil.
What did you learn about your JB family?
I was very warmly received by my Brazilian family during my visit, and felt at home from the beginning of my trip. The first night I slept in a bunk bed that my grandmother, Kinue, had slept in when she visited 50 years earlier.
Before I traveled to Sao Paulo, I learned that a historical series of labor shortages in Brazil and a down economy in Japan had led to the Japanese immigration to Brazil. From the early 16th century to 1866, Brazil received an estimated 4.9 million African slaves, more than any other country in the world. Slavery was abolished in Brazil in the late 19th century. Brazil then recruited European laborers, who later left because of poor working conditions. Then Brazil looked to Asia to fill the labor gap.
In the early 20th century, Japan's rural areas were impoverished and the Japanese government encouraged emigration, mainly to the U.S. Then in 1924, the U.S. Immigration Exclusion Act halted Japanese and other Asian immigration. From 1908 to 1941, 185,473 Japanese immigrated to Brazil. Today, the country has the highest population of Japanese outside of Japan with 1.5 million in 2018.
Our family left their poor fishing village in Japan to go to the U.S. and Brazil. My maternal grandmother, Kinue Takatsu, married my grandfather, Kametaro Kawaguchi, and emigrated from Kajika, Japan, to Seattle in 1918, when she was 18 years old. She was the only one of the Takatsu family that came to the U.S.
Kinue's mother, Saki Takatsu, and six other siblings originally planned to emigrate to the U.S., but were not able to because of the 1924 Exclusion Act. They ended up going to Brazil in the late 1920s, and they started working as farm laborers. In contrast with the U.S., which recruited single men, Brazil recruited whole families, as they wanted them to settle in the country.
I marvel at my great-grandmother Saki's courage. She was in her mid-50s and a widow, leaving her home to go to a new country, not knowing the language or culture, and not knowing that they would never return home.
Grandma Kinue later traveled to Brazil several times, bringing all of her children including my mother, so they would know her extended family.
Because of this project, I discovered a fuller and richer picture of my grandmother and great grandmother. I have pride in the risks they took to immigrate to new countries. They cultivated and maintained international family connections. That was their gift and legacy of tying us together.
What are the main discoveries for you as you embarked on this groundbreaking project studying your JB family? JBs are different from JAs in many ways, such as with language, culture, and food. Were there similarities you found that surprised you?
Japanese have a large presence and have a long history in Brazil. They have assimilated into Brazilian culture over the past century. Most JBs are multilingual—young people speak Portuguese, often English, sometimes Japanese and other languages. This is more prominent with JBs than JAs, as it is common to have multiple generations living together in Brazil.
There were a few other differences I noticed between JBs and JAs, but I didn't know that there would be such strong parallels between the JB and JA WWII experiences.
JBs were not incarcerated like JAs during WWII. However, they were forcibly removed from the Brazilian coast in Santos, a city near the metropolis of Sao Paulo, and they faced discrimination and racism during the war. They had curfews, were not allowed to gather in groups, nor speak Japanese. Many JBs were arrested and jailed for no reason.
My painting, "Be Quiet" honors the JBs who lived through the 1940s and addresses the racism and oppression they faced. The parents' mouths are covered and muted. The parents cover the mouths of their children, to protect them, in turn, continuing the cycle of racism, oppression, and shame. A similar phenomenon also happened in the U.S. as JAs who survived the incarceration wanted their children to distance themselves from Japanese culture and assimilate into American life.
Many of the younger JB descendants weren't aware of our family history. When I began sharing these stories and artwork with them, it piqued their interest and gave them pride in their ancestry.
Today, we have a large, extended family in Brazil. During my visit, I met with nearly 50 relatives, but that's just the tip of the iceberg. My great-grandmother Saki had eight children, who had 39 children, and so on. Intermarriage among Nikkei is common in Brazil, as it is in the U.S., especially among younger generations (fourth-generation Yonsei and fifth-generation Gosei).
Do you have any messages to share with people wanting to make social impacts through their artistic work? 
I learned the value and power of personal stories through my work at The Wing. After spending 12 memorable years helping communities tell their stories, I wanted to explore my own family's stories.
These are not only Nikkei stories and experiences. Racism, cultural erasure, and oppression continue to affect Black, Indigenous, and People of Color (BIPOC) around the world. Though my artwork centers on Nikkei stories, there are universal themes that can connect with a broader audience. If we are not able to address these issues, we will continue to repeat history.
My advice? Follow your heart and your passion. Do what you love to do, what has meaning for you. Meet people, ask questions, listen, be humble, and be open to continue to learn.