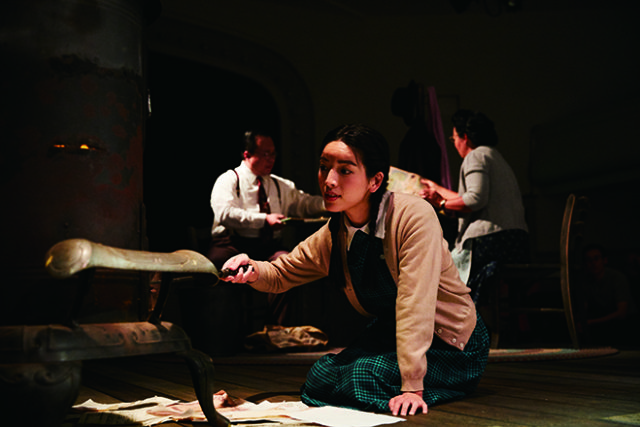 by Nick Turner
In the wake of the attack on Pearl Harbor, Washington Hall was once packed with Nikkei registering themselves and their families to board trains that would transport them to incarceration camps, where they would stay for nearly four years until the end of World War II.
75 years later, the same space became a stage earlier this month for the performance of "An American Dream," an opera that tells the overlapping stories of a Japanese-American family uprooted from their home, a young girl robbed of her childhood, a husband stolen from his wife and daughter, a German Jew who unwittingly destroys a family then loses her own, an American forced to face his own sins and a nation at war with its own people.
Setsuko, a young Japanese-American girl played by Yeonji Lee, was living in a farmhouse on Puget Sound Island with her parents, Makoto and Hiroko Kobayashi, played respectively by Ao Li and Nina Yoshida Nelsen. Bracing for the impending arrival of FBI agents coming to arrest Makoto, the family is burning photos and belongings that might connect them with their Japanese heritage. Then alongcomes Jim Crowley, an American veteran, with his German Jewish wife Eva, who wants to buy the home. Crowley makes an offer that makes Makoto scoff, but federal agents soon knock on the door and he has no choice but to sell the house for next to nothing. Makoto is arrested and taken away, Jim and Eva have found a home, and Setsuko and her mother have lost theirs. The mother and daughter are sent to an incarceration camp where they stay for the duration of the war.
Before she leaves, Setsuko finds a letter addressed to Eva that tells of her family's death in Germany. Setsuko keeps the letter out of spite and takes it with her to the incarceration camp. As Eva and Jim are moving into the home, Eva comes across old photos of Setsuko and her family. She also discovers one of Setsuko's dolls hidden in a staircase and noticing the signs of former life, begins to feel unsure about her husband, their new home and the new life she just started. The opera draws clear parallels between the experiences of German Jews and Japanese-Americans during WWII.
In the end, Setsuko returns home as she promised her father. Eva returns the doll to Setsuko and Setsuko gives the letter to Eva watching as she wails and cries. Eva lost her home and family. Setsuko did, too. The war is over but the life will never be the same. Jim Crowley can only look on and watch as the damage he dealt unfolds.
Yeonji Lee (Setsuko) and Ao Li (Makoto) made their debut with the Seattle Opera in the second production of this somber opera by librettist Jessica Murphy Moo and composer Jack Perla. The performance was accompanied by a 15-piece orchestra and was performed on a stage much different than the company's usual venue at McCaw Hall. A flat wooden stage extended out from the stage and into the floor space at Washington Hall, cutting the audience in half and giving each side a two-dimensional view of the singers who stood just beyond their reach.