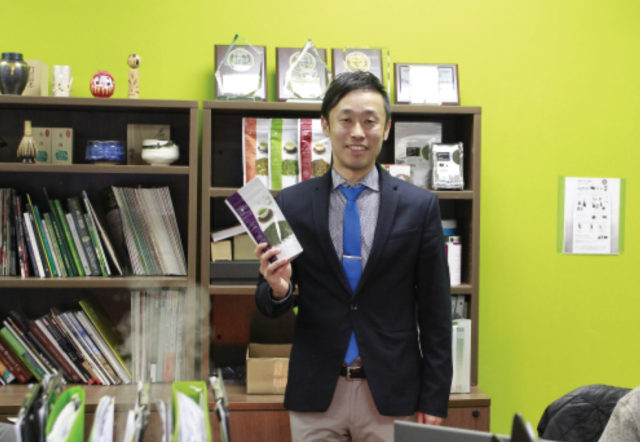 Kyohei Sugimoto
Sugimoto Tea Company President
Kyohei Sugimoto couldn't wait to get to Seattle after graduating from college. At the age of 24, he established the Sugimoto Tea Company in the US to begin to spread across the country a taste for his family's Japanese tea. The company started selling Sugimoto brand teas in earnest in 2008. He built the company from zero sales in January 2008 to its current state 12 years later, when it has a national sales network and is riding the matcha boom.
Interview and photos by Teruyo Koshimiya, translated by Bruce Rutledge
Kyohei Sugimoto is president of the US branch of Sugimoto Seicha and Sugimoto Tea Company. Born in Shizuoka Prefecture. He grew up as the second son of the Sugimoto Seicha family. He began swimming at a young age and majored in sports health science at Juntendo University. He has always had a passion for water sports. He even advanced to the Lifeguard World Championships. He fell in love with Seattle when he visited on a trip with his father and returned by himself in 2004. In 2005, he incorporated a company in the US and began selling his company's brand of tea in 2008. He's interested in kayaking, stand-up paddling, and you can find him running at his local gym on his days off. He married in 2008, and they have a 9-year-old son and a 5-year-old daughter.
A swimmer during childhood
"I started swimming when I was 2 years old," says Kyohei Sugimoto. If you get the impression that he just loved swimming, he says with a laugh that during his middle and high school days, "I'd always be thinking about how to get out of practice." That said, he competed in the inter-high-school competitions and entered Juntendo University, known for its sports programs. In his college days, he began training as a lifeguard. "There was a competition that included Beach Flags, swimming in the ocean, and surfboard races," Kyohei recalled. He did well in the swimming part and began to get more interested in the competition. He pushed himself hard in practice and made it all the way to the World Championships. This experience became the cornerstone of Kyohei's life philosophy later. "Instead of being pushed against my will, doing something with my own intention behind it gets much better results. There's nothing that can beat that," he said.
He grew up at Sugimoto Seicha in Shizuoka Prefecture. His older brother, the eldest in the family, will take  over the family business. As the second son, Kyohei wasn't sure what to do when he finished university. "I was an aimless youth," he said with a laugh. "I hadn't found anything I wanted to do." Most of his college buddies were aiming to be physical education instructors, so Kyohei took the teacher's exam too but he failed. This was in the early 2000s, an employment "ice age" in Japan. While he had the certification but was still without a job, his father, the president of Sugimoto Seicha, asked Kyohei if he wanted to join him on a business trip. That was 2003, the first time he laid eyes on Seattle. It was a life-changing trip. "It was right at the beginning of autumn, and Seattle was very beautiful," he recalled. "I became inspired by the idea of selling tea here. I was like, it would be so cool to live here!" Kyohei was so smitten with the city that he told his dad, "I want to work in Seattle." While it's unclear how Kyohei's father felt, it's likely he felt quite happy that his second son was interested in working the family business. To widen the sales channel in the US, Kyohei began helping out Sugimoto Seicha's client company in Seattle.
About a half year before he moved to the US, he went to the company's factory and studied the tea business while training there. Kyohei had never thought much about his father's work, but now he began to see the work anew. He spent a whole day at the factory bagging the tea. "Because of that experience, when I tell the staff that the people in the headquarters work really hard, my words have weight to them."
When he came to Seattle in 2004, he spent the first half year studying English as a Second Language at a community college. In that short span, he took a business class and learned business English and some international trade. In 2005 he incorporated Sugimoto Tea Company in the US. While studying at college, little by little, he made sales calls at retailers, restaurants, and cafes. He began helping the client company with sales, but he wasn't getting a salary. If he wanted to try something new, he didn't have the authority to do it. He became more and more frustrated and realized deep down that he wanted to run this business on his own.
In 2008, he became independent, taking on the role of president of Sugimoto Tea Company. He did sales all by himself. He also got married that year to Yumiko, a woman from Niigata who he met in Seattle. "It was strange timing, considering I wasn't really on track with my career," he said with a laugh. He was still a student and had only helped out the client company a little in the US at that point. "I started from practically zero when it came to experience, knowledge, and confidence," he said.
After enduring five years of losses, the matcha boom arrived
Even though he was young and unexperienced, Kyohei followed the way he thought is "right." He would wear a suit and tie and use polite business language. He would respond quickly to any requests. He would make all his paperwork as professional as possible. "I think that comes from my parents disciplining me," he said. His first month, he had no sales. The office had to be rented, and he needed a salary to live on. Sugimoto Seicha provided the backing, but he couldn't keep drowning in debt. "At any rate, I did everything I could do." He would head off to any client who he thought might want to buy his product and do his best negotiating in English. If he got a referral, he'd be off to Los Angeles or San Francisco. During the weekdays he would do sales calls. On the weekends he'd put on demonstrations at retailers or events. He worked without a break. He even seemed to work while asleep. "I talked in my sleep, saying, 'Would you like to try some tea?'" he said with a laugh.
Sales for his first month in January were zero. In February, sales were $200. In March, they were $300. All he could do was keep at it. One day, he was talking with the floor manager at I Love Sushi on Lake Bellevue. He told Kyohei, "I cannot buy your tea, but how about you serve it to the customers for promotional purposes?" He would have to pay for it himself, but he decided to do it, stopping by the restaurant after work twice a week. "This led to many different avenues for me," he recalled. One day, he happened to serve tea to a buyer for Uwajimaya. The buyer decided to purchase the tea for the supermarket.
In those days, Japanese tea culture had penetrated Seattle more than some other cities, but many people told him his tea was too expensive. "These days, there is plenty of expensive Japanese tea for sale, but back then, it was pretty expensive. It wasn't a product made for the US market. But I wanted to sell the high-quality and delicious tea that my father makes." The losses continued for five years. When asked if he ever thought about quitting, he replied, "You must suffer to make your business a success. I never once thought of giving up." It was also very helpful that the headquarters back in Japan supported his efforts. That gave him the energy to push ahead. "When I think back, there was pressure, but it was a happy time."
When he got a Japanese American wholesaler to start distributing his tea to retailers across the country, his sales started to grow. Today sales continue to expand across the US. A big factor was the matcha boom that swept the US. "The most rapid growth has been in the last five years," he said. Because of the matcha boom, many businesses began ordering his tea by the pallet or container. As the sales grow, the office would get cramped. They moved a number of times before settling into their current space in Redmond two years ago. The company now has 10 employees.
Saving Japan's farmers
It is probably because the company sells tea, a drink that's good for your health, that Sugimoto's staff is very aware of health and environmental issues. In part because of pressure from his staff, the company has done its best to change its teabags to material that goes in the compost, not the garbage. The office is powered by 100% clean energy. The tea farmers who partner with the Shizuoka headquarters use a traditional tea-grass integrated system. The objective of the tea-grass integrated system is to cultivate high-quality tea. Pampas grass is grown around the tea fields, and when that is reaped, it can be turned into grass mulch for the fields. This is a traditional method. "By doing this, the tea is improved and tastes better," Kyohei said. "Green tea farmers continue to keep this traditional method." This method protects the area's biodiversity, including endangered species. In 2013, the United Nations Food and Agriculture Organization designated the method an Important World Agricultural Heritage System." So if you buy our tea, you are also helping to preserve the environment," Kyohei noted.
Japan's tea industry, including its farmers, are facing dangerous times. "Japanese families only drink tea in plastic bottles these days, and there are hardly any households with teapots anymore," Kyohei said. "People say even tea bags are troublesome." Even if the farmers produce high-quality tea, people aren't buying it. That trend reinforces some farmers to close their traditional farming businesses. In the US, tea in plastic bottles hasn't caught on yet, and there is a tradition of preparing tea in teapots. Plus, there's a good chance of getting more people to drink tea in this spacious, well-populated country. These circumstances added up to the company's mission to save Japanese farmers. "There are many hardworking green tea producers  in Japan that want to advance into the US market. We've been working on this for the last 10 years, so we have an advantage," Kyohei said.
Beginning a marketing campaign for brand awareness
As the company grow, Kyohei's job shifted from sales to corporate management. It has changed the way he works. "Of course, I still think about tea a lot, but I spend more time now thinking about my employees," Kyohei said. In Japan, it's often said that people should make efforts and accept responsibility as members of society. What is the company's responsibility to its employees? Kyohei said that when he began to think about this, it made a big change in him. As he mulled this question, he came to the ultimate answer that he must find a way to make his employees happy. Of course, that comes from salary and benefits, but it also comes from supporting a person's dreams so that they will be motivated to work. "When you are motivated, you can show your true abilities." That's Kyohei's life philosophy put into action. As president, he wants to reward his staff for working at his company. He thinks every day about how to keep them motivated. "However, I still pressure them to increase sales," he said with a laugh.
Sugimoto Tea Company rode the matcha wave that started in 2013 and grew quickly. However, in 2019, the company's performance slowed for the first time. "The reason is I relied too much on large-scale customers," Kyohei said. His analysis showed that he relied too much on trends and didn't take his own actions. "This is where real management challenge comes in for me now. The business slowing down is not something I'm happy about, but I feel a certain energy. Up to this point, I was just riding the lucky wave of matcha boom and it was about more than just my ability." He recalibrated his approach that he relied on wholesales business. Lately, he began working on branding and making consumers aware of Sugimoto brand. Part of that was a robust social media campaign. "It will take time and money to sell our own brand. This year is the beginning of our marketing campaign."
---
Sugimoto Tea Company 
Kyohei Sugimoto, the second son of Hiroyuki Sugimoto (the president of Sugimoto Seicha in Shizuoka Prefecture), established a US subsidiary in Seattle in 2005. The various tea products are sold under the Sugimoto Tea brand. Sugimoto Seicha was established in 1946. It began exporting to North America in 1998. It now exports to Europe as well. Its exports surpassed 100 tons in 2018, and 60 tons of those exports came to the US. It has won several awards at the largest US tea trade fair, World Tea Expo, including Best Hot Green Tea for its hojicha tea in 2017.
Sugimoto Tea Company

4070 148th Ave. NE., Redmond, WA 98052
☎︎425-558-5552
www.sugimotousa.com